Probe Into Teacher's Inappropriate Yearbook Photo Uncovers Years of Alleged Assaults
An investigation stemming from an inappropriate yearbook photo in 1997 has revealed years of alleged sexual assault and misconduct from a California high school teacher.
As reported in an in-depth profile by Ally Markovich for Berkeleyside, the revelations began after Genevieve Mage, a yearbook teacher at Berkeley High School, received a copy of the school's 2003 yearbook from a student in early 2020.
In it, she saw the distressing photo, showing teacher Matt Bissell hugging student Rachel Phillips, 17 at the time, from behind. In the same yearbook, Phillips was voted "most likely to date a teacher" by her peers.
This led Mage down a "dark rabbit hole," reaching out to Phillips through Facebook about the photos and eventually unearthing allegations of Bissell's sexual misconduct from "multiple current and former students."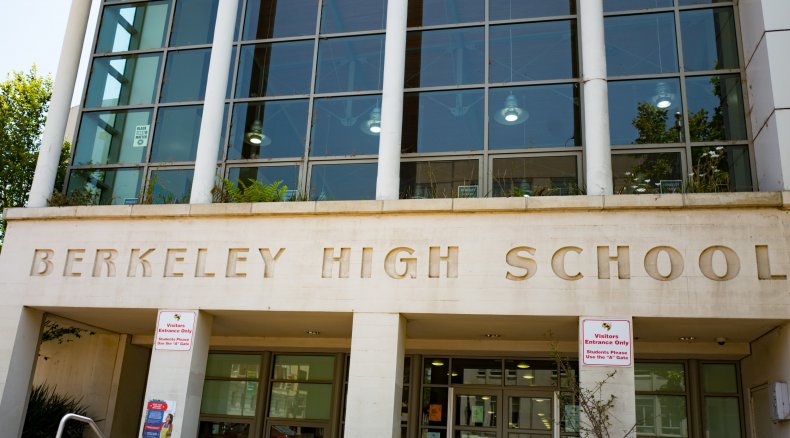 Phillips detailed years of alleged sexual and inappropriate behavior from Bissell, including his tendencies to "tap her buttocks, make comments about her appearance, and engage in a host of other inappropriate behaviors, starting when she was 14 and continuing throughout her time at Berkeley High."
Past students also claimed that Bissell often engaging in "hard sexual innuendo."
Yearbooks from other years were also found to include lewd sexual jokes by, and relating to, Bissell.
"I have thought a lot," Phillips said in her initial response to Mage's inquiry. "[T]his teacher shouldn't be teaching young women."
Mage's findings from Phillips and other Berkeley High alumni also revealed a trend of the school failing to act on complaints regarding Bissell.
"The district technically has all this information," Mage told Berkeleyside. "The injustice here feeds off of isolation. The only way that he's been able to get away with it for so long, that anyone here in this whole system has been able to get away with this for so long, is because they don't know about each other."
Bissell was let go from the Berkeley Unified School District after an internal investigation backed up the allegations from Phillips and others. He was first put on paid leave after Phillips filed a Title IX complaint against him on October 9, 2020.
Phillips filed a civil lawsuit against Bissell and the Berkeley Unified School District with the Alameda County Superior Court. It seeks damages for complaints that include negligence; negligent hiring/retention; negligent supervision/failure to warn; negligent failure to warn, train, or educate Phillips; sexual assault; sexual harassment; battery; intentional infliction of emotional distress; and gender violence. Phillips included all of the allegations she shared with Mage in the suit.
Mage's investigation into the matter has also put a spotlight on a pervasive "rape culture" that many have reported at Berkeley High. Prior to Mage first seeing the photo, students at the school staged walkouts to protest its "lax approach toward misconduct."
Female students were also known to have kept a "boys to watch out 4" list, scratched into the side of a bathroom stall.
Newsweek reached out to Berkeley High for comments on the Bissell situation as well as the accusations against its handling of misconduct allegations but has not heard back at this time.
Newsweek also reached out to the Berkeley Unified School District for a comment on the lawsuit in which it is named but has not heard back yet.
Newsweek has attempted to find Bissell's contact information but has so far been unable to reach him.
This story will be updated as Newsweek hears back from the parties involved.
Similarly pervasive sexual misconduct allegations were recently levied against the Thacher School, an elite boarding school in Ojai, California.
An employee was also recently accused of sexual abuse and misconduct at the Cate School, another exclusive boarding school based in California.