Problem-Solving Travel Jacket Becomes Most Successful Clothing Crowdfunder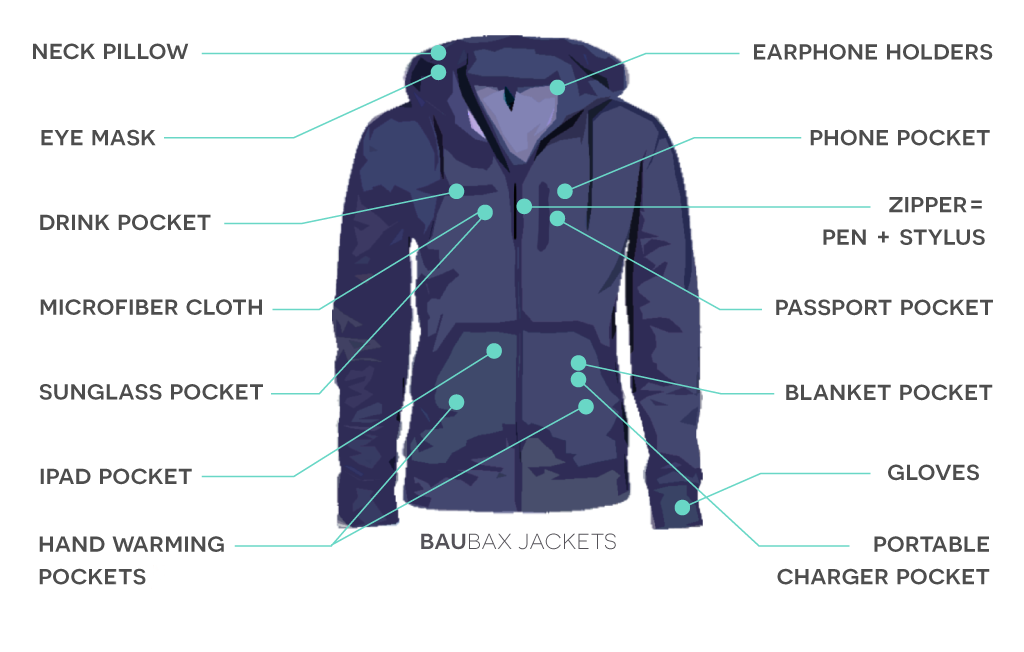 A jacket with 15 travel-enhancing features has become the most-funded clothing product in crowdfunding history after raising over $8 million on Kickstarter.
Chicago-based startup Baubax initially set out to raise $20,000, but after just a week over $1 million had been given to the project. The campaign, which began on July 7, ends on Thursday, and currently has over 40,000 backers pledging $8.8 million in total.
The jacket comes in four different styles—sweatshirt, windbreaker, bomber and blazer. It will feature earphone holders, an iPad pocket, a drink pocket that fits a can of soda, gloves that extend from the sleeves, a telescoping pen built into the front zipper and doubles as a stylus, a passport pocket, and a hood that includes an inflatable neck pillow and sleep mask.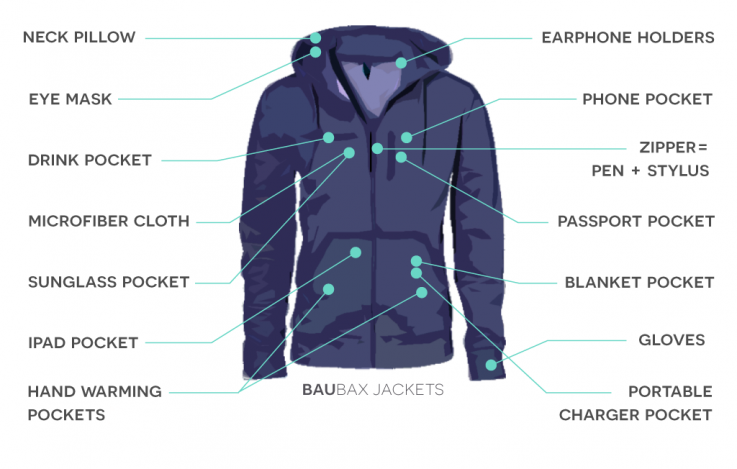 Hiral Sanghavi, who founded Baubax alongside his business partner and wife, said in a statement, "I knew there had to be a better way so we have designed clothing to solve each and every problem out there and give travelers everything they need in one jacket."
"I think we are solving the right problems," Sanghavi told tech website Mashable. "Travel jackets have been out there since years, but none of them have solved all the problems. Basically we are disrupting the market."
Hiral's partner, Yoganshi Shah, who looks after the design side of Baubax, added that, "No one wants to carry a big goofy neck pillow when traveling. All of our jackets include an inflatable pillow that's discreetly tucked away in the hood. This innovative valve technology allows the consumer to inflate a neck pillow in just two seconds and deflate with a simple press of a button."
A press release issued by the company highlighted how the jacket would come in particular handy at airports, where passengers could simply take off the Baubax and send it through the carry-on scanner, rather than having to empty all their different pockets.
The retail price for the jacket starts at $160, but varies depending on what style you get.
Problem-Solving Travel Jacket Becomes Most Successful Clothing Crowdfunder | Tech & Science