Since Mt. Everest was first conquered in 1953, over 5,200 people have reached the mountain's summit. Even more have made it to base camp, more than 17,000 feet up the mountainside. In their wake, people attempting to climb Mt. Everest have left behind tons of garbage and, in some cases, bodies.
Decades of trash still litter Mt. Everest, everything from rope ladders to plastic containers to human excrement. Glaciers, melting away because of global warming, are starting to reveal waste from expeditions prior that had been frozen, according to Breaking Asia.
Corpses, trapped under winter snow, become visible during the summer. However, not all of them can be retrieved from the mountain.
In February 2019, China closed down the Mt. Everest base camp for an indefinite period of time in order to enact cleanup efforts, said the South China Morning Post.
In April and May 2019, climbers collected 11 tons of trash from areas above and below the base camp. Bad weather prevented all of the garbage from being brought down. Also discovered were four bodies that were not immediately identified, said the CBC. During the 2019 summit window, 11 climbers died on Mt. Everest.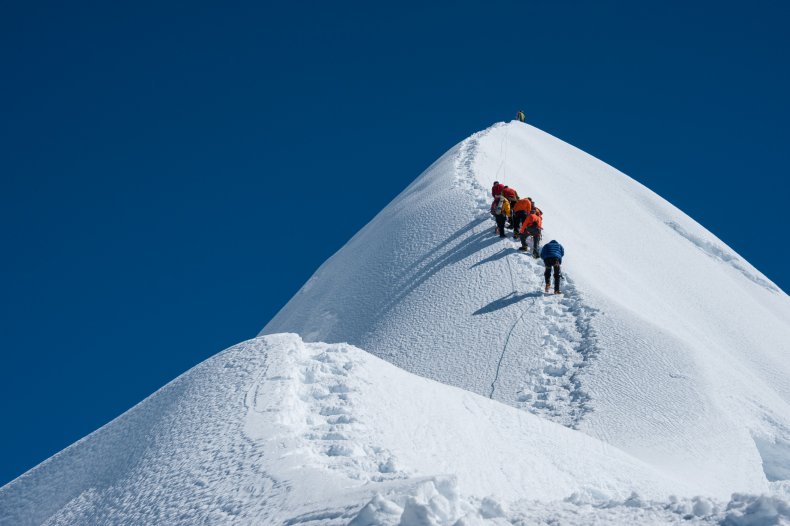 Much of the refuse brought down from Mt. Everest was either recycled or upcycled, made into products that can be reused by consumers.
"It is not just better for us and the environment but then it goes way bigger than that," said Aanchal Malla of the Hotel Yak & Yeti in Kathmandu. "It is encouragement of everyone who is trying to move into that direction of making the globe into a better place, reducing all the waste."
Construction on a new waste facility is being completed near the base camp. While the site will process trash, artists will also work there to upcycle and create new products related to Mt. Everest.
But progress made towards reducing waste doesn't solve the problem of too many people leaving behind their garbage footprint on what has been called "the highest dumpster in the world."
Many critics place the blame on the tourism industry of Nepal, which issued a record number of 381 permits to climbers at a cost of approximately $11,000 each. According to the Los Angeles Times, the climbing industry in Nepal brings in $300 million every year.
Mountaineers have complained of overcrowding. This could be due to the fact that Nepal does not have any policies concerning how many permits are issued. Expeditions can attempt to climb Mt. Everest whenever the weather permits with no regulations on when climbers leave.
"Overcrowding is nothing new," said Kami Rita Sherpa, a guide who has been to the summit of Mt. Everest 24 times as of June 2019, told BBC News. "This is not the reason people are dying. It's pressure on young climbers by some companies describing Everest as easy. Everest is never easy."