'Procession' Director Robert Greene on the Healing Power of Art and Drama Therapy
Procession is the incredibly powerful documentary on Netflix from critically acclaimed filmmaker Robert Greene. The film follows six men, Tom Viviano, Joe Eldred, Ed Gavagan, Michael Sandridge, Dan Laurine and Mike Foreman who suffered sexual abuse as children by Catholic priests and their ongoing journey for justice and inner peace.
Facing their trauma head-on, Viviano, Eldred, Gavagan, Sandridge, Laurine and Foreman work with Greene, his film crew, drama therapist Monica Phinney and young actor Terrick Trobough to create short films about their experiences of abuse.
The short films see the six men revisit their trauma directly in emotional, and at times hard-to-watch scenes. Some of the films are true reenactments of their memories while others are metaphorical re-imaginings. For example, one scene sees Eldred write a letter to his younger self while Gavagan's short film sees his memory of coming face to face with his abuser in a bedroom come to life.
The film also draws out the uplifting sense of community and strong bond that has formed between the six men as they work together to revisit their darkest moments.
Director Robert Greene shared with Newsweek that he hoped audiences and other survivors of sexual abuse would be inspired by the creativity and brotherhood shown by Viviano, Eldred, Gavagan, Sandridge, Laurine, and Foreman.
He said: "These guys, the way that they embrace ridding themselves of the shame that has been debilitating for so long, the way they embrace that, I think can be a message for everybody and that's about coming together. That's about gaining strength from family and brotherhood and creative work like art, art can heal. It's that simple. Art.
"I mean, what was taken from these guys will never be given back but making art together and coming together and not living in silence and shame can actually make your life better and I guess that's what I'd love for people to take from it."
Greene recalled the moment in August 2018 when he saw attorney Rebecca Randles hold a press conference in Kansas City with four men who had accused their local Catholic priests of sexually assaulting them as children.
After a few years of back and forth, Greene managed to convince drama therapist Monica Phinney to come on board to help Viviano, Eldred, Gavagan, Sandridge, Laurine, and Foreman revisit their trauma with the help of art.
Greene explained to Newsweek how the unique practice of drama therapy inspired Procession and how it works.
He said: "So it's very important to note that we are not doing drama therapy in this film, right, but we're very much inspired by that. The whole thing came out my last film, we did a large-scale recreation of an event that was historically very traumatic, and people were playing roles from the past is called Bisbee '17 and someone asked me, 'Do we have a therapist there?' And my answer was completely inadequate and completely wrong.
"I was like: 'Well, we didn't really need one. We're friends with everybody.' Just sort of reflecting on that failure of being like, 'yeah, I obviously, you know, needed to do a better job' led me to a book called The Body Keeps the Score [by Bessel van der Kolk], which is a book about how trauma is stored in the body and the muscles and your bones and your physical body and one way to work through that is drama therapy and drama therapy is the intentional use of role-playing and art and theatrical things to work through trauma for a therapeutic reason."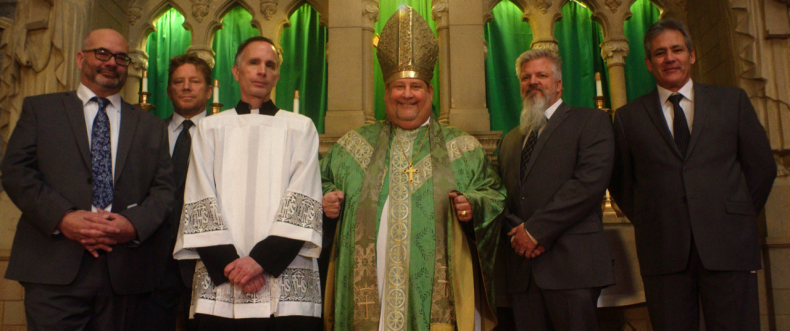 Reflecting on filming the actual scenes themselves, Greene described them as "therapeutic" and "intense" but full of "beautiful moments."
He shared: "[It was] therapeutic for me, therapeutic for the guys, scary for all of us. Intense.
"By the time we were shooting those scenes, we've been working together for a little while, and we felt like they knew that the power of the keys to the car were in their hands, so it was really fun to make the scenes as well because it was fun to watch these guys explore and watch them try things and watch them not be afraid to try things and not be afraid to take risks and not being afraid because they knew that we had built something that was broadly very safe and so they could work within, like a sandbox that we had sort of created together and so they got to play."
Greene continued: "Some moments were really intense. And we had to take a step back. And a lot of the moments were so beautiful that we couldn't believe what we're pulling off."
Procession is streaming on Netflix now.
Anyone seeking help should call The National Domestic Violence Hotline, a free and confidential hotline available 24/7 that can be reached on 1-800-799-7233 or TTY 1-800-787-3224. The Hotline also provides information on local resources. For more information visit https://www.thehotline.org/.