Bob Marley's Sons Reflect on His Legacy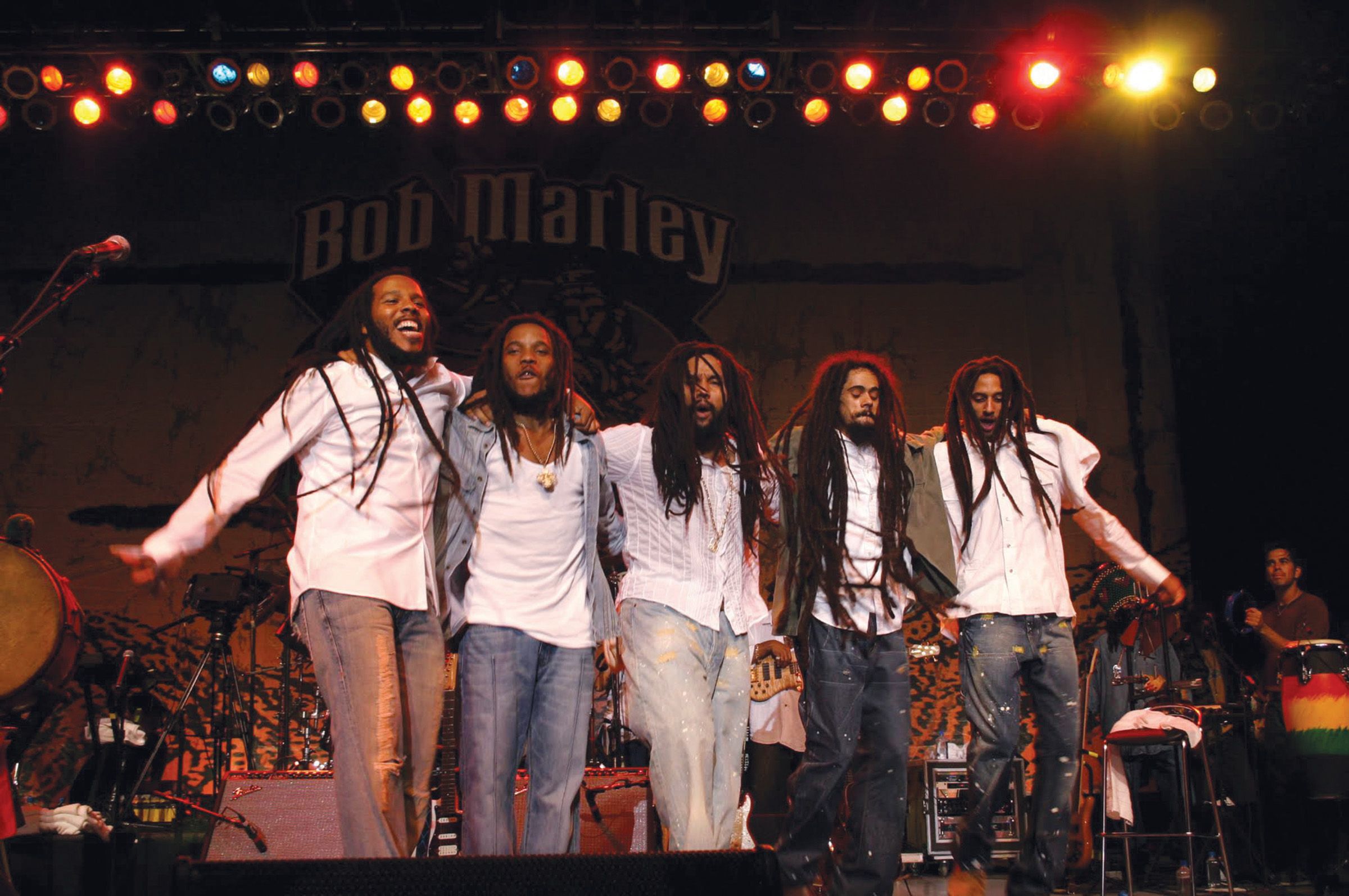 Robert Nesta Marley, better known as Bob Marley, was born February 6, 1945, in Nine Miles, a rural community on the east side of Jamaica. Seventy years later, and almost 35 years after his death in 1981, Marley continues to inspire new generations with his music and cultural ideology. Two of his sons, Ziggy and Stephen Marley, shared their thoughts on their father's music, life and legacy in an exclusive interview with Newsweek. This interview is included in a special edition commerating Marley's life.
When did it become clear to you how much of a public figure your father was—how important Bob Marley the man was to the world?
Ziggy:My father was always a man who had a certain aura about him. Had a certain way of treating people, so even before I knew about the world, I knew who my father was, as a man, as a person and how people see him. I would say that I really knew my father was a man of great stature. He didn't change who he was, and the world just recognized the things that I saw already before, you know? So my old man, my father, he never really changed when I found out about the world recognizing and loving him. You kind of knew it all the time because the world was around him.
Stephen: When it kind of became clear was when he was shot with my mother. When both he and my mother were shot [in 1976], that was when I just sat back and kind of figured, "Wow." That was when I started to say "Whoa, Daddy, you're an important man." And then obviously, when he passed away and the world recognized this man—it became clear again, that he was special in that way.
Has your perception of your father evolved at all since boyhood for you?
Ziggy: Well, just, you know, because now I have kids. I don't know how true my feelings are toward realizing certain similarities [between my father and I], because he's not here. I can't ask him, "Hey, did this happen to you?" But I think even though he's not here, I've grown to know him more, in a way, because he can't tell me what I think is true, but I can feel it. It's not a perception, but it's a knowledge, it's a pursuit. But he was our father first, and a caring human being, and a man who wants to go the distance, as a man who was very spiritual. None of that has changed.
Stephen: No, it doesn't change—loving that person. He was always for the people. That's what he emulated, being for the people, and the sacrifice to make everything better. That was him. He'd never change to me. I understood him, you know what I mean?
What's the most vivid memory you have of your father as a musician?
Stephen: When Zimbabwe got independence from the British. Ziggy and I were there, and just, again, his music…the purpose that his music served, the way that it liberated a whole country. The soldiers would tell him why we were there, tell us, "Your pop has this song that we listen to and this song as well." So that was a very significant moment, being there with him and seeing how his music affected people.
Is there a particular album or song of your father's that you keep coming back to?
Ziggy: Everything. Everything he has done, everything Bob Marley and the Wailers had done, because there is no particular sound. When I was in high school, there was this one of them, Survivor, that used to be played every day. I used to listen every day. It was very inspirational because it really affected those teenagers thinking certain ideas about Africa, about movement, liberation and things like that.
Stephen: Listening to him is like a seasonal thing. Sometimes I'm in this vibe, because there is so much [Bob Marley and the Wailers] content, and the next time I'm in another vibe. So, to answer the question, no. There is not one particular album that I consistently go back to. Maybe now in October, I'm listening to Survivor, but come December, I'll be on Natty Dread. You know, a cycle.
How do you keep your music your own while still being true to the legacy?
Ziggy: By not even worrying about that. You make music from your heart, that's how you do it. And some of it will be like him, because it's natural, and some of it won't because that's natural, too. You just gotta keep it flowing. There's no big strategy that I use, it just speaks from my heart.
Stephen: I am a part of Bob's legacy, you know what I mean? So yeah, just being myself. Respecting my foundation and building up on what I've been brought into the world for. So that's always here. I have been chosen. I am the sheep of this pasture.
This article is excerpted from a Newsweek Special Edition, Bob Marley—The Official 70th Anniversary Tribute, by Issue Editor Tim Baker.