Producer Metro Boomin Pays Off Home For Family of Buffalo Shooting Hero
The wife and son of Aaron Salter Jr., a retired police officer who died fighting the Buffalo mass shooter, won't have to worry about a roof over their heads after mega-producer Metro Boomin paid off their mortgage.
Aaron Salter III, the hero's son, posted an Instagram photo outside the house on Wednesday. He stood next to his mother, Kimberly Salter, holding a sign that read "Paid in full."
"Gotta say thanks to my favorite producer @metroboomin," Salter III wrote. "He called me and asked if he could help me during my tragic loss and did just that! No more mortgage paid in full!!!"
The hip-hop producer replied in a comment, "Love always bro! My line is always open and I meant every single thing I said back when we spoke."
Salter was one of 10 people killed in the massacre at Tops Friendly Market in Buffalo, New York, on May 14. Police described the shooting as "racially motivated violent extremism" after 11 of the 13 victims were revealed to be Black.
Suspect Payton Gendron drove 200 miles from his hometown to carry out the attack in an area with a large Black population, police said. Footage recorded by the suspect showed the N-word and the number 14—a code related to a 14-word white supremacist statement—daubed on the barrel of his gun. In a 180-page manifesto shared online, he described himself as a "fascist" and a "white supremacist."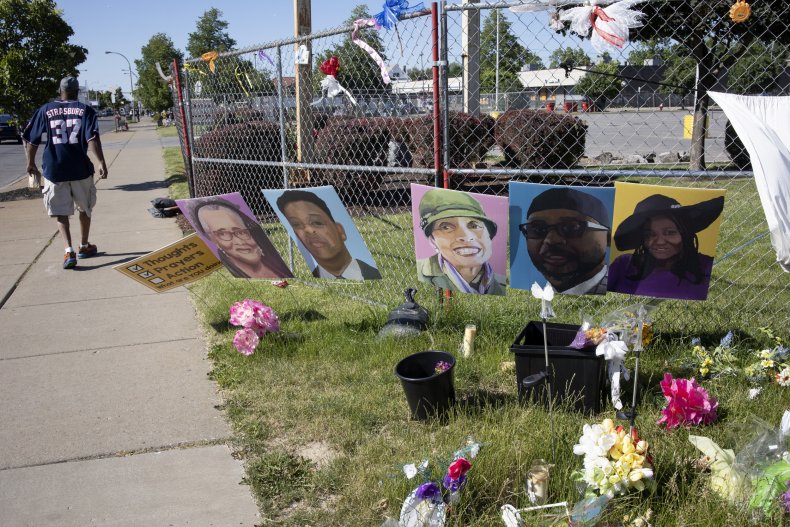 Gendron pleaded not guilty to federal hate crime charges on Monday.
Salter was a security guard at the supermarket. He had served the Buffalo Police Department for decades before retiring, and when the shoppers at Tops Friendly Market came under attack, he sprang to action. Salter fired at Gendron multiple times, buying precious time for others who were able to escape. But his bullets failed to pierce the shooter's body armor and Salter was killed.
"He's a true hero," said Buffalo Police Commissioner Joseph Gramaglia on ABC News. "There could have been more victims if not for his actions."
Salter was posthumously promoted to lieutenant and awarded the Buffalo Police Department's Medal of Honor at his funeral, local news reported. Buffalo officers also created a scholarship in his memory.
Metro Boomin reportedly suffered his own personal tragedy in June, according to TMZ. The 28-year-old producer's mother was allegedly killed by her husband—who was not Metro Boomin's father—before he killed himself in a murder-suicide in Georgia.
Newsweek reached out to Aaron Salter III for comment.