CryptoCorner
Two producers are raising startup money for their first movie with an online Bitcoin campaign. The team hopes to cover all expenses and maybe make a little seed money for their next project by selling NFTs based on their feature film, The Underground Sistine Chapel.
The 80-minute film is scheduled to open June 25 at the Grand Rex in Paris, after which the producers will make it available for free on Youtube and the InterPlanetary File System, a peer-to-peer network.
"We stay very down to earth, and we only think about one thing: Deliver this movie to everyone, and start working on the next one," co-director Antoine Breuil told Newsweek from Paris.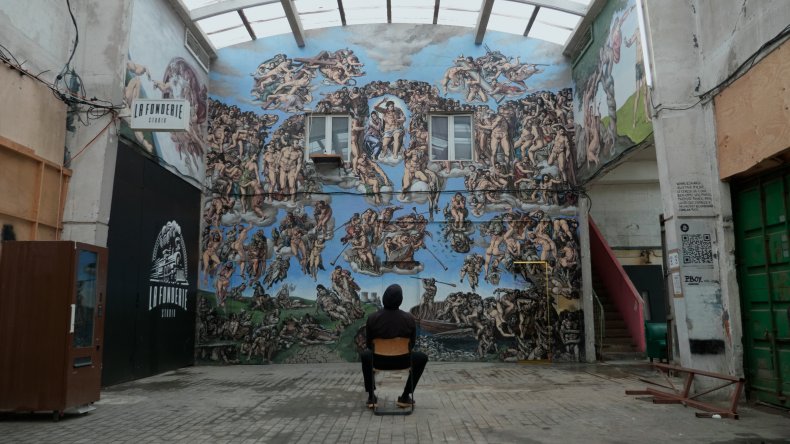 The movie follows the efforts of Pascal Boyart, known in the art world as Pboy, and a team of volunteers to turn an abandoned foundry in a run-down area near Paris into a contemporary Sistine Chapel.
The movie and the art it highlights were funded by volunteers using non-traditional means and cryptocurrency. In short, guerilla financing for a guerilla movie.
"It's only the beginning of a new era, and radically open to all," Breuil said.
The movie will be released in French and English versions.
Boyart has made a name for himself by merging graffiti with classical art forms to create large murals in public places.
He's also credited with being the first artist to attach Bitcoin Quick Response, or QR codes, to his work. The barcode stores information in a square-shaped grid and can be read by a digital device.
Breuil estimated the cost of making the movie at 200,000 euros, or about $239,953.
"Pboy raised money before on Fresque, with only Bitcoin patronage using just Twitter and decentralized communities," Breuil said.
"The project was totally secret until post-production was done," he said. "Samourai Co-op, our company with my co-director and partner Yohann Grignou, produced it without any help by working hard for a few years to produce our own movie."
The art deco Grand Rex where the movie will premiere bills itself as "Beaucoup Plus Qu'Un Cinéma," or More Than a Movie Theater, and is a Paris landmark.
It opened in December 1932 with "Les Trois Mousquetaires."
Originally, the Grand Rex provided seating for 3,500 on three levels. The theater now seats 2,750 and is the largest movie auditorium in Europe. It hosts premieres and live concerts.
The sale of NFTs is key to Breuil's business plan. The NFTs, or non-fungible tokens, are based on artwork and scenes from the movie.
"Many collectors are also delighted to know that by pre-purchasing NFTs before the film release, they become 'patrons' and therefore receive a percentage of sales in secondary markets of their NFT," Breuil said. "This is where the innovation of minty.art is great, and why we have chosen to sell on it."
That's an intriguing business model, and it frees the production team from traditional fundraising duties.
Bitcoin can be bought and sold for another just like it, meaning it is "fungible." But non-fungible tokens are one of a kind, allowing the creation and preservation of distinctive designs.
The blockchain can be used to verify the ownership and authenticity of an NFT, but the art and its use sometimes raise knotty intellectual property issues.
"It would be pretentious to say that we will sell everything instantly," Breuil said. "Who knows? It's a world first, without an example to give us a reference. And we are two young independent French directors, unknown to the world."
Hollywood has made many movies parodying itself, including The Player, Tropic Thunder, and Bowfinger. If you want to play amateur historian, add Singin' in the Rain to the list.
If the funding model for The Underground Sistine Chapel succeeds, Hollywood moguls may have trouble coming up with a title for a movie that takes it and Bitcoin to task.
Beaucoup Plus Que La Grande Fenêtre (or thereabouts) would only hint at the possibilities for financing independent movies using cryptocurrencies. But it would underscore Tinseltown's fractured French, and what may be archaic financing methods for many independent films.
"In history, art movements always prepared people to new philosophy, new approaches, new culture," Breuil said. "New forms of interactions are already possible, with open source protocols that ensure exchanges, without intermediaries between individuals, freely, without start-ups to take a percentage, or without a central body to authorize it or not."
In mid-morning trading Friday, Bitcoin changed hands at $37,142.53, down 4.39% in the last 24 hours but up 28.70% for the year. The 24-hour range is $37,083.57 to $39,182.25. The all-time high is $64,829.14. The current market cap is $695.95 billion, CoinDesk reported.
MarketPulse
Paper maps live, and not just as wall decorations or in the hearts of the nostalgic longing for the pre-digital world.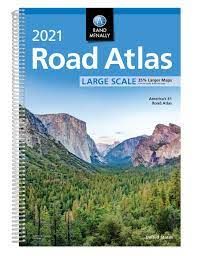 Rand McNally told Newsweek that the Large Scale Road Atlas was on the Publishers Weekly bestseller list for 45 weeks. Picture is the Rand McNally 2021 Road Atlas.
randmcnally.com
Some use paper maps as a supplement or backup to GPS. The overview and sense of scale can't be matched on a hand-held device or chattering dashboard guide.
And paper maps continue to sell—very well, actually.
Kendra Ensor, vice president for marketing at Rand McNally in Chicago, said the company's Road Atlas has sold more than 200 million copies since it was introduced in 1924.
Before dismissing that as a trip down Memory Lane, she said the Rand McNally Large Scale Road Atlas was on the Publishers Weekly bestseller list for 45 weeks.
Ensor said Rand McNally is privately held and therefore doesn't release sales information. But she said the Atlas continues to be a hot seller.
"We've seen a surge in road atlas purchases in the past year with a noticeable spike during this past Memorial Day weekend," Ensor told Newsweek. "With the COVID-19 pandemic, there was a shift to vehicle travel. It's still a good idea to have a road atlas in the car as a backup."
Bob Wachs, a retired emergency room physician living in Palo Alto, California, discovered that the hard way years after he stopped using paper maps.
"My wife and I have given up using paper maps," he told Newsweek. "We can save the forests and join the 21st century. But we live in fear of losing our satellite connection at an inopportune time."
And then came the fateful day.
"Sure enough, two years ago while driving in North Dakota, on the road to Bismarck, a phrase I've never used before, our GPS ceased to function," Wachs said. "There we were, on a sparsely traveled rural road, our glove compartment devoid of maps, left simply to stare at each other and imagine our fate. Scary! But, we lived to tell the tale."
Trees can breathe easy, because Wachs still doesn't carry a road atlas in the car as a backup.
Dr. Rhonda Herb, an adjunct professor of communications studies at the University of Phoenix living in Fresno, California, said paper maps provide clarity and comfort on a long trip.
"My husband, Dave, and I rely on our phone apps for short trips," she said. "But for longer trips, a phone screen is no substitute for a paper map. An unfolded paper map allows us to see the big picture: to gauge the distance we are traveling, visually estimate the timeframe and note interesting attractions along the way. A paper map provides context so we can truly understand where we are in relation to the rest of the world while a phone app communicates the shortest distance between two points."
Herb said she and her husband, Dave, a retired city planner, frequently drive north through California's Central Valley to Portland, Oregon as part of their volunteer effort to help shelter cats and dogs find new homes.
"The drive is about 750 miles, and it has to be covered quickly but safely to ensure the pets' well-being," she told Newsweek. "The dynamics of the trip involve much more than laying out a route. We need to understand the terrain, urban and rural divides, population centers, and alternate but viable routes for managing challenging weather conditions. Perhaps most importantly, it's emotionally reassuring to hold in our hands physical proof that the bulk of the trip is behind us."
Yitzchak Schwartz, a graduate student in history at New York University, said some people become too dependent on GPS.
In Manhattan, the streets run east-west and the avenues run north-south. The streets are numbered in ascending order south to north and the avenues are numbered in ascending order east to west. Fifth Avenue marks the division between the East Side and West Side.
It's impossible to get lost. But Schwartz said one of his GPS-dependent friends managed.
"I have friends who use GPS for walking around town, which is hard to imagine in a city where most of the streets are on a grid," he told Newsweek. "One friend who, on the rare day she didn't use GPS, left Starbucks in a neighborhood she frequents often enough and got lost on the way to the subway."
Of course, And some young people raised on digital clocks are baffled by what they see as antique devices with round faces numbered, for no apparent reason, 1 to 12 or maybe 12 to 11.
"For me, the point of a long-distance trip is to get to know the country and learn about the people, geography and even roads you're traveling," Schwartz said. "Using GPS allows one to travel without having any idea where you're actually going. I find that with GPS, I constantly feel lost. I'm checking the map all the time to make sure I'm on the right track and neither I nor the app have messed up. So every turn I take is at the last minute and by the seat of my pants."
Schwartz said he'll use GPS to establish a route for an out-of-town trip, but he writes the highway numbers and all turns on a slip of paper to feel engaged with the trip.
"That's similar to GPS, but it requires paying attention to the road signs and taking an active rather than passive role in driving," he said.
GPS is an engineering marvel: A series of satellites with atomic clocks compute latitude, longitude, altitude, and time to determine position. The U.S. military developed GPS, but it's available to all worldwide at no charge.
It was first used in combat during the Gulf War. Military grade GPS is accurate within about 65 feet.
That beats "shooting the sun" with a sextant as captains of sailing ships once did to navigate. A small computational error would put the ship in Lisbon rather than London.
But GPS can't match the delight small children experience with a paper map on their first road trip: Contrary to initial assumptions, the pavement doesn't change color at the state line.