Professor Calls Larry Elder 'a Black Face on White Supremacy' at Newsom Campaign Event
A professor at California State University Los Angeles (CSU LA) said Larry Elder is "a Black face on white supremacy" during a Labor Day campaign event for California Governor Gavin Newsom.
Newsom is defending his seat ahead of a September 14 statewide gubernatorial recall election that could result in his removal from office if a majority of California voters decide to cast him out. Elder, a conservative radio host who is running as a Republican candidate in the recall, has routinely polled ahead of other recall candidates since launching his campaign in July and is widely considered the frontrunner of the field.
Melina Abdullah, a professor and former chair of the Department of Pan-African Studies at CSU LA, spoke at the Monday event hosted by the African American Voter Registration, Education, and Participation Project (AAVREP) in the Crenshaw neighborhood of Los Angeles County.
Before Abdullah addressed the event attendees, California State Senator Sydney Kamlager appeared to refer to Elder without mentioning him by name, saying one recall candidate "thinks he might have an edge because of his color" but added racism "comes in all shapes and sizes, and we're not stupid," according to tweets posted by Kyle Stokes, a reporter with the Southern California NPR affiliate KPCC.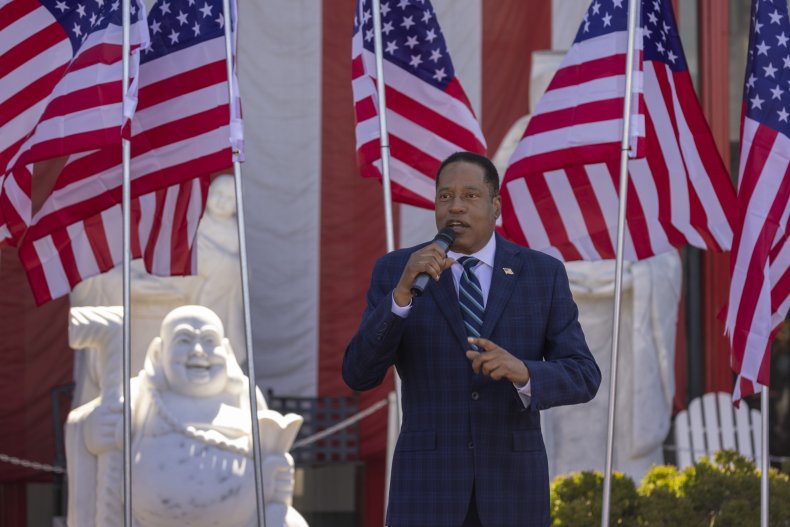 Abdullah then addressed the audience and referred to Elder directly.
"She didn't say his name, but I will: Larry Elder is a Black face on white supremacy," Abdullah said, according to Stokes' tweets.
Abdullah later retweeted Stokes' post quoting her, as did the Twitter account for AAVREP.
Abdullah is not the first person to accuse Elder of ties to white supremacy in California. Last month, a columnist for The Los Angeles Times wrote an article titled, "Larry Elder is the Black face of white supremacy. You've been warned." The same columnist, Erika D. Smith, published a follow-up article one week later that said Elder's "fans" had "proved" the first article's point through emails they sent following its publication.
Elder has pushed back against criticisms of him in the media and told Fox News host Sean Hannity last month that he was not surprised by the content of the L.A. Times articles.
"I anticipated that would happen. This is why a lot of people don't go into politics because of the politics of personal destruction," Elder said.
"This is not the first time the L.A. Times has attacked me, there is another writer who all but called me a Black David Duke," Elder added, referring to a July op-ed by Jean Guerrero.
Comments about reparations that Elder made in July have generated further criticism of the Republican candidate as they began recirculating, and the candidate said earlier this week he would back legislation banning the teaching of critical race theory in public schools, according to Fox News.
Newsweek reached out to Abdullah for comment did not hear back in time for publication.