Professor Criticized by Police Union, on Leave After Berating Student Who Called Cops Heroes
A California college professor has taken a leave of absence and faced scrutiny from the nation's largest police union after she got into a heated exchange with a student who called police "heroes."
The teacher, an unidentified adjunct professor at Cypress College, was caught on camera this week arguing with 19-year-old Brandon Ellis over his opinion that police officers should be considered heroic.
In the video, the professor can be heard repeatedly cutting Ellis off and disputing his claim.
"A lot of police officers have committed an atrocious crime and have gotten away with it and have never been convicted of any of it," the teacher said, after Ellis gave a presentation on cancel culture and argued that police are often portrayed in a negative light.
"So what is your bottom line point?" the teacher demanded. "You're saying police officers should be revered, viewed as heroes? They belong on TV shows with children?"
Ellis responded by stating, "I think they are heroes, in a sense, because they come to your need and help you. They have problems, just like every other business, and we should fix that. But I think they're heroes."
The professor then retorted that viewing police as a "business" was problematic, and said she wouldn't "trust" an officer to help her in a time of need.
"My life is in more danger in their presence," she said, before ending the discussion.
The video was widely circulated and prompted outrage from the National Fraternal Order of Police (FOP), the nation's largest police union. On Saturday, the organization tweeted the video of the exchange and accused the professor of "intolerance" and being "simple minded."
"Too many of America's universities have become indoctrination farms where critical thinking and ingenuity are stifled by the intolerance of simple minded professors like these who are completely unwilling to accept anything but their own opinion as fact," the police union stated.
On Friday, Cypress College responded to the incident by stating that the professor had taken a leave of absence for the remainder of her time at the college. The school added that this was the professor's first course at Cypress, and that she did not intend to return in the fall.
"Cypress College takes great pride in fostering a learning environment for students where ideas and opinions are exchanged as a vital piece of the educational journey. Our community fully embraces this culture; students often defend one another's rights to express themselves freely, even when opinions differ. Any efforts to suppress free and respectful expression on our campus will not be tolerated," the school's statement said.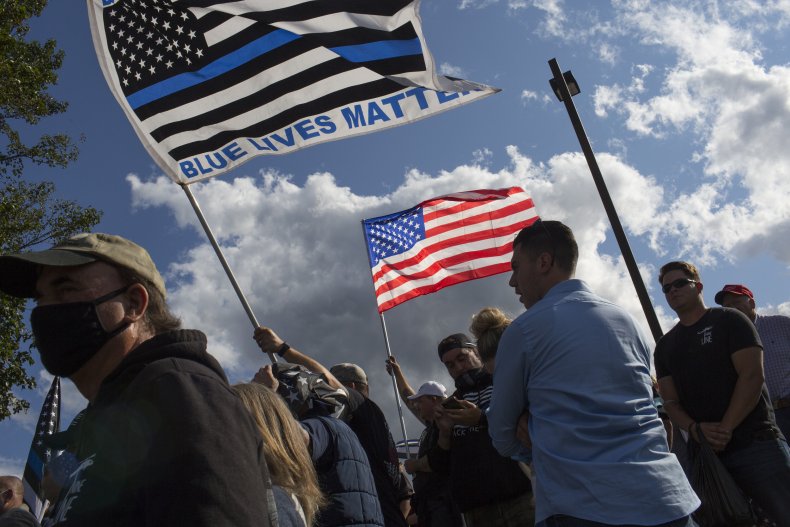 In an interview with Fox & Friends on Saturday, Ellis said that he believed the teacher was attempting to catch him in a "gotcha" moment, but said he maintained his composure throughout the exchange.
He told the news outlet that students "shouldn't be afraid to speak out" and urged others to use "gentleness" and "respect" when arguing their beliefs.
Newsweek contacted Cypress College for an additional comment, but did not hear back in time for publication.