Professor Whose Economic Model Predicted Trump Win in 2016 Says President Will Beat Biden
A professor whose forecasting model foretold Donald Trump's 2016 upset election win has predicted the president is on course for victory again in the upcoming November 3 poll.
John Antonakis, a professor of Organisational Behaviour from Switzerland's Lausanne University, said the model's projection for 2020 put Trump ahead of Democratic challenger Joe Biden in the race for the White House.
However, Antonakis cautioned the forecast—which takes into account economic conditions, incumbency effect and candidates' relative charisma levels—was presented "with humility" given the complicating "fog" produced by the coronavirus pandemic.
The model used by Antonakis was developed in collaboration with Professor Philippe Jacquart, an associate professor of organizational behavior and leadership at the Lyon-based Emlyon Business School in France.
The academics' model is based on another produced by Yale University's Raymond Fair. When it was first published in 2015, it retrospectively made successful predictions for 21 out of the previous 24 US presidential elections.
It observes economic conditions and considers who is in power and how long they have been in power for, as well as how compelling the candidates are.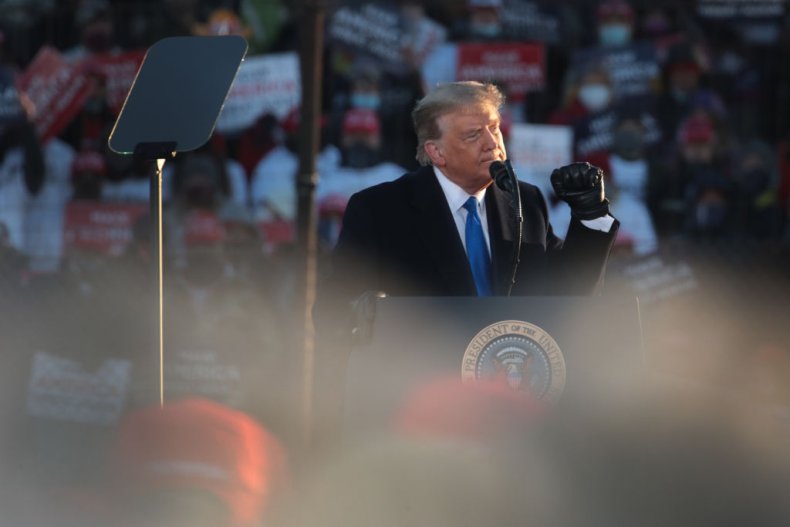 In a YouTube video revealing his prediction, Antonakis said examination of the economic numbers alone suggested a close-call election favoring Biden slightly.
But taking into account incumbency data—which suggests that if a candidate is running for a second term they have an advantage over their counterpart, unless the incumbent's party has been in power for two terms—and Trump and Biden's relative charisma levels, the president is currently in pole position.
To determine the relative charisma levels of each candidate, the model relied on analysis of Trump and Biden's acceptance speeches at their party conferences.
Poring through each sentence of the speeches, the analysis revealed that Trump weighed in as more charismatic, uttering 55.58 percent charismatic elements per sentence, outscoring Biden's 52.01 percent per sentence.
"According to the numbers we put in, for us it seems like Trump will probably win the White House," Antonakis said.
"But all is going to depend on what happens in this third [economic] quarter," he added.
"If there is contraction in this third quarter, which is unlikely, but if GDP growth is quite limp then Biden will do it."
The Bureau of Economic Analysis will release the latest report U.S. gross domestic product—the broadest measure of economic activity—on Thursday in a first look at the economy's third-quarter report card.