Scientist Investigated After Calling COVID Pandemic 'A Leftist Stunt' Designed to 'Enslave Humanity'
A professor in Michigan has issued an extraordinary statement that defends everything from his "casual use of the n-word" to his belief that the moon landing was faked and COVID-19 is a "stunt designed to enslave humanity" after being placed on administrative leave for allegedly making racist, homophobic and anti-Semitic tweets.
Thomas Brennan, an assistant physical science professor in the College of Arts, Sciences and Education at Ferris State University, is under investigation after the Ferris State Torch unearthed a number of offensive tweets said to have been posted by Brennan, which also contain conspiracy theories about a pandemic that has killed more than 250,000 people in the U.S. alone.
Among some of the tweets allegedly sent by Brennan include messages with repeated use of the N-word and posts with homophobic slurs. The account also described COVID-19 as "another Jewish revolution" and said smartphones are "the main cause of COVID symptoms."
FSU President David Eisler said the university was "shocked and outraged" by the tweets, confirming Brennan has been placed on administrative leave pending an investigation.
"They are extremely offensive and run counter to the values of our University and our commitment to diversity, equity and inclusion," Eisler said. "Our students, faculty, staff and members of the community are upset and offended by these comments, and they should be."
During an online meeting within FSU's College of Arts, Sciences and Education in August, Brennan said the COVID-19 pandemic has been exaggerated and that the "pandemic and rioting were leftist stunts," according to Eisler.
In a lengthy statement, Brennan hit out at what he called a "hit piece" against him by The Torch that attempted to smear him as "science denier, racist and antisemite." He denies being any of these things.
"This controversy started after I made a few statements in a College of Arts and Sciences meeting of faculty and staff about the COVID-19 pandemic. My statements were to the effect that I believe the COVID-19 pandemic is a stunt designed to enslave humanity and strip us of all of our rights and freedoms," Brennan said.
The professor denied believing the pandemic is a hoax and said he knows that people have died as a result of it, but claims its severity is being "exaggerated by revolutionary leftists in the media and government" that will result in a "mandatory vaccine" in the form of injectable micro or nanotechnology.
"If this comes about it will truly be a fulfillment of the prophecy of the mark of the beast, as described by St. John the Apostle in the Book of Revelation," Brennan added.
Brennan also addressed his tweets where he used the N-word, which he described as a "mind-control spell designed to make us hate each other."
"I am not racist against black people, I love and respect them. But I reject the premise that there are certain magic words that should never be used in any context or by certain people. I uttered the word to try to neutralize its power."
The tweet in question, allegedly sent by Brennan, describes Bill Nye, Buzz Aldrin and Neil deGrasse Tyson as "worthless [N-words]."
"Ironically, my casual use of the 'n-word' in that tweet isn't the most controversial thing about it. It's that I'm calling out the huge scientific and historical frauds that I believe have been perpetrated since the mid-twentieth century."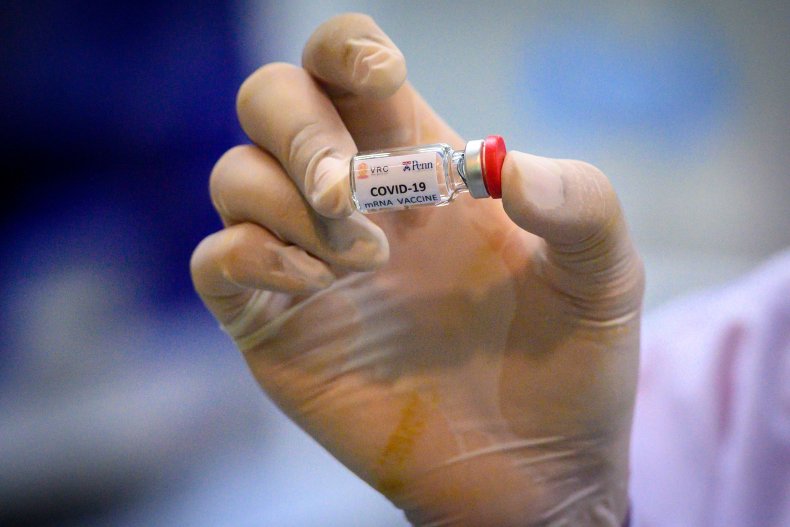 Brennan goes on to suggest that the footage of the atomic bombs which were dropped on Hiroshima and Nagasaki were faked using special-effects similar to the ones used to make the tornado scene in The Wizard of Oz.
He also believed films of the Apollo moon landings were faked "using the same special effects bag of tricks that was used to fake the bomb."
Brennan dismissed suggestions that his tweets about the "Jewish Mafia" were anti-Semitic as he does not believe that "middle-class Jews are involved in an international conspiracy, only that a small number of their elites are."
Elsewhere, Brennan echoed rhetoric used by supporters of the QAnon conspiracy by describing how the "entire world has fallen under the spell of a satanic, globalist elite."
He concludes: "The fear-spell of the atom bomb has worn off after all of these years, so they had to unleash a new one, COVID-19. Lord have mercy on me and on us all."
Brennan has been contacted for further comment.
This graph, provided by Statista, compares the number of new COVID cases between the U.S. and countries in the European Union.