Professor Put on Leave After Telling Class She Hopes Trump Supporters Die of COVID
Professor Jennifer Mosher of Marshall University in West Virginia was placed on leave after telling students during a remote class that she hopes supporters of President Donald Trump contract COVID-19 and die.
Mosher was captured on video making negative remarks about President Trump's rallies, where many attendees have been observed not wearing face masks. Rally crowds have also been spotted grouping together without observing social distancing guidelines. Trump has waffled on his support for wearing face masks to curb the spread of the virus.
Some observers have described Trump's in-person campaign rallies as potentially becoming super-spreader events. Mosher said that one of Trump's rallies which was held in an enclosed area was "unreal" before commenting on Trump's supporters.
"I've become the type of person where I hope they all get [coronavirus] and die," Mosher said. "I'm sorry, but I am so frustrated and just I don't know what else to do. You can't argue with them, you can't talk sense into them. I said to somebody yesterday, I hope they all die before the election. That's the only saving hope I have right now."
"Definitely bootlickers," Mosher added.
After a video of Mosher's remarks was posted on Twitter, Marshall University placed the professor on leave.
"Marshall University this morning announced it is aware of an overtly political statement made by a faculty member in a recent virtual classroom session and widely circulated on social media," read a statement sent to Newsweek on Friday from Marshall University. "The University does not support or condone the use of any of its educational platforms to belittle people or wish harm on those who hold differing political views. The professor was removed from the classroom yesterday and is on administrative leave, pending an investigation."
"There will be no further comment on this personnel matter at this time," the statement concluded.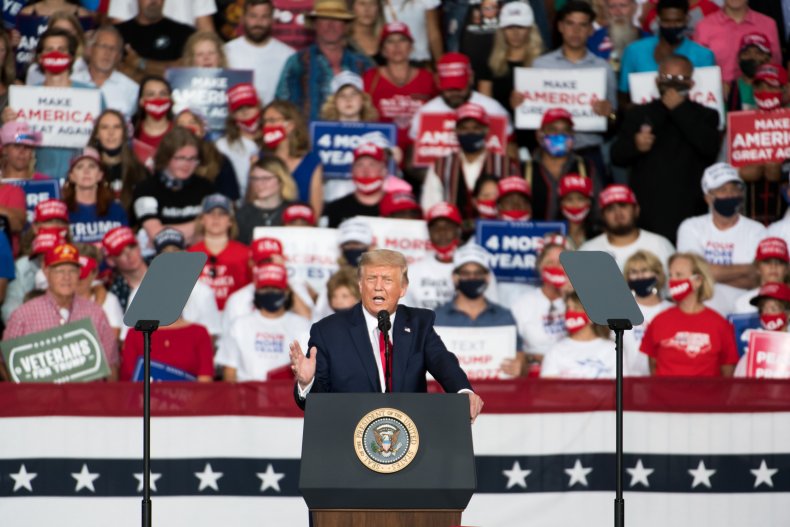 President Trump has given Americans mixed messages on mask wearing. During an ABC News town hall meeting on Tuesday, Trump said he wears face masks "when I have to and when I'm in hospitals and other locations."
"The concept of a mask is good," Trump added, "but it also does—you're constantly touching it, you're touching your face, you're touching plates. There are people that don't think masks are good."
Trump's rival in the November presidential election, Democratic nominee Joe Biden, has been spotted numerous times wearing a face mask in public. Biden said that if he becomes president, he will initiate a nationwide mask mandate.
"We'll have a national mandate to wear a mask—not as a burden, but to protect each other," Biden said during his nomination acceptance speech at the August Democratic National Convention. "It's a patriotic duty."
Recent data shows 6,917,164 positive cases of the coronavirus reported in the U.S. with 203,033 fatalities attributable to the virus.