Professor Who Correctly Called the Last 9 Elections Says Impeachment Won't Backfire on Democrats in 2020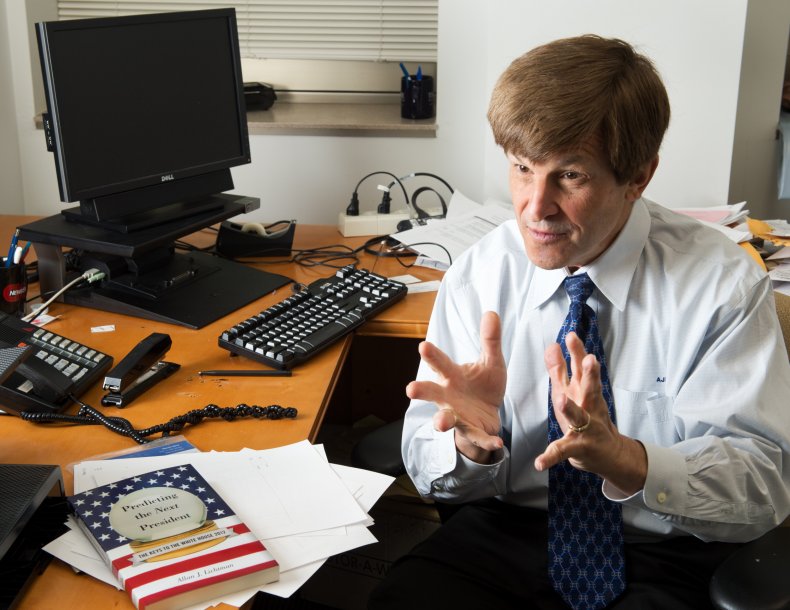 A history professor who correctly predicted the results of the past nine presidential elections says that Democrats should not be concerned that impeaching President Donald Trump could harm their chances during the 2020 election.
Speaking to CBS News host Tanya Rivero on Wednesday, American University history professor Allan Lichtman said impeachment could only help Democrats in 2020.
Litchtman's belief goes against that among Republicans and some Democrats that impeaching Trump will only bring trouble in the next election. In a new national Monmouth University poll, only four out of 10 Republicans believe that Trump mentioned former Vice President and 2020 presidential candidate Joe Biden in his call with Ukranian President Volodymyr Zelensky, despite the president admitting it.
Lichtman said none of that matters. Citing his prediction model, which relies on measuring the performance of the party in the White House, it matters less that house Democrats might enrage a lot of American Conservatives in the coming months and more that impeachment, especially a formal impeachment vote, will reflect poorly on the Trump administration.
Supporters of Trump have "more than suggested that opening an impeachment inquiry would actually backfire on Democrats," host Rivero said, mentioning the Clinton impeachment wasn't politically popular at the time. "So why do you think that it will actually, in this case, help Democrats?"
Lichtman responded that Rivero should take the conventional wisdom and "consign it to the flames" because "it's wrong again."
A small backlash against Clinton's impeachment allowed Democrats to snatch a couple of seats in the house, but Republicans nonetheless kept the house majority and later took the White House in 2000, Lichtman said.
Absent an impeachment, Democrats should have won easily in 2000 after years of peace and prosperity. Instead, the scandal allowed Republican George W. Bush "to campaign on restoring integrity and honesty to the White House," Lichtman said, adding that about a quarter of voters said the Clinton scandal was very important to their voting decisions.
"The impeachment of Bill Clinton was the best thing that ever happened to the Republicans politically, not the worst," Lichtman said.
Rivero pushed back saying House Speaker Nancy Pelosi and Democratic leaders going down the impeachment road could be disastrous for the Democrats in 2020. "That's not the way you see it?" Rivero asked.
"It's a complete misreading of history," Lichtman responded. "Impeachment is a very bad thing for the party holding the White House" because it turns the professor's "scandal key" against Republicans, possibly triggering other variables in the model to change in Democrats' favor, too.
Lichtman's model, which has called every presidential election correctly since Ronald Reagan's 1984 reelection, relies on 13 variables. They essentially judge the performance of the party in power over the course of a president's term, like whether there's social unrest, foreign military failure, economic downturns, or scandals in the White House. If six of these keys go against the incumbent party, they lose, according to the model.
Still, Democrats need to really go for it to trigger the nation's full attention to and support for impeachment, according to Lichtman. Otherwise, Trump could win again.
"I don't think an inquiry is enough," said Lichtman. To nail down the "scandal key," one of the 13 components, "you've got to go through with actual impeachment. Make Trump the third president in history to actually be impeached by the full House."
According to the professor, an official impeachment would constitute four keys out of twelve against the president so far, but revelations from the inquiry could trigger other keys, like a challenge for the Republican party's nomination.
Democrats launched an impeachment inquiry last week amid revelations that Trump asked for help from foreign leaders in his bid for reelection and intend to wrap up investigations by December. Despite evident skepticism among Republican voters, support is rising for impeachment as a whole, with the latest polls from Quinnipiac University noting a 10-point increase of support in just one week.