Students Surprise Teacher With Heartwarming Message on Last Day of Class
Attending college is rite of passage for many young Americans, and it is not just about earning a degree.
From meeting like-minded people to sharing ideas to attending parties, the whole experience has always been about growing and connecting with others.
However, in a global pandemic all this has gone out the window, with students instead having to watch online classes while hauled up at home.
Although this has been challenging for students, working virtually must have been difficult for the professors too.
And this fact was not lost on students at Loyola University New Orleans College of Law, who decided to thank their professor for his efforts with a heartwarming surprise.
A video, posted to TikTok by law student Kyra Sinclair, shows the students in Professor Robert Verchick's class thanking him in a novel way via a Zoom call.
The footage, which was filmed on the last day of the course, begins when Verchick telling his class: "Hey everybody, put on your cameras if you feel comfortable."
Music then starts to play, and Kyra tells her mentor: "Professor Verchick, before we get started on today's review session we just wanted to show you this small token of appreciation.
"We know it is a pandemic, and it is very hard for us as students to learn our first year of law school, but I know it's hard on teachers as well because of the transition to Zoom and all your technical difficulties."
She then continues: "But, you have always had a positive energy and a positive aura to you in every class. So, we just wanted to say thank you. Everybody turn your cameras on."
Next, the whole class comes into view on screen holding handmade signs with messages of gratitude for their teacher.
Verchick is overcome with emotion, telling his students: "Oh my goodness! Oh my goodness! Hold them there, hold them there I got to take a screenshot of this. That is so lovely!"
The video has since gone viral on TikTok, having been viewed over 6.2 million times, been shared over 12,000 times and garnered over 11,000 comments.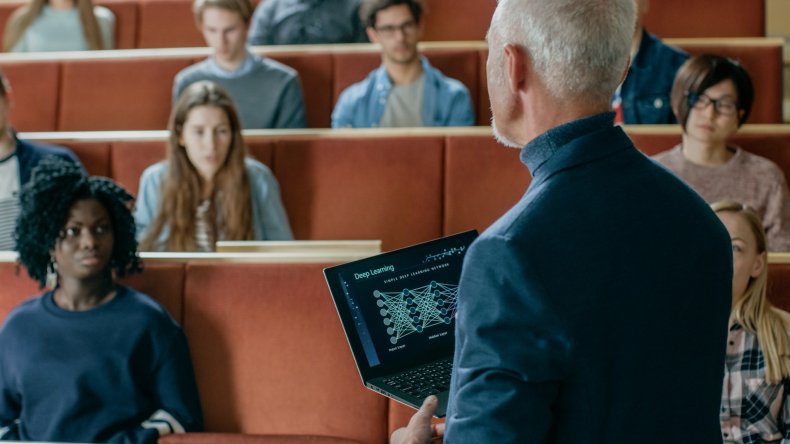 Many found the clip very emotional, with one TikTok user, ohohopheliaa, writing: "Why am I full on sobbing".
A second person, rnk.pm, added: "I'm rly crying, no joke [sic]."
A third, jaspernaharam_, commented: "Omg he's so caring "turn your camera if you feel comfortable" I'm crying with tears of joy this melted my heart."