American History Professor Blasts Trump in Scathing Twitter Thread: 'Colossally Ignorant' Man Running the Government Like a 'Corrupt Suburb'
Seth Cotlar, a professor of American history at Willamette University, offered a scathing critique of the Trump administration via Twitter on Thursday night in response to an episode of The Daily podcast by The New York Times.
During the episode, host Michael Barbaro spoke with former Secretary of Veterans Affairs David Shulkin in what the show described as a deeper dive into how Shulkin "discovered a White House back channel for political appointees—and their plot to remove him from office."
"This interview offers a terrifying window into the utter chaos & amateurism of the Trump Administration," Cotlar tweeted along with a link to the interview. "Take a colossally ignorant & incurious man in decline, have him divide his working hours between Fox News & golf, and then give him the nuke codes."
"The key takeaway is that Trump does not trust any of the million+ people who work in the federal government, unless they are already in his personal orbit or if they've explicitly pledged their loyalty to him," he continued. "He's running the federal government like a corrupt suburb."
Cotlar holds a B.A. from Brown University and a Ph.D. from Northwestern University and specializes in U.S. history in the years between the American Revolution and Civil War. The professor is also the author of a book, Tom Paine's America: The Rise and Fall of Trans-Atlantic Radicalism in the Early Republic, which won the Best First Book Prize from the Society for Historians of the Early American Republic.
Earlier this month, he drafted another critique of the president's family on Medium, titled "Can Eric Trump Even Hear Himself Speak?"
"It's a terrible bind this bumbling, two-bit crime family has put our constitutional democracy in," he lamented in the post. "Nations that get in the habit of locking up the previous administration are prone to instability and violence. But nations that fail to hold accountable leaders who abuse their power give license to future leaders to engage in similar if not worse abuses."
On Tuesday, Shulkin—who resigned from his post in 2017—became the latest in a list of former White House employees to release a book about his time serving the Trump administration.
It Shouldn't Be This Hard to Serve Your Country is said to be an account of "his fight to save veteran health care from partisan politics and how his efforts were ultimately derailed by a small group of unelected officials appointed by the Trump White House."
"I am very concerned about the future of public service, and I'm concerned about the future for our veterans. And to have people who are willing to come from the private sector, like myself, and help in government and serve to be put through this type of situation in this type of environment, I think, is going to end up being a big problem for people wanting to come in the future," Shulkin said in Thursday's interview with Barbaro. "And so when I say it shouldn't be this hard to serve your country, the scenario of being systematically undermined I don't think is a good thing for us in terms of the way that we should be running this country," he concluded.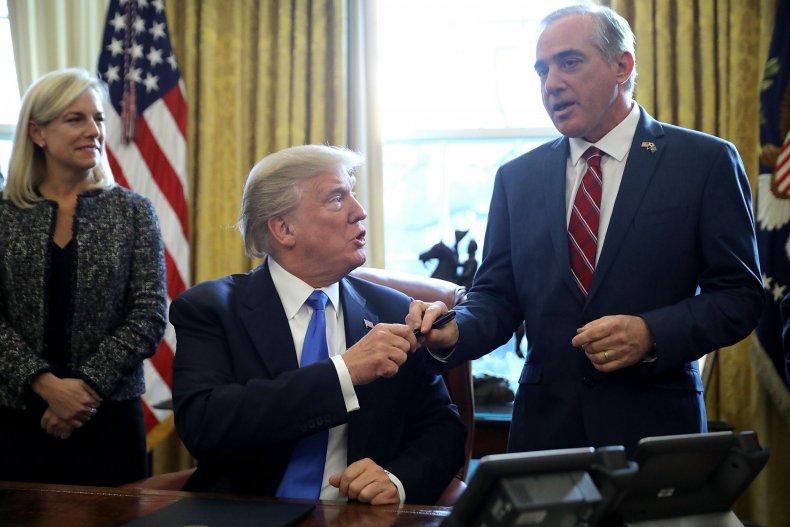 "This is corruption, but I think it's not as sinister as it might look at first blush," Cotlar hit back on his Twitter thread. "Trump, who has never worked in a functional organization his entire life, simply has no concept of how complex institutions work. His entire world is about 'knowing a guy.'"
He later added: "It's like asking your buddy who runs the bar & grill down the street to cater the Oscars. Tomorrow."