A philosophy professor at The State University of New York at Fredonia is facing heavy scrutiny after footage of him allegedly defending pedophilia in a podcast episode last week circulated on social media.
A video posted by the Twitter account @libsoftiktok quickly went viral after it was posted on Tuesday. In the video, Stephen Kershnar stated that it's "not obvious" that it is wrong if an adult male decides to have sex with a willing participant even if she is 12-years-old.
"Imagine that an adult male wants to have sex with a 12-year-old girl. Imagine that she's a willing participant," Kershnar said in the viral video. "A very standard, very widely held view is there's something deeply wrong about this and it's wrong independent of it being criminalized. It's not obvious to me that is in fact wrong."
The podcast episode that the clips were taken from was published by a YouTube channel called Brain in a Vat. The channel focuses on "thought experiments and discussions with philosophers."
In the episode, Kershnar and host Mark Oppenheimer discussed various sexual taboos including the philosophy behind the age of consent.
In the United States, laws of consent vary by state. While the national average age is 16, some states believe 15 is the age of consent. If a person engages in sexual activity with someone under the state's age of consent, it is considered statutory rape, even if both parties agree to engage.
Other people, such as Angel Busch or @ayee_its_angel777 on TikTok, are pushing the university to fire Kershnar by posting updates and information on TikTok.
In one video posted by Busch on Wednesday, she showed the video of Kershnar that has been circulating on Twitter. She also showed another clip of Kershnar on the podcast which was posted by the Twitter account @MythinformedMKE.
In that video, Kershnar said, "...the notion that it's wrong even with a one-year-old is not quite obvious to me."
"There are reported and some cultures of grandmothers fellating the baby boys to calm them down when they're colicky," he said in the video. "I don't know if this is true but this is sort of widely reported as occurring in at least one culture and it working."
He stated that if this were to be true, and he wasn't certain it was, it makes it "hard to see what would be wrong" with partaking in sexual practices.
In Busch's TikTok, she stated that the age of consent is 17 to 18 years old in New York State.
"Not one, not eight, not twelve," Busch said. "But it gets even better."
Busch told Newsweek that some of her close friends attend SUNY Fredonia and have Kershnar as a professor. She said they were "uncomfortable" that he had them read his teachings and views.
"I am not a SUNY Fredonia student, but I am a child SA survivor and this did NOT sit right for me," Busch said. "It broke my heart and made all the horrible memories come back."
She said she decided to make TikToks about the situation as a way to inform the public about Kershnar. Her close friend Olivia also started a Change.org petition Wednesday calling for the university to fire Kershnar. The petition has received more than 8,329 signatures.
"While the university can and should foster a difference of opinions, these views are directly harmful to a community already dealing with instances of sexual assault and struggles with consent," the petition stated.
Bush then showed a list of published articles written by Kershnar, whose focus is on applied ethics and philosophy of law. Some articles published by Kershnar include Pedophilia and Adult–Child Sex: A Philosophical Analysis and "The moral status of harmless adult-child sex."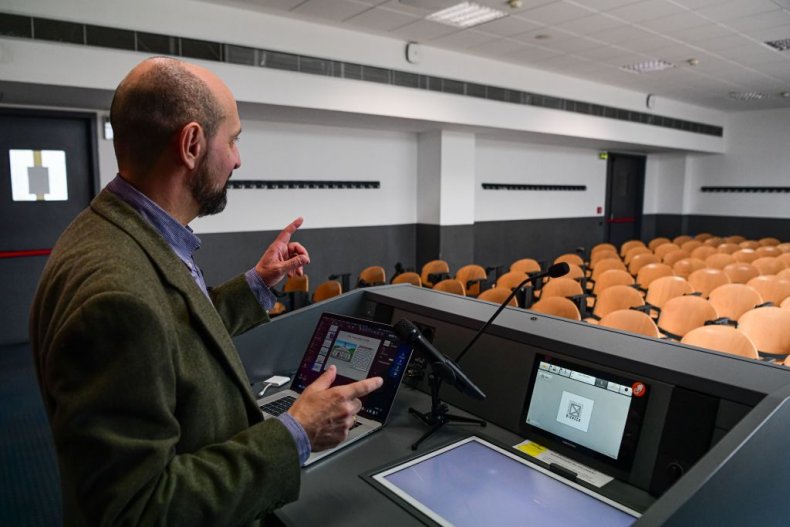 However, it must be noted that in the abstract of one of his books, he stated that adult-child sex strikes "many people, including myself, as sick, disgusting, and wrong." Rather than stating his personal opinions, he stated the book explores whether or not adults who engage in sex with children "have a disease, act wrongly, or are vicious" and how the law responds to such acts.
At the end of Busch's video, she stated that Kershnar still teaches at the university. However, SUNY Fredonia President Stephen H. Kolison released a statement on Tuesday that they are aware of the video.
"SUNY Fredonia is aware of a video posted online involving one of its professors," the statement read. "The views expressed by the professor are reprehensible and do not represent the values of SUNY Fredonia in any way, shape or form. They are solely the professor's views. The matter is being reviewed."
In the comments of Busch's video, thousands of viewers shared their disgust with Kershnar, yet many came to his defense and stated he was purely stating philosophical arguments and not his own opinion.
"I don't think he's saying he personally agrees with it," one user wrote. "He's arguing that some cultures don't see it as immoral so therefore it's not objectively wrong."
But others mentioned that although Kershnar discussed "willing participation," children are not capable of understanding consent.
"Any argument stating that it is "willing participation" is incorrect," one user said. "At 12, you are not capable of consent because you don't understand."
"It's easy to take philosophy profs out of context but this one is...is really in excruciating context," another user commented. "That is a sick man trying to justify his thoughts."
Newsweek reached out to Stephen Kershnar and SUNY Fredonia for comment but did not hear back in time for publication.