Professor's Tweet Describing Police Rally as 'White Supremacist' Condemned
A Nebraska professor is facing criticism for a now-deleted tweet comparing a pro-police rally to a white supremacist rally.
On Friday, Creighton University religion professor Zachary Smith responded to an article from the Omaha World-Herald called "'Back the Blue' rally in Omaha to show support for law enforcement."
"Lemme fix this headline for you ... 'White supremacist rally in Omaha to showcase Midwestern racism,'" Smith replied, according to the Omaha World-Herald.
Smith's tweet was surfaced by Tyler Henningson, the president of the Creighton College Republicans chapter. Henningson described the tweet as "morally repugnant," in a statement released by the organization.
"Dr. Smith's comments are not just morally repugnant; they are a slap in the face of law enforcement officers who risk their lives every day to protect our communities," Henningson said. "At Creighton University, we are reminded daily of the Jesuit Values—principles that we use to guide our words and actions. 'Men and Women for and With Others' is a cornerstone of our philosophy; we are called to support the marginalized, strive for justice and live for others."
The College Republicans also asked Smith to apologize, and said "if Dr. Smith is unwilling to do so, then we demand he resign."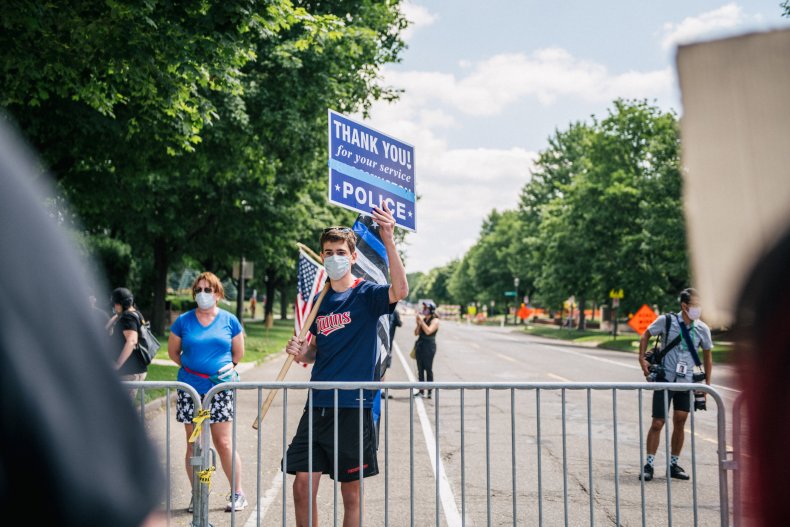 According to a statement released by Creighton University, Smith "regrets his statement and sincerely apologizes for the offense it has caused."
"Creighton believes statements of this nature impede our goal of promoting unity within our community, including our effort to confront and eliminate systemic racism. Creighton is an institution guided by Jesuit, Catholic values and traditions, including inquiry and discourse that reflect ethical and critical thinking, and respect and care, for all persons," the University continued.
Smith has also deleted his Twitter account.
Captain Wayne Hudson of the Douglas County Sheriff's Office, one of the speakers at the Back the Blue event, told WOWT he doesn't accept the university's apology.
"He disrespected the entire law enforcement community, so if he wants to apologize, have him show up tomorrow at the rally and apologize to all those law enforcement officers who put their life on the line each and every day and even him every day," Hudson told the station.
The Back the Blue event ended at 10:30 a.m. local time Saturday. It is not yet known if Smith appeared at the rally.
At Creighton University, Smith is an associate professor. His discipline focuses mainly on Christianity during the antique, medieval and Byzantine eras. He also teaches in the Women and Gender Studies program, according to the university's website. In addition, he's the associate editor of the Journal of Religion & Society.