'Profound Failure to Act': Intelligence Company Warned Feds of Jan 6 Violence 2 Weeks Prior
A private intelligence company warned federal law enforcement agencies in a briefing that former President Donald Trump's supporters were planning a violent insurrection two weeks ahead of the events on January 6 in Washington, D.C.
The attack against the Capitol appeared to take federal law enforcement off guard, as a mob of pro-Trump rioters quickly overwhelmed officers protecting the legislative building. In the wake of the violence, law enforcement officials have suggested they were unaware of the seriousness of the threat. However, newly reported documents show the government received advanced warning.
"[A] supposedly violent insurrection by [Trump's] supporters has 'always been the plan,'" a December 24 briefing by SITE Intelligence Group warned its subscribers, which include federal law enforcement, Politico first reported Thursday.
Rita Katz, the founder and executive director of SITE, said that federal law enforcement's response to the warnings demonstrated a "profound failure to act."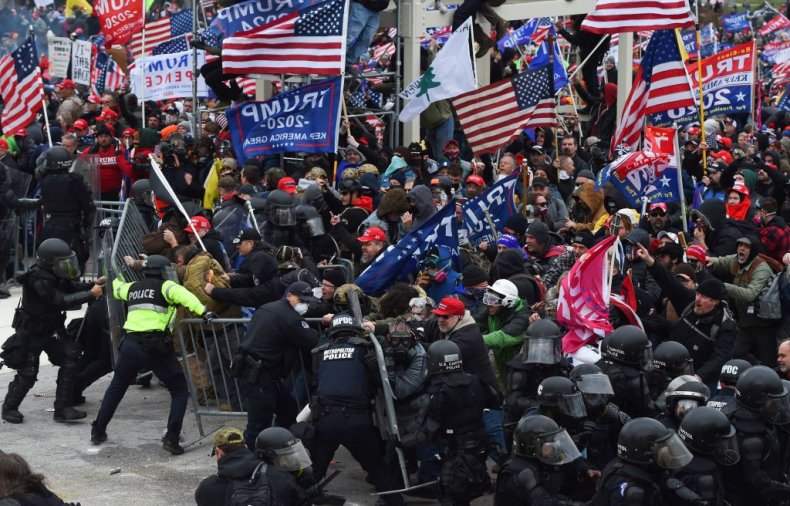 "A potpourri of communities overtly strategized to storm the Capitol building and arrest—if not outright kill—public officials and carry out a coup," Katz told Politico. She said that officials "were alerting their superiors and other agencies to the threats SITE had identified—many of which ended up manifesting that day, just as they were written."
Katz explained that SITE's briefing about specific threats were circulated by the "FBI and other agencies well before January 6."
Capitol Police said in February that they had been aware of possible violence and had taken additional precautions, even arming officers with assault rifles to protect members of Congress. However, they said that the they had largely expected a more traditional protest and not the level of violence that eventually transpired.
"Although the Department's January 3rd Special Assessment foretold of a significant likelihood for violence on Capitol grounds by extremists groups, it did not identify a specific credible threat indicating that thousands of American citizens would descend upon the U.S. Capitol attacking police officers with the goal of breaking into the U.S. Capitol Building to harm Members and prevent the certification of Electoral College votes," Yogananda Pittman, assistant chief of Capitol Police, said during a House hearing in February.
Newsweek reached out to the Department of Justice and the FBI for comment but did not immediately receive a response.
Hundreds of Trump supporters stormed the Capitol on January 6 in an apparent effort to prevent the formal certification of President Joe Biden's Electoral College victory. Ahead of that attack, Trump urged his supporters during a rally at the Ellipse to march to the Capitol and to "fight like hell." Many proceeded to follow that guidance.
The crowd was largely animated by Trump's false claims that the 2020 election was "rigged" or "stolen" in favor of Biden. Despite dozens of failed election challenge lawsuits filed by Trump and his allies as well as multiple audits in key battleground states, no evidence has emerged substantiating the former president's extraordinary allegation.
Many of the Trump supporters expressed a desire to kill top American lawmakers, such as then-Vice President Mike Pence and Speaker of the House Nancy Pelosi. Some rioters set up a large noose outside the Capitol, while some suggested they wanted to "hang" Pence for refusing to unconstitutionally overturn the election results.
More than 660 people have been charged in connection to the Capitol assault. It took about four hours for law enforcement to clear the legislative building of rioters and end the violence on January 6.