Mollie Tibbetts's Dad Receives 'Profoundly Racist' Robocall From White Nationalists Using Daughter's Name
A recorded message from a white nationalist group using Mollie Tibbetts's death as a push for the removal of nonwhite immigrants from America reached her father, Rob Tibbetts's, phone.
The call, sent from The Road to Power, told recipients that Mollie was killed by an "invader from Mexico," and lambasted her family for believing the 20-year-old wouldn't want the Hispanic community to be blamed.
Despite her family repeatedly expressing messages to the contrary, the recorded voice said if Mollie could be brought back to life she would want the "brown horde" gone.
"Now, Mollie Tibbets would say 'kill them all,'" the caller said. "We don't have to kill them all, but we do have to deport them all."
The message described men who are mixed race as having low IQs and being "bottom feeding savages," and concluded with a statement that America needs to be whites only if it doesn't want to suffer the same fate as Hispanic countries.
Shortly after his daughter's body was found, the automated message, which targeted phone users in her hometown of Brooklyn, Iowa, reached Rob Tibbetts's cell phone. He told The Des Moines Register that he only answered the phone because he recognized the area code and called the views expressed in the message ones his daughter would have found "profoundly racist."
"It was unbelievably painful," Rob recalled to The Des Moines Register. "It was everything that's dark and wrong in America right now."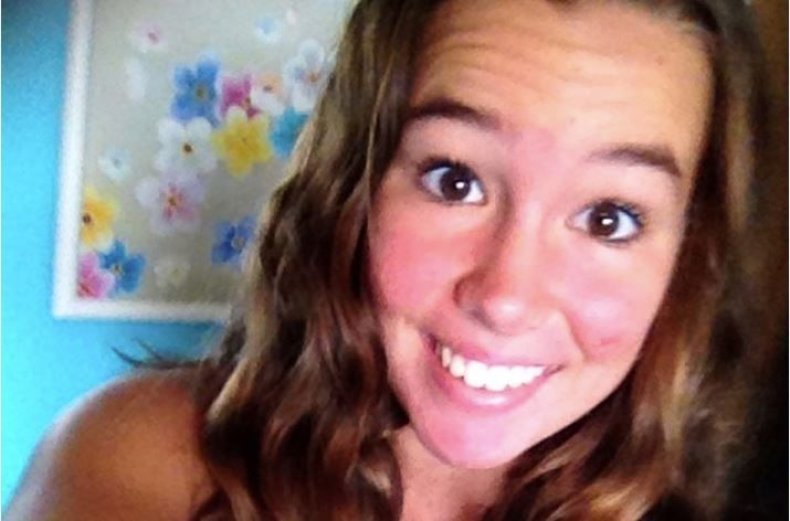 This isn't the first time Rob has spoken out about the dialogue his daughter's death sparked. On Saturday, the grieving father penned an op-ed in The Des Moines Register that asked everyone, including politicians, to leave his daughter out of the immigration debate.
He thanked everyone who respected the family's first request to stop politicizing the family tragedy but pointed out that not everyone, specifically first son Donald Trump Jr., has acquiesced.
"But do not appropriate Mollie's soul in advancing views she believed were profoundly racist. The act grievously extends the crime that stole Mollie from our family and is, to quote Donald Trump Jr., 'heartless' and 'despicable,'" Rob wrote.
Mollie's father once again thanked the Hispanic community and apologized for how they've been treated in the wake of his daughter's death. He called instigating discord between races a "disgrace to our flag" because it incites fear among the innocent and "lends legitimacy to the darkest, most hate-filled corners of the American soul."
"It is the opposite of leadership," Rob wrote. "It is the opposite of humanity. It is heartless. It is despicable. It is shameful."
As the only family member to receive the call, Rob believes the person behind the message purposefully singled him out as he has a Latina stepdaughter and two Latino grandchildren. Rob contacted the FBI about the call, but the agency explained that because of free speech laws, there's not much they can do.
The Road to Power, a white nationalist organization, has released similar automated messages in the past to discredit Senator Dianne Feinstein as a "traitorous" Jew and encourage voters to "end the Jewish takeover" by voting for an open Holocaust denier.
Tibbetts's body was found August 21 after weeks of searching. Cristhian Bahena Rivera, 24, who was found to be in the country illegally, has been charged with first-degree murder.
Mollie Tibbetts's Dad Receives 'Profoundly Racist' Robocall From White Nationalists Using Daughter's Name | U.S.