Progressive Democrats Demand Stimulus Relief 'Now' After Pelosi Rejects WH Deal and GOP Focuses on SCOTUS Nominee
Progressive Democrats are urging congressional passage of another economic relief package "now" after House Speaker Nancy Pelosi rejected the most recent White House offer and as Senate Republicans focus on confirmation hearings for Supreme Court nominee Amy Coney Barrett.
Millions of Americans remain unemployed as many struggle to pay rent and to afford adequate food to feed their families because of the economic fallout of the coronavirus pandemic. Meanwhile, the White House, Democrats and Republicans have been negotiating a new relief package off and on since May, when House Democrats put forward their opening offer—a more than $3 trillion bill that Republicans dismissed as a Democratic "wish list."
On Wednesday, Treasury Secretary Steven Mnuchin, who has been leading the negotiations with Pelosi on behalf of President Donald Trump, said it was unlikely a package will be passed before the election. "At this point, getting something done before the election and executing on that will be difficult," he said during a conference hosted by the Milken Institute.
After months of back-and-forth, including an initial starting offer of $1 trillion from the White House and a smaller package put forward by Senate Republicans, the Trump administration offered House Democrats a $1.8 trillion deal last Friday. But Pelosi rejected that agreement, describing it as "one step forward, two steps back." Meanwhile, the Democrat-controlled House has passed another $2.2 trillion package—which Republicans and the White House have rejected.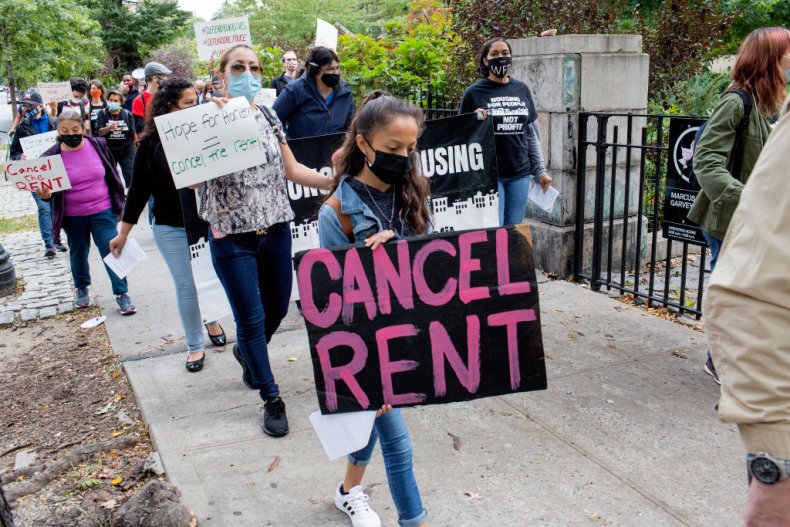 "We need relief now. Not in February. Not in December. The thousands of people dealing with joblessness, hunger, and housing insecurity in my district can't wait," Representative Ilhan Omar, a Minnesota Democrat who serves as the whip for the Congressional Progressive Caucus, tweeted on Wednesday.
"Donald Trump's own @federalreserve chair agrees, families need COVID relief NOW. Do your job @senatemajldr," Representative Ayanna Pressley, a Massachusetts Democrat and a member of the Progressive Caucus, wrote in a Tuesday Twitter post. She linked to an article referencing Federal Reserve Chair Jerome Powell, who has urged lawmakers to pass further economic relief legislation.
"Families need relief, small businesses are closing forever, people are losing their housing, and the virus is still at large," Representative Pramila Jayapal, a Washington Democrat who co-chairs the Progressive Caucus, tweeted on Tuesday. "It has been nearly TWO weeks since the House passed a robust aid package to address ALL of these issues head-on. It's time for the Senate to do the same."
Representative Ro Khanna of California, who serves as the first vice chair of the Progressive Caucus, even suggested that Democratic leaders should be the ones to compromise.
"People in need can't wait until February. 1.8 trillion is significant & more than twice Obama stimulus. It will allow Biden to start with infrastructure. Obama won in 08 by doing the right thing on TARP instead of what was expedient. Make a deal & put the ball in McConnell court," Khanna tweeted on Sunday.
Confronted with Khanna's remarks by CNN on Tuesday, Pelosi was dismissive. "Ro Khanna, he's lovely," she said, but added that he's "not negotiating" and has "no idea of the particulars."
Khanna later clarified his remarks to CNN on Wednesday, saying he supports Pelosi if she believes she can get a bigger and better deal within the next few days. But he again raised concerns about waiting too long and the negative impact it will have on Americans across the country.
"I'm not saying we should take exactly the language of what the White House offered. What I have said is...we're close and we should be able to make the deal, and I think we can," Khanna said.
Even if the White House and Democrats come to an agreement, it's unclear whether the Senate—which is controlled by Republicans—would move forward with the deal. Leading GOP senators have expressed serious concerns about the high price tags of the proposals under discussion. Several appear unwilling to support spending trillions of dollars after already doing so with the CARES Act back in March.
Additionally, the Senate is in the midst of Barrett's confirmation hearings, so it seems unlikely that Majority Leader Mitch McConnell, a Kentucky Republican, will take up relief legislation before the election.
As for Trump, he said this week lawmakers should "go big or go home" in regards to a new package, which suggests that Democrats have an opening to push the overall price tag of an aid bill higher.
Newsweek reached out to press representatives for Pelosi and McConnell for comment, but they did not respond in time for publication.