Progressive Jewish Groups Dismiss Trump's Middle East Peace Plan As 'Utterly Bankrupt' and a 'Sham'
Progressive American Jewish groups quickly dismissed and criticized President Donald Trump's long-awaited Middle East Peace plan, calling it "utterly bankrupt" and a "sham."
Trump announced the plan on Tuesday, standing next to Israel's Prime Minister Benjamin Netanyahu, who was formally indicted on corruption charges earlier in the day. Trump argued that the plan was the "closest we've ever come" to a peace deal between the Israelis and the Palestinians, but on Monday he had told reporters that there had been no direct negotiations with the Palestinians.
Emily Mayer, the co-founder of progressive Jewish group IfNotNow, called the plan "utterly bankrupt."
"This is a political ploy by both leaders to distract from their abuse of power, designed to help Netanyahu win the election in less than six weeks," Mayer told Newsweek in a statement.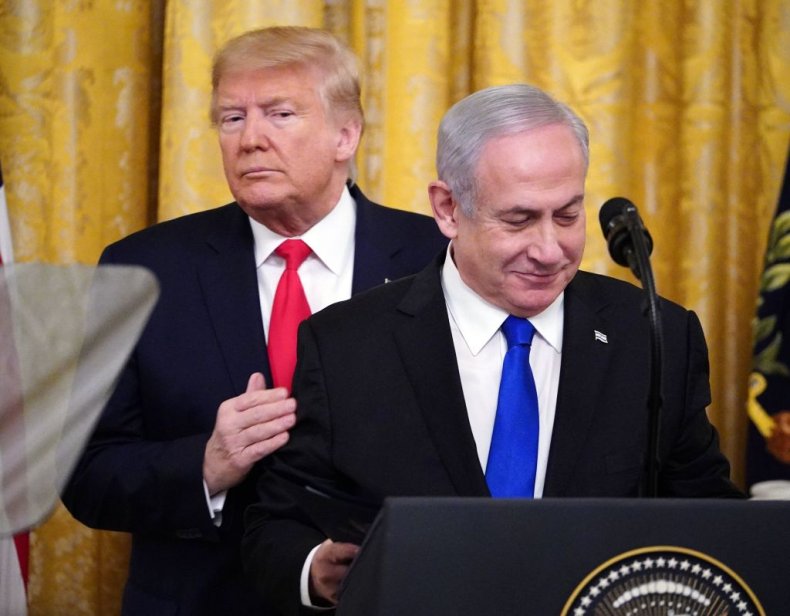 "The plan itself is a plan for permanent Israeli military occupation and control, not a plan for peace. It is simply a continuation of Trump's strategy since entering office: to disenfranchise Palestinians and deny their rights, their agency, and even their identity," she said.
Rabbi Alissa Wise, co-executive director of Jewish Voice for Peace told Newsweek that Trump's administration had already "contradicted international law on the illegality of Israeli settlements, the annexation of the Golan Heights and the status of Jerusalem, while cutting massive amounts of humanitarian aid to Palestinians."
Wise added, "This plan will expand the Trump administration's enabling of Israeli land theft and the continued subjugation of Palestinians and violation of their human rights. There is a reason Palestinian leadership is calling it 'dead on arrival,' any plan concocted without the support and participation of Palestinians is biased from the start.
J Street, a liberal pro-Israel advocacy group, started the hashtag #PeaceSham on Twitter ahead of the president's announcement with Netanyahu. "This is not a peace plan. It is a #PeaceSham," the group tweeted on Tuesday.
Halie Soifer, executive director of the Jewish Democratic Council of America, said a viable peace solution required input from both sides.
"If we have learned anything from the peace negotiations of the past three decades, it is that solutions cannot be imposed from the outside. They must be mutually agreed upon by the Israeli government and the Palestinian Authority," Soifer told Newsweek in a statement. "In the absence of such negotiations, imposed measures will impede future prospects for peace."
Under Trump's plan, Palestinians would be offered statehood with a capital in East Jerusalem where, the president promised, the U.S. would build an embassy. While Trump said the plan would more than double territory under Palestinian control and allow for billions in investment, it would also allow for Israel's government to maintain control over Israeli settlements in the West Bank, which are considered illegal under international law.
Ahead of the announcement, Palestinian leaders roundly rejected the plan, arguing that Trump had already showed that he was not supportive of their cause.
"We reject it, and we demand the international community not be a partner to it because it contradicts the basics of international law and inalienable Palestinian rights," Palestinian Prime Minister Mohammad Shtayyeh said on Monday, according to Al Jazeera.
"Trump is a dog and the son of a dog," Palestinian President Mahmoud Abbas said, vowing to reject the agreement ahead of its announcement. "They called me from Washington, and I did not pick up the phone.… I said no, and I will continue to say no."