Progressive Underdogs in Race for Mitch McConnell's Senate Seat Say It's Not About Winning, It's About 'Survival'
Senate Majority Leader Mitch McConnell is one of the most untouchable lawmakers in Washington D.C., but that hasn't stopped Kentucky Democrats from trying to dethrone him this November.
"I was thinking maybe we can survive four more years of Donald Trump but we couldn't survive six more years of Mitch McConnell," political newcomer Mike Broihier told Newsweek, reflecting on his decision to enter what is expected to be one of the most expensive and contentious races this year.
"I really saw what McConnell was doing in Washington as being an existential threat to the Republic," he said.
Broihier, a farmer and retired lieutenant colonel with the Marines, is joined by another progressive, state legislator Charles Booker, in the field of candidates in the state's Democratic primary, which is June 23. Booker grew up in Louisville's poor, largely African American West Side and is outspoken on the campaign trail about his struggles to afford insulin to treat his diabetes. He's also the youngest candidate in the primary and the only one to have won an election in the red state.
"I'm running for Senate for the same reason I got into politics to begin with—out of survival," Booker told Newsweek. "Mitch McConnell was elected two weeks after I was born and has essentially been screwing us my entire life."
But beating McConnell, the most powerful lawmaker in Washington and President Donald Trump's right-hand man, will be an uphill battle. And before either of them can go directly challenge the Senate majority leader, they have to get past Amy McGrath. McGrath, also a retired Marine, has positioned herself as the moderate candidate and is currently considered the primary's front-runner. Polls have shown the race is winnable for her, as she has either tied McConnell or trailed him by single digits. She even outraised McConnell by $5 million in the first three months of 2020, according to the latest campaign finance filings.
Booker and Broihier have much less cash than McGrath and McConnell. McConnell, however, had more than 100 times more money in the bank than the two progressive candidates combined as of April. McConnell's campaign contributors are largely out of state, however, while Booker and Broihier rely on Kentucky donations.
McGrath was also cherry-picked by the Democratic Senatorial Campaign Committee last year as the candidate best suited to challenge McConnell—which Broihier and Booker say only further cements her as part of the establishment "playing politics" rather than connecting with everyday Kentuckians. Booker called the DSCC's decision to back McGrath "complete disrespect to the people of Kentucky."
"Her platform is just kind of empty," Broihier said. He slammed McGrath for once saying she would have voted for Brett Kavanaugh's confirmation to the Supreme Court, which he deemed "death for female voters in Kentucky." McGrath later walked back the comment, fueling more criticism from her rivals that she wasn't consistent on the issues.
While McGrath has stayed in the center, Booker and Broihier have jumped to the left. She backs Obamacare but doesn't support a single-payer health care system, while they call for Medicare for All. She supports income equality but doesn't go so far as Booker and Broihier, who both back a universal basic income.
"If we're not talking about empowering and elevating folks to address structural challenges for us to transform our future, we're missing the opportunity here, and we can't afford to do that," Booker argued.
The question is whether Kentuckians feel the same. The state is deeply red, as apparent by its overwhelming support for Trump in the 2016 election. And while Democrats celebrated winning the governor's mansion during the 2018 midterms, they lost every other constitutional office on the ballot to Republicans.
And as for McConnell, he may be one of the most disliked lawmakers in the state and the country, but it's never stopped him from winning six straight re-elections since entering Congress in 1984. In fact, in 2014 he won his race by a 15-point margin. McConnell is also at an advantage in 2020 because President Trump will be at the top of the ballot. Split-ticket voting is becoming rarer, so in a state where Trump won by 30 points, Republican candidates are likely to see a significant boost.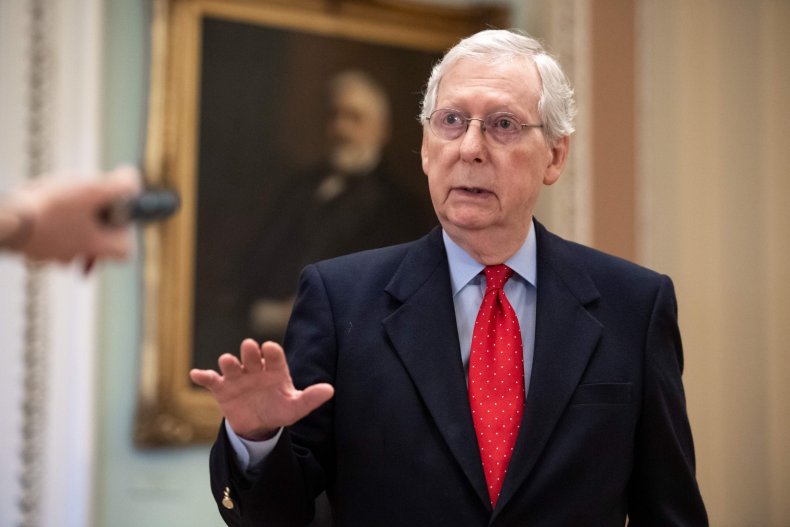 But his rivals see a new opening because of the coronavirus pandemic. McConnell, as the top Republican on Capitol Hill, has been arguably the most visible lawmaker in the federal government's response to the global health crisis—and not always in a good way.
"I think leading is a misleading word," Broihier said. "I don't think there has been a lot of leading going on. Pushing it down the states to cause a dogfight between governors is...disgusting. It's a total abdication of leadership."
McConnell's recent suggestion that the federal government should let states go bankrupt rather than provide additional aid was not well received by Democrats or Republicans. New York Governor Andrew Cuomo called the suggestion "one of the really dumb ideas of all time." Maryland Governor Larry Hogan said that it was "the last thing we need" during the global health crisis. Kentucky Governor Andy Beshear said that he "strongly disagrees" with McConnell's comment and that bankruptcy would "be disastrous."
Predictably, both Booker and Broihier said they would have a completely different response to the pandemic. Booker's priorities would include providing monthly relief checks to every American, stopping rent and mortgage payments and making vote-by-mail measures universal. Broihier said if he were in McConnell's shoes one of the first things he would have done is motion for a vote for Trump to use the Defense Production Act.
"[McConnell's] response has really just been a continuation of the reality that he doesn't give a damn about us," Booker said. "He's made it clear and he doesn't hide it: He's going to look out to bail out big corporations, and he's going to look to break the backs of regular people. Because that's just been his model for success."