Progressives Are Gaslighting Us on Crime. We're Not Going to Take It Anymore | Opinion
Chesa Boudin is out. The San Fransisco District Attorney is infamous for a soft on crime approach that many believe has resulted in the crime wave afflicting the city. His name has become synonymous with rampant carjackings and theft, viral videos of career criminals filling bags with loot from stores and ever-expanding open air drug markets in the streets of San Fransisco. So it's no surprise that Boudin was voted out in a recall election Tuesday, with nearly two thirds of San Fransisco voters choosing to oust him.
Boudin's recall echoes that of another recent historic recall: San Francisco voters recalled three progressive school board members after they spent the pandemic renaming schools with insufficiently politically correct names instead of opening schools so kids could learn.
We in Oakland are paying close attention to what seems like the promising beginnings of a wokelash. Oakland is also besieged with homelessness, violent crime and ineffective leadership, much of it stemming from a similar woke worldview that seems to protect criminals more than their victims.
For many of us, the defeat of supposedly progressive policies that make some leftists feel good but end up exacerbating our social-economic crisis was proof that the winds of wokeness have shifted back to a steadier breeze of pragmatism.
But Boudin's recall has also significantly upped the stakes for Oakland. It's a wakeup call for us to adjust our own approach to crime and homelessness. With Boudin out, we run the danger of becoming a vortex for San Francisco's drug tourism. We must take this moment seriously—just as our neighbors in San Fransisco have.
This year, Oakland is facing one of its most important elections in history, with a Mayor and up to four City Council seats up for grabs. And similar battle lines are being drawn as the ones in SF.
And yet, whatever you see in San Fransisco is even worse for us in Oakland. Over the last three years, San Francisco's homeless population decreased by 3.5 percent—while Oakland's grew by 22 percent. This is despite hundreds of millions of dollars spent during the coronavirus pandemic as well as eviction moratoriums put in place to ensure no one else lost housing due to inability to pay. San Francisco's unhoused population declining while ours grew significantly is concerning; many seem to be coming to Oakland for greener pastures.
For progressives like Boudin and his ilk, homelessness is always a question of resources. "The widespread homelessness we see in Oakland is not the result of individual struggles with mental illness and substance abuse—it's a structural problem of not enough affordable housing," is how prominent Oakland City Council member Carroll Fife put it.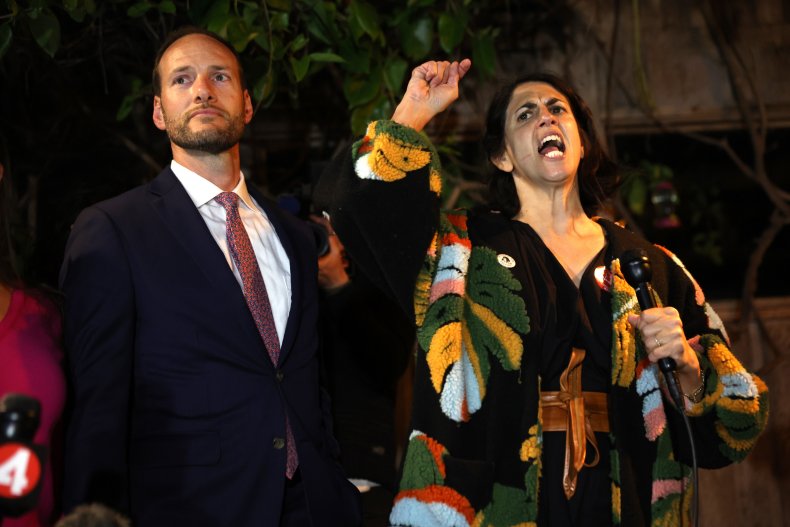 The problem is that these issues are not mutually exclusive. The homelessness problem stems from both a crisis in resources and a problem of policy surrounding mental illness and substance abuse. Any policy that ignores one of these pieces of the problem is bound to fail.
Similarly, Oakland progressives frequently claim that crime is actually down. They have spent the past 24 hours since the recall claiming that voters hypnotized by Fox News and the "perception of crime" is what led to Boudin's demise.
Nothing could be further from the truth. Boudin won in white affluent neighborhoods and lost in neighborhoods that are a majority people of color—not your typical Fox News audience. That's who's been paying the price for soft on crime policies: people of color. The indigent. The poor.
Oakland's businesses and neighbors are seen in the news daily desperately crying for help. Many have been here for generations and frequently tell reporters and advocates they have never seen the city as bad as it is today.
Imagine calling a roofer after a storm, urgently telling them water is dripping on your carpet, and they respond to you that their studies show that your roof is just fine, better in fact than before. That's how many Oakland voters feel: gaslit and taken advantage of.
For us to move forward, we need to drop the deliberate removal of nuance for political gain and have an honest conversation about solutions that work for everyone.
We are locked in a battle between progressives fighting for equity and services for the poor and moderates who view these policies as dangerously permissive. Caught in the crossfire are neighbors, business, and most importantly, the homeless themselves who desperately need help.
Many of us who were cheering for the recall are simply hoping that our city leaders learn a valuable lesson: It's time to show proof of concept that your policies work, or be open to other ideas outside of your echo chambers.
Otherwise, Oakland may see its own backlash against the progressives this fall.
Seneca Scott is the founder and CEO of Bay Area Nonprofit, Neighbors Together Oakland and is currently a candidate for Oakland Mayor.
The views in this article are the writer's own.