Progressives Hit Back at Betsy DeVos over Student Loans as Pressure Grows on Biden to Forgive Debt
Prominent Democrats have denounced Education Secretary Betsy DeVos for her criticism of proposals to waive student debt and allow people to get free college tuition.
President-elect Joe Biden has said he wants free higher education for families that earn less than $125,000 a year and he has also backed a proposal to forgive $10,000 in federal student debt.
But DeVos believes that a free college program would hurt the economy, telling the Federal Student Aid office's virtual conference that "the campaign for free college is a matter of total government control."
"Make no mistake, it is a socialist takeover of higher education," she said, "some of you might not find that notion as scary as I do. But mark my words—none of you will like the way it will work."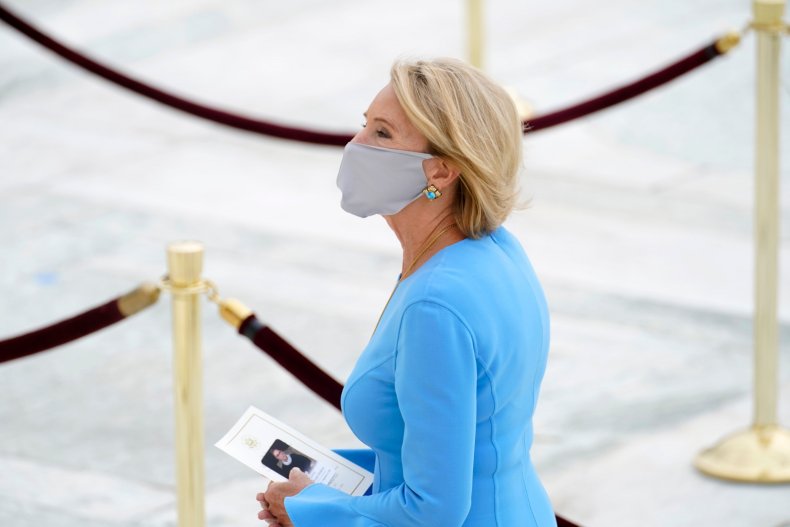 On Wednesday, lawmakers from the progressive wing of the Democrats reacted to DeVos' comments, including members of "The Squad"—the nickname for four progressive congresswomen elected in 2018.
Noting her imminent departure from the role, Representative Ayanna Presley from Massachusetts tweeted: "Don't let the door hit you on the way out. #CancelStudentDebt."
Julián Castro, former mayor of San Antonio, and ex-secretary for housing and urban development, took a swipe at DeVos's wealth, tweeting: "Billionaire Betsy DeVos and her family own ten yachts. She has inherited everything she owns.
"But she doesn't believe students should be able to get an education without a mountain of debt. In 50 days, our students will be better represented by a new Education Secretary," referring to the date of Biden's inauguration.
Michigan Representative Rashida Tlaib reweeted his comment, adding: "I need to watch Betsy pack and leave. Who can help arrange the viewing?"
Meanwhile, New York representative Alexandria Ocasio-Cortez mocked DeVos's view that tuition-free public college would be "a dangerous socialist takeover" of higher education.
She compared it to the "far superior capitalist takeover of higher ed, which reliably buries millions of Americans in trillions of dollars in debt & graduates them into low paying jobs without good healthcare."
Also making a dig at the wealth of DeVos was Senator Elizabeth Warren, who had described her as an "unqualified billionaire" on Tuesday. Meanwhile, during a senate banking committee hearing that day, Warren pushed for Biden to cancel student debt via executive authority.
The proposal to not just cancel $10,000 of student debt but waive $50,000 is supported by other congressional Democrats like Ocasio-Cortez as well as Senate Minority Leader Chuck Schumer of New York.
Warren said this would help contribute to a stronger economic recovery in the aftermath of the coronavirus. Since March, student loan borrowers have been able to defer payment on loans but that is set to expire at the end of the year.
"All on his own, President-elect Biden will have the ability to administratively cancel billions of dollars in student loan debt using the authority that Congress has already given to the Secretary of Education," Warren told the hearing.
However, such a move would be politically tricky since there is no equivalent for non-college-educated people who tend to work blue-collar jobs and have suffered greater hardship due to the pandemic.