Progressives' Calls Growing for Biden to Cancel $50K of Student Loan Debt: 'Do It!'
Calls from progressive Democratic lawmakers for President Joe Biden to cancel $50,000 of student loan debt continue to mount in recent days.
Senate Majority Leader Chuck Schumer, a New York Democrat, and Senator Elizabeth Warren, a Massachusetts Democrat and many members of the Congressional Progressive Caucus, have pressured Biden to cancel a significant level of student loan debt—which is estimated to be collectively more than $1.7 trillion.
Although Biden has previously pushed back against the idea publicly, White House Chief of Staff Ron Klain told Politico on Thursday that the president asked Secretary of Education Miguel Cardona to prepare a memo regarding whether the administration has the legal authority to cancel up to $50,000 in student debt for borrowers.
"Hopefully we'll see that in the next few weeks," Klain said, regarding the pending memo. "And then he'll look at that legal authority, he'll look at the policy issues around that and he'll make a decision."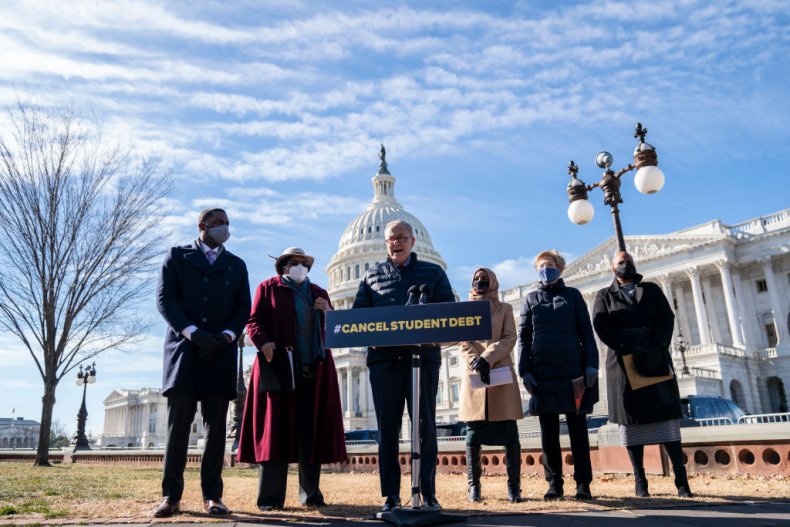 On Saturday, Schumer and progressive Democratic lawmakers took to Twitter to pressure the Biden administration to take action. Proponents of student debt cancellation argue that the administration has the authority to simply cancel student loan payments, pointing out that the payments and associated interest have already been suspended amid the pandemic.
"Today would be a great day for President Biden and Vice President Harris to #CancelStudentDebt," Schumer tweeted on Saturday.
"Canceling student loan debt is a matter of racial, economic, and generational justice," Warren wrote on Twitter on Friday.
A day earlier, the senator tweeted: "Canceling student loan debt is one of the single most effective executive actions available to boost our economy, and it will help millions of people in MA and across the country."
Representative Rashida Tlaib, a Michigan Democrat, shared an article on Twitter reporting on how Biden is now considering $50,000 in student loan forgiveness. The congresswoman wrote: "Do it @POTUS!"
Charles Booker, a progressive Democrat who previously served in the Kentucky House of Representatives, shared the same sentiment. He tweeted: "Do it!," also sharing an article about Biden's consideration of the idea.
"We gotta continue pushing for this until it happens," Representative Ilhan Omar, a Minnesota Democrat, wrote in a Saturday tweet, thanking fellow lawmakers pressuring the Biden administration to take bold action on student debt.
Representative Ro Khanna, a California Democrat, emphasized that Biden could simply take executive action to provide debt relief to millions of Americans.
"President Biden can cancel up to $50,000 of student loan debt for the American people with the stroke of a pen. Let's make it happen. #CancelStudentDebt," Khanna tweeted.
Representative Ayanna Pressley, a Massachusetts Democrat, explained during a press conference last week student debt is an issue that impacts Americans across generations. The congresswoman stressed that she routinely talks with individuals in their 50s and even in their 70s who still make payments on their student loans.
"We do a disservice when we perpetuate the idea that the face of student debt are white graduate students who went to Ivy League institutions," Pressley said.
While he is now reportedly exploring the possibility of forgiving $50,000 in student debt, the president previously expressed opposition to the idea. "I will not make that happen," Biden responded quickly when he was asked about the possibility during a CNN town hall in mid-February.
Newsweek reached out to the White House for comment, but did not immediately receive a response.