Progressives Demand More Student Debt Relief as Biden Cancels Nearly $6 Billion
Progressive Democratic lawmakers continue to urge President Joe Biden to forgive all or a substantial portion of Americans student debt, even as the administration announced it would cancel nearly $6 billion held by individuals with disabilities.
Biden's Education Secretary Miguel Cardona announced on Thursday the administration would erase some $5.8 billion in student loans held by about 300,000 Americans with severe disabilities that prevent them from earning substantial income.
"We've heard loud and clear from borrowers with disabilities and advocates about the need for this change and we are excited to follow through on it," Cardona said.
Many progressive Democrats have repeatedly demanded that Biden cancel all student debt. Senate Majority Leader Chuck Schumer, a New York Democrat, and Senator Elizabeth Warren, a Massachusetts Democrat, have urged the president to forgive at least $50,000 in student debt for individual borrowers—arguing that this would create an economic boost while also providing substantial financial relief to tens of millions.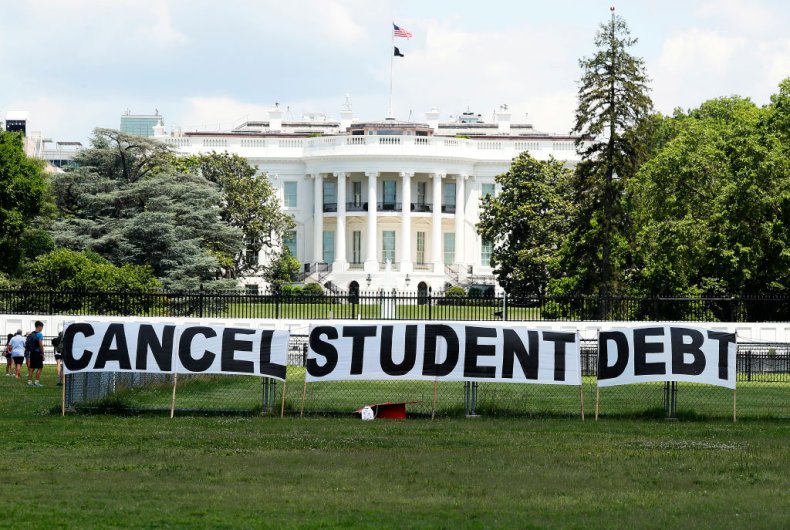 "Grateful that the Biden Administration has formally recognized its authority to cancel student debt. He must now do this for everyone," Representative Mondaire Jones, a freshmen Democrat from New York, tweeted on Thursday, sharing the news of Cardona's announcement.
The Biden administration has previously suggested it may not have the legal authority to forgive student loan debt, suggesting Congress should act to pass some form of forgiveness. Schumer, Warren and other progressives have dismissed this argument, pointing out that the president can cancel student debt through executive action. They have said it comes under the same legal authority that has been used to suspend student loan repayments during the pandemic.
"Today would be a great day for @POTUS to finally cancel at least $50,000 of student loan debt per borrower," Representative Pramila Jayapal, a Washington Democrat and chair of the Congressional Progressive Caucus, tweeted on Thursday. Jayapal retweeted a post from Student Debt Crisis assessing that the total amount held by Americans has now risen to nearly $1.84 trillion.
"When people got their relief checks from the American Rescue Plan, they got to feel like government was looking out for them," Warren tweeted on Wednesday, before Cardona's announcement. "Imagine how tens of millions of Americans would feel after we cancel $50,000 in student loan debt," the senator added.
Schumer shared a similar message on Wednesday. "Millions of Americans are struggling under the burden of student debt, and the pandemic has exacerbated this problem. President Biden can use his existing legal authority to #CancelStudentDebt," the Senate majority leader wrote on Twitter.
For the time being, federal student loan payments have been paused since the spring 2020 amid the COVID-19 pandemic. Borrowers' monthly payments have been automatically suspended—unless they choose to continue to pay—and interest has not accrued. The Biden administration extended the student loan repayment pause until January 31 earlier this month, but has said this will be the last extension.
Newsweek reached out to press representatives for Warren and Schumer for comment but did not immediately receive a response.