After an arduous vote-counting process that served as a reminder of the incompetence of New York's City's Board of Elections, Brooklyn Borough President Eric Adams was finally declared the victor in the city's Democratic mayoral primary. And because of New York City's partisan lean, Adams will almost certainly be the next mayor.
Like President Joe Biden, who recently invited Adams to the White House to discuss gun violence, the Democratic nominee hails from the more moderate wing of the Democratic Party. He is a former Republican and previously served in the New York Police Department, hardly the profile you would expect for the leading Democratic Party figure in America's most populous city.
Adams emerged on top in a crowded race by addressing a core concern of the city's voters: rising violent crime. To be clear, Adams is no staunch right-winger. Even when he was serving as an officer in the NYPD, he was reform-minded, clashing with Republican Mayor Rudy Giuliani over issues like community policing.
But while left-leaning mayoral candidates like comptroller Scott Stringer, nonprofit executive Dianne Morales, and former de Blasio counsel Maya Wiley all endorsed significant cuts to the NYPD budget, Adams did not join them. Instead, he distanced himself from progressive calls for de-policing. "When you start defunding, hey, the cop is no longer on your corner," he explained in an interview last spring. "That cop is no longer in your lobby. That cop is not standing outside when you leave your Broadway play. And I have never been to an event where the people are saying we want less cops. Never."
Crime became the dominant issue in the race as time wore on due to a big spike in shootings and murders in working-class Black and Latino neighborhoods, where residents don't want less policing but fairer policing. And Adams's biography fell squarely into that sweet spot, as a former cop who sought police reform.
"Adams was able to capitalize on that, touting his anti-crime credentials as a former police captain," Ross Barkan, a New York City journalist who followed the race closely, told me. "He had a lot of credibility around the issue."
Rather than defunding the NYPD, Adams vowed to reinstate an NYPD plainclothes unit that was disbanded last year. He also promised to "zero in on gangs and guns." His victory was a clear sign that voters want more police to tackle violent crime. His top rival, Kathryn Garcia, also echoed his messaging around public safety, Barkan noted, and joined him in rejecting calls to Defund the Police.
And yet, many progressives have been resistant to conceding the obvious truth that the mayoral race was won by opposing the Defund the Police movement. Take New York's own progressive Congresswoman Alexandria Ocasio-Cortez, who backed Wiley and later appeared on the current affairs program Democracy Now! to offer her perspective. Host Amy Goodman posed the obvious lesson of Adams winning the race as "no to 'Defund the Police' and yes to a heavy police presence," and asked Rep. Ocasio-Cortez, "Do you think that's the wrong message to take?"
"I do," replied Ocasio-Cortez. "I do think that's the wrong message to take. I do believe that very heavily because—and it's not just a matter of personal opinion, but we also see public polling showing that's the wrong interpretation to take, as well."
It's true that Adams's win was likely the result of multiple factors. As Brooklyn Borough President, he had established relationships with key voters and important constituencies like labor unions. And yet, the public polling conducted in the lead up to the election demonstrates that crime was a leading concern of New York City's voters and that they wanted to see more policing in response to it—exactly the opposite of what Ocasio-Cortez claimed.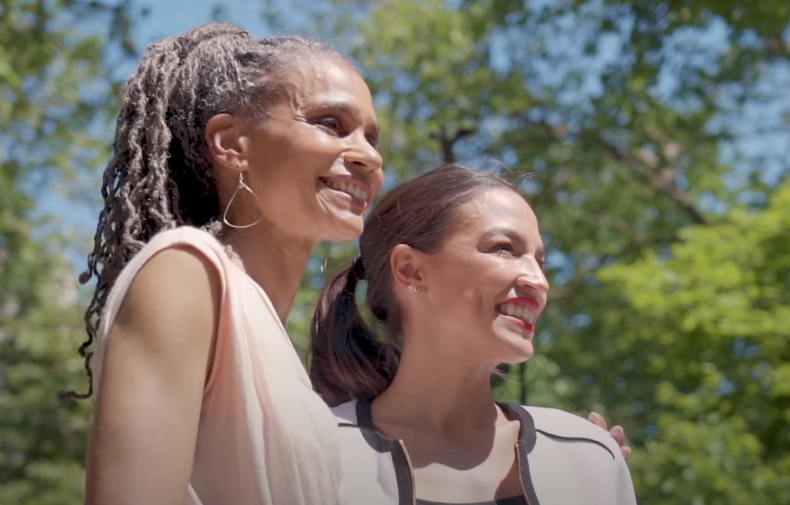 46 percent of likely voters told one survey that crime or violence was a "main problem" in the city today, and fully 69 percent of voters told the same survey that they agree that the NYPD should "put more officers on the street." Moreover, support for defunding the police is low across the board, reaching a high of 32 percent support only in the highest income bracket—those making over $100,000 a year, in one national survey.
In rebutting calls from progressives to cut back on policing, Adams was often hyperbolic. He blamed "young white affluent people who are coming in and setting the conversation" for the prevalence of police defunding activism. But there was also some truth to his claim. Pre-election surveys do show that concerns about crime are particularly high among African Americans and Latinos. One poll found that 65 percent of New Yorkers in Manhattan said they "feel safe from crime riding the subway" while just 43 percent of people in the Bronx said the same. That same poll showed that 81 percent of people in the Bronx wanted to see more uniformed police officers in the subway while 62 percent of people in Manhattan agreed.
These same gaps existed along other social lines as well. 75 percent of New Yorkers earning less than $50,000 a year wanted to see more police in the subways, while 66 percent of New Yorkers earning above that amount wanted to increase police presence there. 80 percent of New Yorkers who aren't college graduates wanted to increase police presence in the subways, while 62 percent of college graduates agreed. There's also a significant racial gap, with 62 percent of whites supporting a larger police presence in the subways, 69 percent of Latinos, and 77 percent of African Americans supporting the same policy.
The rift over crime appears to be yet another example of what Thomas Picketty has referred to as the rise of the "Brahmin Left." Politics in the West used to be defined by economic class, with left-leaning parties composed largely of workers and right-leaning parties backed by upper-class voters. Now, education is increasingly the new divide between political parties, and, as New York City's mayoral primary shows, those divisions also exist within the Democratic Party itself.
While the gravity in the progressive movement—the think tanks, NGO's, political consultants, media outlets, and a growing crop of younger lawmakers—may be guided by the Brahmin Left, New York City's working-class voters demonstrated that they are still a force to be reckoned with. Eric Adams is the latest proof.
Zaid Jilani is a journalist who hails from Atlanta, Georgia. He has previously worked as a reporter-blogger for ThinkProgress, United Republic, the Progressive Change Campaign Committee, and Alternet. He maintains a Substack newsletter at inquiremore.com.
The views in this article are the author's own.