Progressives Dismiss Joe Biden's Bipartisan Effort on COVID Relief, Demand Action Now
As President Joe Biden prepares to meet with Republican senators on Monday to discuss his proposed $1.9 trillion COVID-19 relief bill, progressives have urged the commander-in-chief to move ahead with his stimulus plan regardless of whether the GOP supports it.
Representatives Rashida Tlaib (D-MI) and Pramila Jayapal (D-WA) said the third coronavirus relief bill was an urgent priority for struggling Americans, and argued that their party had to move forward with its $1.9 trillion stimulus plan.
Senator Bernie Sanders (I-VT) also said providing emergency relief was the "most important issue" facing the U.S. at the moment, as he cautioned against a focus on bipartisan support and compromise.
Speaking to MSNBC on Sunday, Sen. Sanders said: "When we talk about unity and bipartisanship, remember, when Republicans had control they pushed through an almost $2 trillion program that consisted of tax breaks for the wealthiest people in this country, and the largest corporations. They didn't reach out.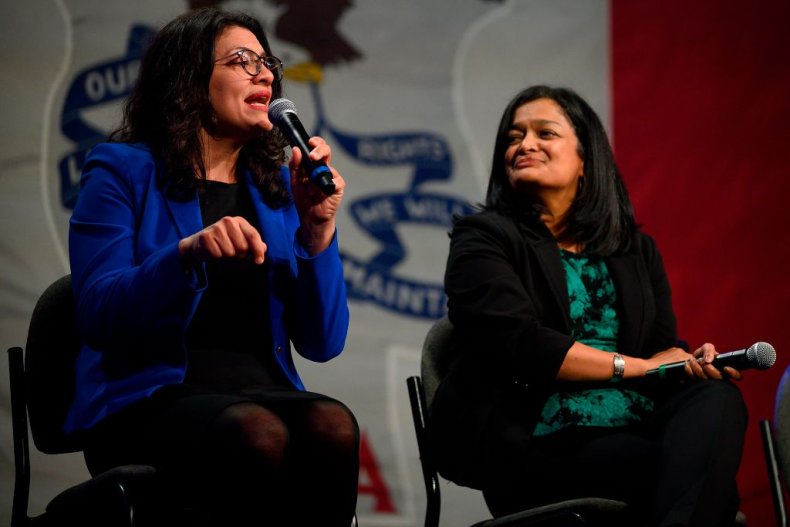 "Second of all, they came within one vote of repealing the Affordable Care Act, and throwing 30 million Americans off the healthcare they have. Everybody believes in bipartisanship, but the most important issue at the moment is that we deal with the unprecedented set of crises facing the American people. That is what we have to do."
Rep. Tlaib, a member of The Squad, also said it was "not the time" for the Biden administration to compromise with GOP lawmakers, and urged Democratic leadership to use the process of budget reconciliation to speed up the process.
"The QanonGOP jammed through tax cuts and goodies for their corporate pals. Now, let's jam for the people," Tlaib tweeted. "Reconciliation if they don't want to play ball."
A reconciliation bill can be passed with a simple majority vote, instead of needing 60 votes for legislation to pass the Senate. A filibuster also cannot be used to block the bill, removing another hurdle Republicans could use to bar COVID relief put forward by Democrats.
Posting about the need for urgent relief, Rep. Jayapal said: "COVID relief can't wait any longer. If the Republican Party doesn't feel the urgency of Americans who are struggling to keep food on the table, then it's time for us to act without them."
Newsweek has contacted the White House for comment. This article will be updated with any response.
President Biden is set to meet with 10 Republican senators to talk about a proposed alternative to his $1.9 trillion relief bill. Writing a letter to the commander-in-chief on Sunday, Sens. Mitt Romney and Susan Collins joined eight other GOP senators in asking Biden to discuss their compromise bill.
The Republican lawmakers indicated that they supported Biden's proposal to provide $160 billion for COVID-19 testing, vaccines and treatments, but also said they had devised "more targeted" relief for American families in need of help.
Releasing a statement on Sunday night, White House Press Secretary Jen Psaki confirmed that Biden had invited the 10 Republicans to the White House for talks, but added that there was an urgent need for action.
"The American Rescue Plan – including $1400 relief checks, a substantial investment in fighting COVID and reopening schools, aid to small businesses and hurting families, and funds to keep first responders on the job (and more) – is badly needed," she said. "As leading economists have said, the danger now is not in doing too much: it is in doing too little."