'Good for the Economy': Progressives Escalate Pressure on Biden to Cancel Student Debt
President Joe Biden has so far resisted calls for a blanket cancelation of student loan debt. But progressive Democrats have refused to relent on their top priority, ramping up the pressure this week on the administration for a sweeping order to fix broken parts of the federal student loan system.
Young adults have been drowning in student loan debt—which has more than tripled since 2000—for years after they graduate. With nearly 45 million individuals receiving a bill each month, Americans now owe about $1.7 trillion in student loans, more than the nation's total debt on auto loans and credit cards.
In April, the Biden administration instructed Education Secretary Miguel Cardona to produce a memo outlining the president's legal authority to eliminate student debt. Six months later, a group of 18 progressive lawmakers, led by Minnesota Representative Ilhan Omar, demanded the document to be released by October 22.
"Decades ago, Congress voted to authorize the executive branch to cancel federal student loans. Federal student debt can be canceled with the 'flick of your pen,'" the members wrote in a letter to Biden, adding that "this authority is already being put to use, as it is currently being used to cancel the interest owed on all federally-held student loans.
"Now it is time for you to honor your campaign pledge and use this authority to cancel all student debt."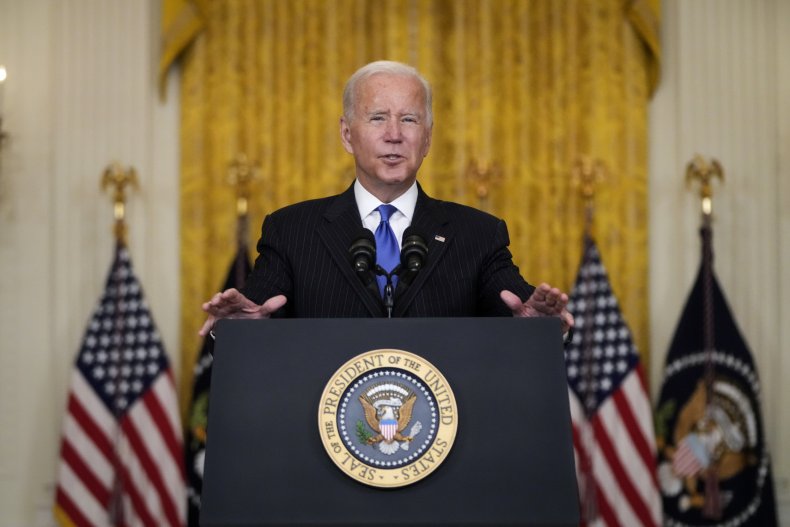 In a tweet Thursday, Senator Elizabeth Warren renewed pressure on the president to "cancel" student debt.
"Student loan borrowers are teachers, health care workers & other essential workers. Many of them have been carrying the burden of student debt for decades. Helping these borrowers is popular and it's the right thing to do," the Massachusetts Democrat wrote.
"Student debt relief is good for people and good for the economy. [Biden] can and must lift the burden of student debt for 43 million Americans," said Washington Democratic Representative Pramila Jayapal, who is also the chair of the Congressional Progressive Caucus.
Senate Majority Leader Chuck Schumer, a New York Democrat, tweeted: "Today would be a great day for President Biden and Vice President Harris to #CancelStudentDebt."
Progressives have been pushing Biden to cancel at least $50,000 in debt with an executive order, which would wipe out the debt burden of 36 million individuals—including about 10 million who have already defaulted—according to data from the Education Department. Biden has previously said he's open to cancel up to $10,000 in student loan debt.
In July, House Speaker Nancy Pelosi said Biden lacks authority to unilaterally eliminate federal student loan debt.
"People think that the president of the United States has the power for debt forgiveness," the California Democrat said. "He does not. He can postpone, he can delay, but he does not have that power. That has to be an act of Congress."
Supporters argue that forgiving student loan debt would help to alleviate racial and economic inequality. In recent years, proponents have also stressed that the cost of living has been rising at a much faster rate than college salaries.
Critics, however, say it's unfair to cancel student loan debt for wealthier borrowers who graduated from elite colleges, such as Harvard and Yale.
In 2019, 10 percent of student loan borrowers were in default, according to data from the National Center for Education Statistics. Black graduates with a bachelor's degree are more likely to default than white dropouts. About 32 percent of Black Americans who went to college 10 years ago have since gone into default.
Biden has already canceled $9.5 billion in student debt for borrowers with disabilities and individuals who were deceived into attending now-defunct colleges. In August, the Department of Education announced a final extension of the pandemic-related pause on student loan repayment, interest, and collections until January 31, 2022.
"It's not enough," Schumer said last month. "We need to do more."
Newsweek reached out to the White House for comment.