Progressives March on DNC In Milwaukee Before Final Night of Convention
A group of racial and social justice protesters in Milwaukee, Wisconsin have marched towards the Wisconsin Center, the site of the largely-virtual Democratic National Convention (DNC), on the night when Democratic presidential nominee Joe Biden is expected to address viewers.
One video of the protesters showed police on horses having a skirmish with demonstrators near Red Arrow Park. One Black female protester on a megaphone said to police, "We're not scared of no horses! We not scared no more... We know now that we have power! Get out of here!"
Soon after, roughly eight or more police officers on bicycles entered the scene as one protester repeatedly shouted, "F*ck all of y'all!" at them. Then, nearly 20 or more officers with bicycles appeared, forming a barricade around the back of the protesters. Concurrently, one light-skinned male protester yelled, "F*ck you!" to each officer while extending his middle finger to each one.
Police eventually left, leaving a group peacefully listening to speakers from families whose loved ones were killed by police.
According to WISN 12 News reporter Caroline Reinwald, the speakers included family members of Milwaukee resident Alvin Cole, a 17-year-old shot to death by police in February, and fellow resident Joel Acevedo, a 25-year-old man choked to death by an off-duty police officer in April.
After the rally, about two-hundred protesters marched across the State Street bridge towards the convention hall. A drum player kept beat as a yell captain chanted, "Say their name," with the crowd repeating the names of people slain by police. Other marchers held signs proclaiming "Defund the police!", "Black Lives Matter" and "$15 Living Wage!"
The protesters then gathered outside of the Milwaukee Police Department headquarters, administrative building and municipal court, chanting, "I can't breathe," while the drummer continued playing.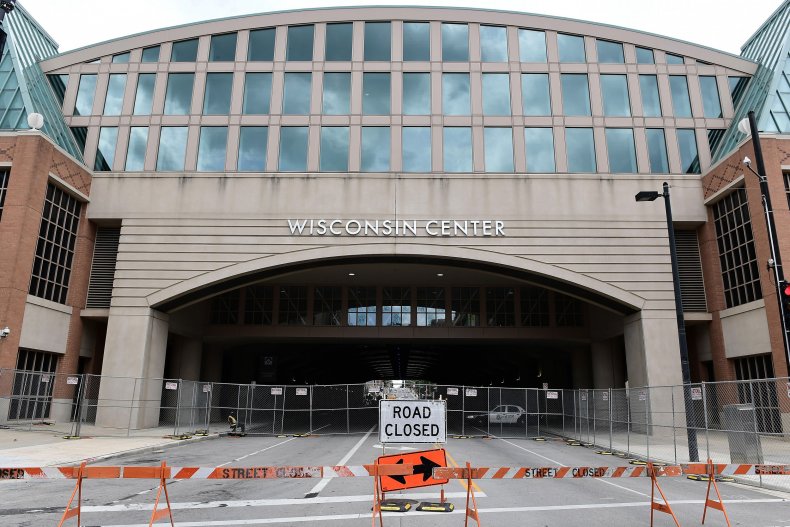 On Wednesday, members of Bikers for Trump gathered outside the Wisconsin Center to show their support for Republican President Donald Trump. In a video posted online, a member of the group announced their support for Trump's reelection efforts.
In a Wednesday night Fox News interview, the group's founder Chris Cox said his group came to Milwaukee not to "poke the bear, but ... to keep an eye on things" and to support law enforcement and the Milwaukee Police Union. The union endorsed Trump's re-election on Tuesday.
Another progressive group, the Coalition to March on the DNC, had reportedly planned to protest near the DNC site on Thursday in a demonstration highlighting the Democratic Party's role in racism and police brutality.
"It's clear that Trump is provoking violence against protesters and encouraging police killings of Black and other people," Lauryn Cross, leader of the Milwaukee Alliance Against Racist and Political Repression, said in a statement on Wednesday. "It's Democrats who run the majority of the cities where cops get away with these murders."