'The Squad' Puts Biden on Notice Over Climate Change Action: 'Keep Your Promise'
House Democrats' most liberal current and incoming members flexed their newfound power on Thursday, issuing a warning shot to President-elect Joe Biden: bring bold, progressive climate change to the White House or risk alienating much-needed congressional allies.
Surrounded by liberal activist and climate advocate groups, members of 'The Squad'—including Reps. Alexandria Ocasio-Cortez (D-N.Y.), Rashida Tlaib (D-Mich.) and Ilhan Omar (D-Minn.)—said they were rallying outside the Democratic National Committee to hold the incoming president's feet to the fire over an ambitious climate change plan the income inequalities that come with it. Incoming Squad members Jamaal Bowman (N.Y.), Mondaire Jones (N.Y.) and Cori Bush (Mo.) also joined.
"Keep your promise. We know that we don't just make that demand and walk away," Ocasio-Cortez said. "We have to organize for it. We have to bring the heat."
Notably, the Democrats chose not to focus any of their attention on Republicans or the Senate, where Majority Leader Mitch McConnell (R-Ky.) is likely to remain in control. That will be determined on January 5 with two Georgia Senate runoff races.
Rather, the progressives assembled outside their own party's headquarters in the nation's capital and focused solely on Biden, with members of liberal groups like the Sunrise Movement and Climate Action Network gathered round holding signs urging Biden to "Be Brave" and to get behind the Green New Deal. Biden has his own proposal that is a scaled-back $2 trillion version.
"We're not protesting ourselves. What we're saying is, this is what the Democratic Party wants. It's not opinion, it's fact," said Rep. Ro Khanna (D-Calif.), citing public opinion polls. He and Sen. Ed Markey (D-Mass.), who are also some of Congress' most liberal members, participated as well.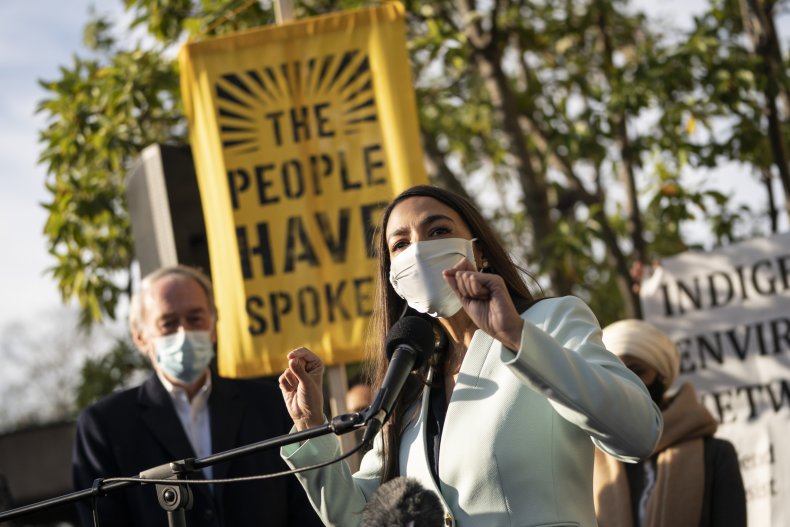 It was a show of force by The Squad, whose numbers have grown from four to seven with the addition of Bowman, Jones and Bush. At the same time, Democrats' majority in the House has dwindled to a narrow margin, giving the progressive faction more power to shape policy within their caucus.
Currently, Democrats have a 17-seat majority with eight outstanding races that have yet to be called. Republicans lead in all eight, meaning Democrats could be left with just a nine-seat majority next year—down from a 35-seat buffer under the current Congress. With The Squad's membership alone, the progressive coalition could thwart any legislation they please, and they have the potential to act as a major thorn in the side of Democratic leadership and the Biden administration.
"Our job is to... try to work [legislation] through [the] process and make the demands of the speaker and leadership to implement the policies that we want. It's a push and pull, like it is with everything else," Omar said, responding to a question about potential resistance to liberal policies from House Speaker Nancy Pelosi (D-Calif.) "We're not oblivious to that, we're not naïve on the way that this process works."
The Democrats at Thursday's rally contended they had few concerns about Biden trying to "derail progress" on progressive climate action. Still, the entirety of their message was focused on Biden.
The president-elect has already irked environmental groups for tapping Rep. Cedric Richmond (D-La.), who has connections to the fossil fuel industry, for a senior White House position as director of the Office of Public Engagement.
Ocasio-Cortez, who helped lead a Biden-Sanders unity task force on climate change before the election, signaled that sort of move from Biden is not going to cut it for her and her colleagues. Biden needs to surround himself with appointees who will help implement climate bold initiatives in all aspects of government—a task that will prove difficult if Senate Republicans stonewall Biden's picks who need their blessing via confirmation.
"It's not just about one figure or one person, but we need to see the broader level in the overall tenor of transition appointments," Ocasio-Cortez explained. "We know that transportation is a climate issue. We know Health and Human Services is a climate issue. We want to see, in every cabinet appointment, what the disposition towards climate is and how the Biden-Harris administration wants to approach climate and who they put in."