Senator Joe Manchin threw a wrench into President Joe Biden's agenda on Sunday when he firmly declined to vote in favor of the Build Back Better Act. The bill, a key piece of Biden's agenda, had already been scaled back from its original vision in an attempt to woo the likes of Manchin, a moderate Democrat from West Virginia.
"If I can't go home and explain it to the people in West Virginia, I cannot vote for it," Manchin said during a Sunday appearance on Fox News. "And I cannot vote to continue with this piece of legislation. I just can't. I've tried everything humanly possible. I can't get there."
Just as the decision by Manchin drew praise from Republicans, who have staunchly opposed Biden's ambitious spending bill, it also received a swift and heavy backlash from Democrats in Washington, D.C., particularly from the progressive wing of the party. Some, like Rep. Mondaire Jones of New York, called out Manchin for saying that Biden "has a lot of logs in the fire," in reference to the persistent issues of COVID-19 and inflation.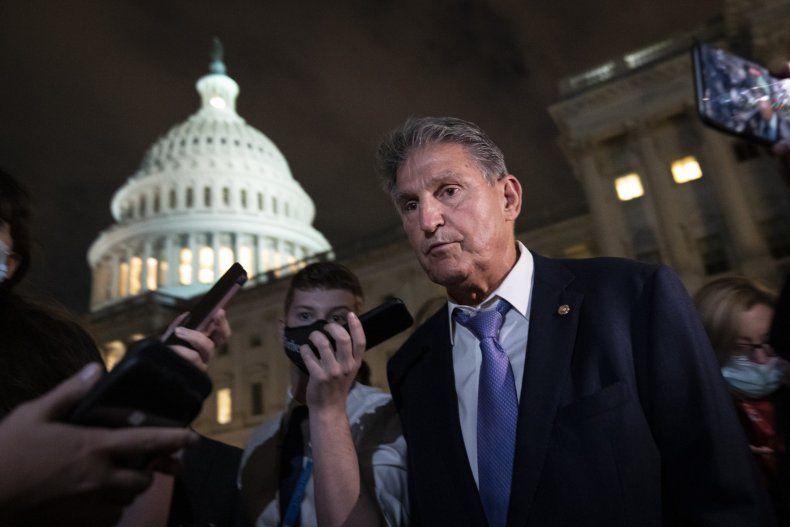 "Manchin is a tour de force in gaslighting and dishonesty," Jones tweeted on Sunday. "'We've got COVID'—but Manchin just voted with Republicans to overturn Biden's employer vaccine and testing requirements. 'We've got inflation'—but Build Back Better would cut costs for millions of working families."
Senator Bernie Sanders of Vermont, a long-time pillar of progressives in Washington, slammed Manchin's decision as harmful to families everywhere, including his home state. He also called on his fellow senator to vote no and have his stance on the record.
"We've been dealing with Mr. Manchin for month after month," Sanders said during a Sunday appearance on CNN's State of the Union. "But if he doesn't have the courage to do the right thing for the working families of West Virginia and America, let him vote no in front of the whole world."
Also appearing on State of the Union was Rep. Ayanna Pressley of Minnesota, who accused Manchin of negotiating the Build Back Better Act down in bad faith.
"He's continued to move the goal post," Pressley said. "He has never negotiated in good faith and he is obstructing the President's agenda."
Rep. Jamaal Bowman of New York accused Manchin of voting in the interest of his donors rather than his constituents and, in a thread, laid out the things the Build Back Better Act would have potentially brought to Americans.
"Wow @Sen_JoeManchin, with all due respect, when you say you're a no on Build Back Better - is it you? Or is it the special interest [money emojis] that powers you?" Bowen tweeted on Sunday. "I'm inviting you to my district to see just how badly we need this bill. Will you tell my community 'No' to our face?"
Rep. Ilhan Omar of Minnesota did not mince words in reaction to Manchin's decision. She also called out the decision to separate the Build Back Better Act from Biden's infrastructure bill, which progressives had strongly opposed.
"Let's be clear: Manchin's excuse is bulls**t," Omar said in a tweet. "The people of West Virginia would directly benefit from childcare, pre-Medicare expansion, and long term care, just like Minnesotans. This is exactly what we warned would happen if we separated Build Back Better from infrastructure."
In a statement sent to Newsweek, Rep. Pramila Jayapal of Washington, chair of the House Progressive Caucus, said that Manchin had "betrayed" Biden, Democrats in Washington and the American people.
"Senator Joe Manchin made a promise to President Biden to support a framework that would help lower health care costs, cap the price of insulin and other prescription drugs, lower child care costs for Americans, address the climate crisis, and give working people and poor people a shot in America," Jayapal's statement read. "Today, Senator Manchin has betrayed his commitment not only to the President and Democrats in Congress but most importantly, to the American people. He routinely touts that he is a man of his word, but he can no longer say that. West Virginians, and the country, see clearly who he is."
In response to criticism from his own party, Manchin released a statement about his decision to not support the Build Back Better Act.
"My Democratic colleagues in Washington are determined to dramatically reshape our society in a way that leaves our country even more vulnerable to the threats we face," his statement read. "I cannot take that risk with a staggering debt of more than $29 trillion and inflation taxes that are real and harmful to every hard-working American at the gasoline pumps, grocery stores and utility bills with no end in sight."
Updated with statement from Rep. Pramila Jayapal.