Progressives Urge Biden to Release Student Debt Forgiveness Memo: 'Deliver on Your Promise'
More than a dozen Democratic lawmakers signed a letter from progressive Representative Ilhan Omar calling on President Joe Biden to "deliver on" his "promise" and publicly release a memo regarding how broad his executive authority is to forgive student debt.
Progressive Democrats and Democratic leaders have urged Biden to forgive at least $50,000 in student debt for most Americans. Many progressives have further called for complete student loan forgiveness—touting the economic benefits this could provide to millions of borrowers across the country.
Six months ago, the White House said that Biden had instructed the Education Department to prepare a memo looking into the extent to which he could legally cancel student loans. Omar, a Minnesota Democrat, and 14 of her colleagues now believe the Education Department has had ample time to complete that request.
"We write to urge the release to the public by October 22, 2021 the memo that the President requested from the Department of Education to determine the extent of the administration's authority to broadly cancel student debt through administrative action," Omar and the Democratic House members wrote in the letter first reported on by Politico.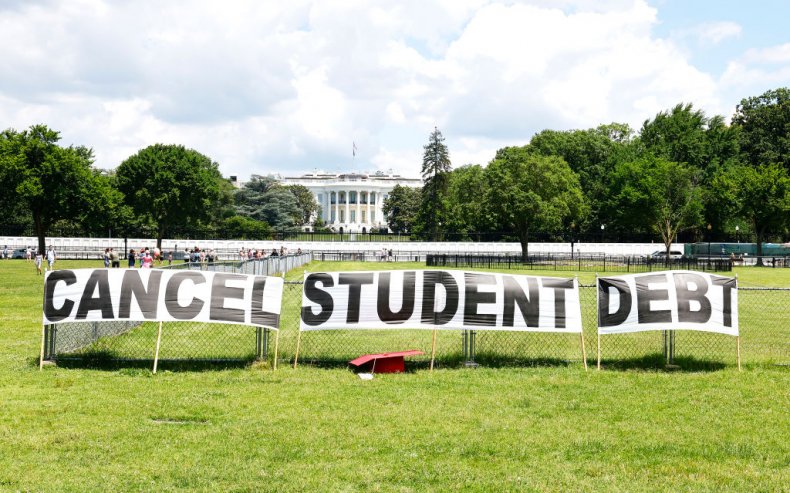 "Decades ago, Congress voted to authorize the executive branch to cancel federal student loans. Federal student debt can be canceled with the 'flick of your pen.' This authority is already being put to use, as it is currently being used to cancel the interest owed on all federally-held student loans. Now it is time for you to honor your campaign pledge and use this authority to cancel all student debt," the lawmakers contended.
They pointed to the negative economic impact of the COVID-19 pandemic, saying it would be a "policy failure" for student debt payments to resume in the near term. Since March 2020, borrowers have not been required to make monthly payments and interest on student loans has been suspended. But the suspension is slated to come to an end in January.
"The time has come to release the memo and deliver on your promise to cancel student debt. Doing so will benefit every citizen and support our communities. With a single signature, you can improve the economy, create new jobs, transform the lives of 45 million Americans, narrow the racial wealth gap, and maintain the trust of voters," they wrote.
Omar and her colleagues concluded that "during times of economic normalcy, student debt is a policy failure. Turning student debt payments back on in the middle of a pandemic is an act of policy failure. Cancelling student debt is both the morally right and economically sound thing to do."
Newsweek reached out to the White House for comment but did receive a response before publication.
Biden said on the presidential campaign trail last year that he would start the process of forgiving student debt. However, he generally suggested that he was supportive of up to just $10,000 in forgiveness for some Americans. Since taking office, his administration has worked to forgive student debt for some Americans who attended predatory private educational institutions and is working to reform policy that will allow forgiveness for those who work in public service.
Meanwhile, Senate Majority Leader Chuck Schumer, a New York Democrat, and Senator Elizabeth Warren, a Massachusetts Democrat, have repeatedly called on Biden to immediately erase $50,000 in student debt for most borrowers. They have said that the president has the legal authority to do so, arguing that it's the same legal authority used to suspend payments and cancel student debt in some specific instances.
Earlier this week, Schumer participated in a briefing at the Capitol wearing a black face mask with the words "Cancel Student Debt" written in white. The New York Democrat has previously worn the mask in the halls of Congress, as he and progressive Democrats continue to demand Biden taken executive action on the issue impacting millions of Americans nationwide.
The National Center for Education Statistics estimates that the average American using federal student loans borrows just over $26,000—meaning forgiveness of up to $50,000 would erase the primary debt for millions of borrowers. In total, Americans are estimated to owe a combined $1.7 trillion in student debt.
"President Biden can cancel student debt with the flick of a pen. Today, we are calling on the Administration to release the memo on student debt cancellation and #CancelStudentDebt," Omar tweeted on Friday, sharing a copy of the letter to the president.