Progressives Urge California's Governor to Select Ro Khanna to Replace Kamala Harris in the Senate
Some prominent progressives and progressive groups are urging California Governor Gavin Newsom, a Democrat, to select Representative Ro Khanna to fill the Senate seat that will be vacated by Vice President-elect Kamala Harris.
Under California law, the governor will select a replacement to serve out the remainder of Harris' term. As Harris was elected to start her Senate term in 2017, she will have served four years of her six-year term by the time she is sworn in as vice president. While Newsom is reportedly considering multiple candidates, many progressives are hoping Khanna—a national co-chair of former Democratic presidential hopeful Senator Bernie Sanders' 2020 campaign—will get the nod.
"We are excited that @RoKhanna is being considered by many California Democrats and progressives as a candidate for the next United States Senator of California. His voice in the Senate would be a major boost for our movement for justice," Justice Democrats, the police action committee behind the rise of Representative Alexandria Ocasio-Cortez of New York, a leading progressive, tweeted on Monday.
"Hey @GavinNewsom, given that @BernieSanders won California not picking somebody from his wing of the party for the senate seat is a slap in the face to all progressives. We're paying close attention. Pick @RoKhanna," progressive commentator Kyle Kulinski tweeted on Tuesday.
Sanders also voiced his support for Khanna in a Sunday Twitter post.
"Happy to hear @RoKhanna is in the mix for U.S. Senate. Ro was a co-chair of my presidential campaign, has a bold vision for America and is a proven fighter for working people," the independent senator from Vermont wrote.
The progressive political action organization Our Revolution, which was founded following Sanders' 2016 presidential run, has circulated a petition supporting Khanna for the Senate seat.
"Ro strives to be a strong progressive voice in California and across the country. He is keeping all of his options open to best do that. We aren't closing any doors right now. And he's so appreciative of all the support he's received," a spokesperson for Khanna told Newsweek in an email.
At a Monday press conference, Newsom shed little light on how he might be leaning.
"No timeline has been established. The process is just beginning to unfold," Newsom told reporters. "We are working through the cattle call of considerations related to what's the profile, the right choice to replace Senator Harris."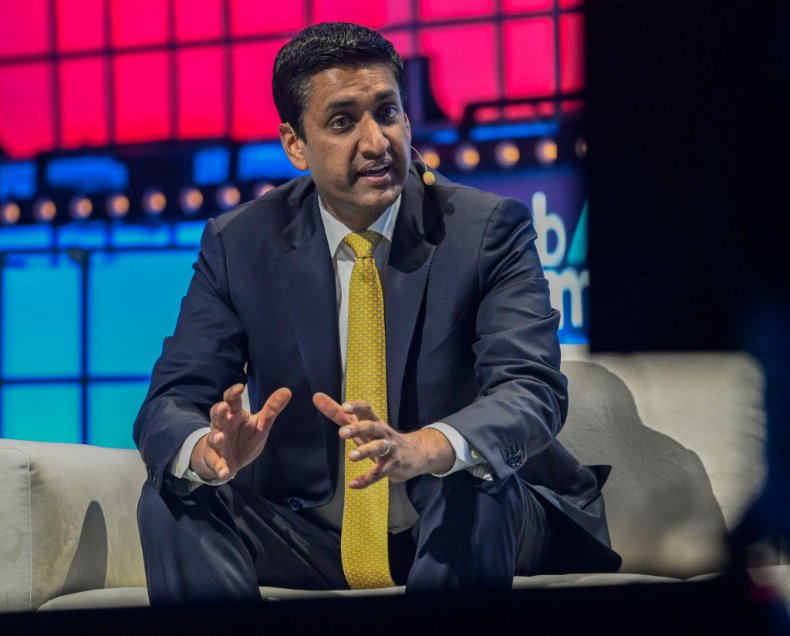 The California governor is reportedly considering several people to replace Harris, including several well-known progressive colleagues of Khanna's in the House of Representatives. Democratic Representatives Karen Bass, Barbara Lee and Katie Porter are reportedly on the short list, as are California Attorney General Xavier Becerra, Oakland Mayor Libby Schaaf and San Francisco Mayor London Breed.
Khanna, who was first elected to Congress in 2016, easily won re-election in California's 17th District, gaining more than 71 percent of the vote, compared with just over 28 percent for his Republican rival. He serves as the first vice chair of the Congressional Progressive Caucus.