Progressives Welcome Joe Biden Inauguration, Insist It's Time to 'Get to Work'
Progressive lawmakers welcomed the inauguration of President Joe Biden on Wednesday, but said it was time for Democrats to get to work on a "better future" for the country.
"The Squad" of six progressive representatives and others on the party's left wing called on the Democrats to improve the "material conditions" of Americans struggling in the pandemic—and to push for "real substantial change" while the party held control of Congress and the executive branch.
Several of the progressive lawmakers backed Sen. Bernie Sanders during the Democratic primaries, but rallied behind Biden after he secured the party nomination. Now they have signaled that they will pressure the administration and congressional leadership to deliver on policy.
Posting on social media after the inauguration, one member of the Squad, Rep. Ilhan Omar (D-MN), said: "We will have the opportunity to carry out the most progressive agenda our country has ever seen. I am committed to pushing the Biden Administration to implement real, substantial change.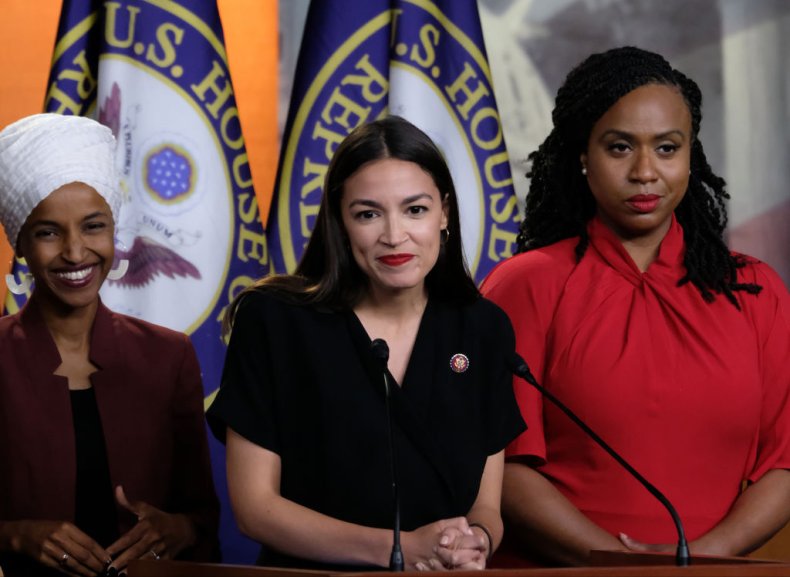 "Today we celebrate. Tomorrow we work to organize and build a progressive prosperous future."
The newly elected Rep. Cori Bush (D-MO) tweeted: "Congratulations on making history, Madam Vice President Kamala Harris. I'm excited to partner with you and President Joe Biden to get our communities the help we need."
Rep. Alexandria Ocasio-Cortez (D-NY) also described the inauguration as a "historic" day, congratulating Biden and Harris before calling for action on the environment and economy. "Now we must begin creating justice, healing our planet and improving the material conditions for all people," she tweeted. "The work is on all of us to organize and build a better future."
Speaking to Spectrum News NY1, Rep. Jamaal Bowman (D-NY) said he liked what he had heard on the Biden administration's plans for tackling the COVID-19 pandemic, but added that there was "a lot to do" on economic and racial justice.
Rep. Pramila Jayapal, chair of the Congressional Progressive Caucus, posted: "President Joe Biden. Vice President Kamala Harris. A Democratic House AND Senate. We've got a LOT of work to do. Let's get started!"
The new president was quick to undo several of Donald Trump's key policies within hours of entering the White House, signing an order permitting the U.S. to rejoin the Paris climate agreement.
Biden also made a number of decisions on immigration. The president ordered that construction of Trump's border wall be paused within a week, arguing that the project was a "waste of money" as he directed administration officials to investigate the legality of funding for the wall.
It shall be the policy of my Administration that no more American taxpayer dollars be diverted to construct a border wall," Biden said. "I am also directing a careful review of all resources appropriated or redirected to construct a southern border wall."