Progressives Who Back Green New Deal Outraged Over OPEC Oil Production Cuts
Some progressives who support the Green New Deal expressed outrage this week over the Organization of the Petroleum Exporting Countries' (OPEC) decision on Wednesday to cut oil production.
OPEC decided to slash production by 2 million barrels a day, a move that could strengthen Russian President Vladimir Putin amid European sanctions on Russian oil, and possibly push gas prices up.
"OPEC's decision to cutback on production is a blatant attempt to increase gas prices at the pump that cannot stand," Senator Bernie Sanders of Vermont tweeted on Wednesday. "We must end OPEC's illegal price-fixing cartel, eliminate military assistance to Saudi Arabia, and move aggressively to renewable energy."
Sanders, who has long vowed to combat climate change, is an avid supporter of the Green New Deal and touted the proposal as "good politics" in a 2020 tweet.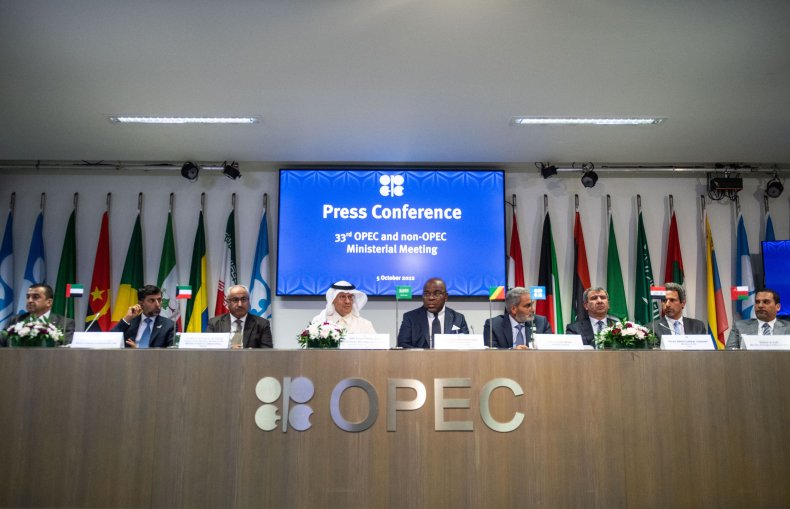 The Green New Deal is a proposal that was co-sponsored by Democratic Representative Alexandria Ocasio-Cortez of New York and Democratic Senator Ed Markey of Massachusetts with an aim to achieve net-zero greenhouse gas emissions by 2050 through managing energy consumption.
The proposed resolution entails dropping fossil fuels and instead moving toward using renewable energy and farming, increasing the use of high-speed railways, and "upgrading all existing buildings in the United States."
On Wednesday, Markey said that he will reintroduce the OPEC Accountability Act in response to the move, adding that "we must hold OPEC and its allies accountable for colluding to hike energy prices on working families, while accelerating our clean energy future to free ourselves from its profiteering grip once and for all."
According to a statement by Markey's office, the proposed OPEC Accountability Act would require President Joe Biden to consult with OPEC countries and non-OPEC oil-producing countries over crude oil production.
"If these consultations do not succeed in ending OPEC and non-OPEC countries' collusion on oil production and market manipulation, the OPEC Accountability Act instructs the U.S. Trade Representative to initiate dispute proceedings at the World Trade Organization," the statement read.
Democratic Representative Ro Khanna of California said on CNBC's Squawk Box that OPEC's decision "does hurt" Americans and that there "should be bipartisan outrage and the demand that they reverse the system, or there will be consequences."
"I don't think you could get a Republican senator...saying, 'Yes, we think it's a good thing that Saudi Arabia is cutting oil,'" said Khanna, who backs the Green New Deal and voiced his support for the climate provisions mentioned in Biden's Build Back Better plan, during his appearance on Squawk Box.
In similar remarks in response to OPEC's decision, Democratic Representatives Tom Malinowski of New Jersey, Sean Casten of Illinois and Susan Wild of Pennsylvania introduced a bill that would require withdrawing U.S. troops and missile defense systems from Saudi Arabia and the United Arab Emirates.
"This is a hostile act by Saudi Arabia and the UAE, designed to hurt the United States and our allies and to help Russia, despite President Biden's overtures," Malinowski wrote on Twitter on Thursday.
"If Saudi Arabia and the UAE want to help Putin keep oil prices high, they should look to him for their defense," he added in another tweet.
Newsweek reached out to OPEC's media office for comment.