Getting Married Online Is Now Legal In New York, Here's What You Need to Know Before You Tie The Virtual Knot
On Thursday, New York City Mayor Bill de Blasio and City Council Speaker Corey Johnson announced "Project Cupid," which will allow New Yorkers to obtain marriage licenses online due to the COVID-19 pandemic.
The project is a collaboration between Office of the City Clerk and the New York City Department of Information Technology and Telecommunications to bring the marriage license process to the internet.
Couples being able to tie the knot online offers a silver-lining while so many people struggle with the self-isolation and coronavirus. "Coronavirus has changed the world in so many ways but our ability to love and commit to each other hasn't wavered. Now couples ready to marry don't have to wait for the pandemic to end to say 'I do,'" Johnson said in a statement. "We deserve some good news and this is definitely wonderful news for all of New York City."
De Blasio also said that he wanted newlyweds to bring "moments of joy" and the city was behind them, from a distance. "[W]e won't let a pandemic get in the way of true love," the mayor said. "To all of the couples looking forward to tying the knot, know that your city is right here with you, throwing rice from afar."
The online process integrates videoconferencing technology in lieu of the traditional in-person process that New Yorkers had to go through before to get their marriage licenses.
The service is expected to go live the first week of May. By the end of next week, couples will be able to schedule and attend virtual appointments with the City Clerk's office, upload the required documents for the marriage license, and upload a signed license for submission after the ceremony.
The site will be available in 11 languages and translators will be available on demand via Language Line. Couples will pay the service fee via CityPay, the city's secure electronic payment service.
New Yorkers looking to tie the knot through the new service can visit the Project Cupid page or the City Clerk's Office website.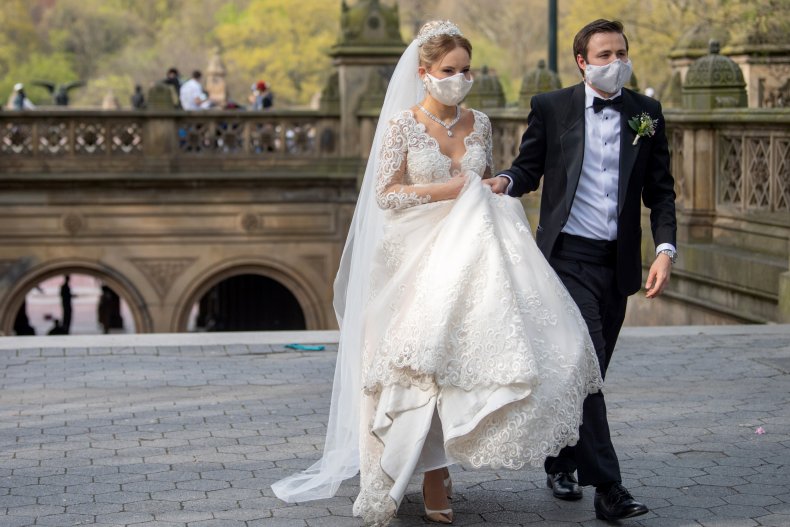 A few virtual weddings have happened in New York already. Johnson tweeted a screenshot of a virtual wedding shown on One New York, saying that he hopes it inspires New Yorkers to take advantage of the new services that Project Cupid can provide. "We might have to celebrate it a little differently now, but it's still a beautiful, moving experience," he wrote.