What Project Veritas Is Claiming About Ilhan Omar and Illegal Ballot Harvesting
Project Veritas has claimed Democratic Representative Ilhan Omar is engaging in illegal ballot harvesting and a cash-for-ballots scheme in her district in Minneapolis, Minnesota.
The group, which has targeted mainly liberal groups with "sting" operations, posted a video late on Sunday showing what it claims is evidence of an illegal effort to harvest absentee ballots.
The group's founder, James O'Keefe, alleged on Twitter that Omar's team may have bribed voters in Minnesota's 5th congressional district, which she has represented since 2019.
Liban Mohamed is shown in a Snapchat video commenting on the ballots. He is the brother of Minneapolis city council member Jamal Osman.
Newsweek originally reported that Mohamed was an Omar campaign worker. However, a spokesperson for Omar clarified that he does not work for the congresswoman.
"Just today we got 300 for Jamal Osman," Mohamed says in the video. "I have 300 ballots in my car right now."
"Numbers don't lie. You can see my car is full. All these here are absentee ballots. Look, all these are for Jamal Osman."
Mohamed can be seen showing white envelopes on his car's dashboard in a video from July 1. Later in the Project Veritas video Mohamed says, "Money is the king in this world... and a campaign is driven by money."
An anonymous person, identified as a former Minneapolis political worker, told Project Veritas that Omar's campaign deputy district director Ali Isse Gainey was coordinating ballot harvesting from elderly people in Charles Horn Towers, a housing complex in the city, before the Minnesota primary on August 8.
The same person claimed that women and young people were paid for their ballots during the primary. The cash-for-ballots accusation is unsubstantiated at this time.
Ballot harvesting refers to laws in several states allowing third parties to collect and deliver ballots. Where it is legal, campaign workers or volunteers can go directly to voters' homes and collect completed ballots. They can then deliver those ballots to polling places or election offices. Some states allow ballot harvesters to be paid an hourly rate for their work.
A Minnesota law forbids any third party from helping more than three people cast their ballots. However, state Democrats successfully sued in Ramsey County District Court to render the law unenforceable in July. Judge Thomas Gilligan also invalidated the ballot limit.
The state Supreme Court affirmed the lower court's decision on September 4, but Chief Justice Lorie Skjerven Gildea reversed the decision that invalidated the three vote cap. The ruling came after the state's primary on August 11. The chief justice said a more extensive legal opinion would be issued.
Jeremy Slevin, Senior Communications Director for Omar, said: "The amount of truth to this story is equal to the amount Donald Trump paid in taxes of ten out of the last fifteen years: zero. And amplifying a coordinated right-wing campaign to delegitimize a free and fair election this fall undermines our democracy."
Omar appeared to casually dismiss the claims on Monday. She responded to one of President Donald Trump's tweets about the accusations with a gif mocking the amount he allegedly paid in tax in 2016 and 2017.
There was instant skepticism of Project Veritas' latest claim. CNN analyst Jessica Huseman, who has covered the organization, pointed to the timing of the video release.
"Wow you're telling me that project veritas just happened to release a project right after the nyt release a bombshell huh what are the odds," Huseman tweeted on Monday.
O'Keefe's claims also come just two weeks after liberal groups in Wisconsin asked the state's attorney general to investigate Project Veritas. They say members of the group mislead them by using false identities and tried to get them to agree "to use illegal methods."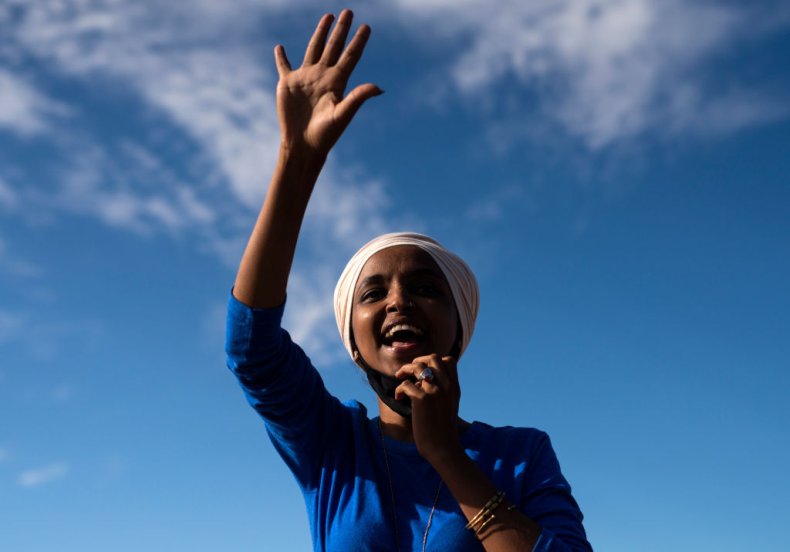 O'Keefe first came to prominence in 2009 with videos about ACORN, a community group that lost federal funding and had to shut down as a result.
However, O'Keefe had to pay $100,000 to a former ACORN employee who didn't consent to be filmed and claimed he called the police after a disguised O'Keefe asked how he could make underage prostitution look like a legitimate business.
O'Keefe pleaded guilty to a misdemeanor for unlawfully entering federal property in 2010 relating to an operation involving then-Democratic Senator Mary Landrieu.
O'Keefe and Project Veritas have carried out several "sting" operations against mainly liberal and Democratic groups, though they have also targeted conservatives, including Republican Senator Mike Ellis. Ellis did not seek re-election following the release of video showing his discussing setting up an illegal political action committee to attack his opponent in 2014.
There have been allegations in the past that Project Veritas has doctored videos. In one instance in 2018, teachers unions in Cleveland, Ohio accused the group of making multiple cuts to videos showing union officials saying they don't automatically report when teachers give students bloody noses or use racial slurs. Teachers unions claimed the cuts made it hard to tell precisely what questions officials were responding to.
Project Veritas has had some successes. NPR CEO Vivian Schiller resigned after O'Keefe recorded a top NPR fundraiser saying offensive things about Republicans and the Tea Party in 2011.
However, Project Veritas has also had notable failures. In 2017, the Washington Post claimed a woman who approached them making false accusations against then Republican senate candidate Roy Moore was part of an undercover operation aimed at discrediting the newspaper.
Update 9/29/20, 10:30 a.m. ET: This story has been updated to include a response from Ilhan Omar's spokesperson, to clarify the status of Minnesota law regarding ballot harvesting and to include more context about Project Veritas.