Project Veritas Suspends James O'Keefe: What We Know, What We Don't
James O'Keefe, the founder of the controversial right-wing video organization Project Veritas, is taking paid leave from the company with his future currently in doubt.
According to an internal message to Project Veritas' employees sent by the organization's executive director, Daniel Strack, seen by New York Magazine's Intelligencer website, O'Keefe is taking "a few weeks of well-deserved" paid time off.
The message did not expand upon while the founder of the undercover activist group is on leave from the company.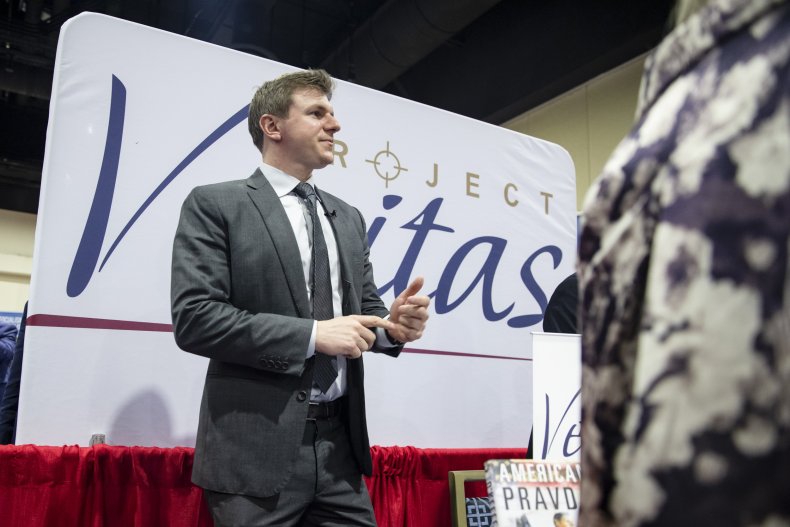 In a further statement, Strack said: "Like all newsrooms at this stage, the Project Veritas Board of Directors and Management are constantly evaluating what the best path forward is for the organization.
"There are 65+ employees at Project Veritas dedicated to continuing the mission to expose corruption, dishonesty, waste, fraud, and other misconduct in both public and private institutions," the statement added. "To our supporters: We hear you, we care about you, and we will never give up."
Newsweek reached out to Project Veritas for comment.
The paid leave for Keefe arrived as a leaked memo reveals that Project Veritas employees have raised concerns about his behavior to the board.
The memo, obtained by The Daily Beast, alleged that workers were "troubled and frustrated" by O'Keefe's management style and that he was "outright cruel" to staff members.
Project Veritas employees said that O'Keefe engages in berating and "public crucifixions" of staff members.
O'Keefe is also alleged to have forced workers to take lie detector tests to prove they weren't leaking information about the company and spat at them.
"James has become a power drunk tyrant," one staffer wrote in the memo signed by 16 Project Veritas workers.
The memo also lays out concerns that Project Veritas will soon go under because donors are no longer happy to fund the company, as well as staff leaving.
There is also speculation online that O'Keefe's paid time off may be linked to the recent video Project Veritas released about pharmaceutical company Pfizer.
In January, Project Veritas, known for spreading false or misleading statements, published a clip of what they claimed was an employee saying that Pfizer had considered doing research to mutate the virus behind COVID-19 in an effort to preemptively develop vaccines.
There is no evidence that such so-called "gain-of-function" research was carried out, with fact-checkers, including Newsweek's, finding that the Pfizer employee was only speaking theoretically.
In a statement about the video, Pfizer said: "In the ongoing development of the Pfizer-BioNTech COVID-19 vaccine, Pfizer has not conducted gain of function or directed evolution research.
"With a naturally evolving virus, it is important to routinely assess the activity of an antiviral. Most of this work is conducted using computer simulations or mutations of the main protease–a non-infectious part of the virus," the statement added.
"In a limited number of cases when a full virus does not contain any known gain of function mutations, such virus may be engineered to enable the assessment of antiviral activity in cells
"It is important to note that these studies are required by U.S. and global regulators for all antiviral products and are carried out by many companies and academic institutions in the U.S. and around the world."
O'Keefe's paid time off arrived as Project Veritas faces an ongoing federal investigation after paying $40,000 for a diary that had been stolen from Joe Biden's daughter, Ashley Biden.
O'Keefe's lawyers deny that he was aware that the diary had been stolen from a property in Florida in September 2020 and that it was merely abandoned. He is also arguing that it is his right as a journalist to use the document as it would have been protected under the First Amendment.
Aimee Harris and Robert Kurlander pleaded guilty to conspiracy to commit interstate transportation of stolen property involving the theft of personal belongings of an immediate family member of a then-former government official who was a candidate for national political office in August 2022 in connection to the diary theft.
In December, Project Veritas also admitted that it provided staff a prohibited "excess benefit" of more than $20,000 to accompany O'Keefe when he starred in a 2021 production of Oklahoma! in Virginia.