Trump Sexual Misconduct Claims Projected on His D.C. Hotel by Women's Group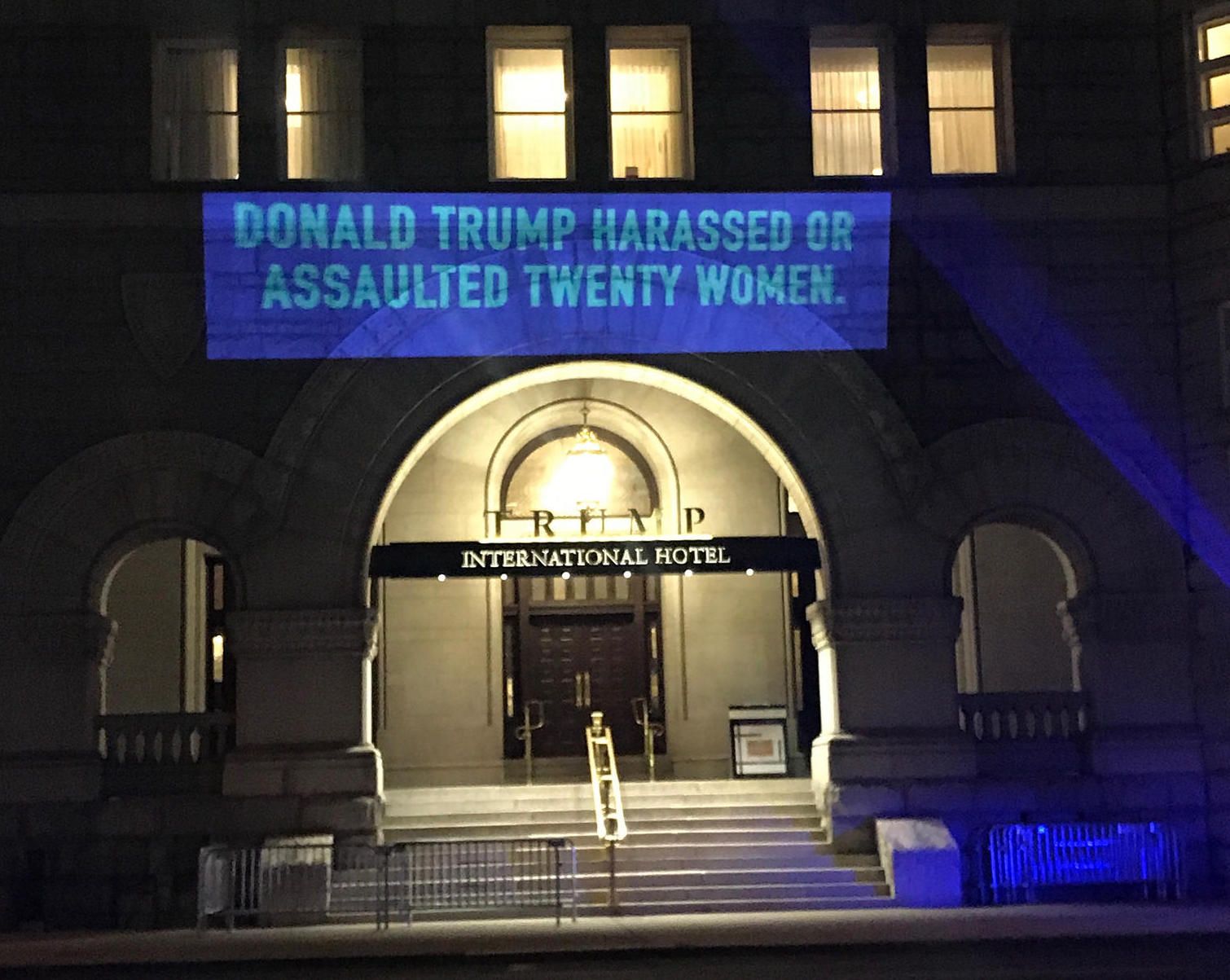 A women's activism group implores Congress to investigate President Donald Trump for allegations of sexual misconduct by projecting a message on the Washington, D.C.-based Trump International Hotel on Tuesday ahead of the State of the Union address.
The group, UltraViolet, hopes that Trump himself will see the message on his way to his televised speech, and that other lawmakers and voters will see it too, as a reminder of the allegations against the president. The light projection reads, "Donald Trump harassed or assaulted TWENTY women. Congress: Investigate Trump. #SOTU."
The projection will remain on the hotel for as long as possible, UltraViolet co-founder Shaunna Thomas told Newsweek.
"We want to send a message on behalf of the American people to Congress to say 'it's your responsibility to investigate and hold him accountable,'" Thomas said. "He cannot be, he is not, and he should not be above the law."
Trump has been accused of sexual misconduct by more than a dozen women. Allegations include abusing his power as the former owner of the Miss Universe franchise to entering pageant dressing rooms unannounced, inappropriate touching and forced kisses. Trump and spokespeople have denied the allegations, calling them "fictional," and denying that Trump knows the women making the claims, saying that they are "lying."
Trump described his behavior at Miss Universe pageants in an interview on Howard Stern's radio show, bragging about entering backstage to see women without clothes, and was heard describing to Billy Bush of Access Hollywood the way he felt at liberty to "grab [women] by the pussy."
Thomas said that UltraViolet has chosen to project their message on the Trump Hotel because it is his real estate background that first gave the president the power, wealth and influence that allowed him to abuse women.
"It's impossible for us to tackle the sexual harassment and assault epidemic in this country when the man who occupies the highest office in our country faces no accountability for the scores of sexual assault accusations against him," said Thomas.
The projection campaign mirrors one that happened last month, when the Human Rights Campaign projected a list of reportedly banned words by the Centers for Disease Control and Prevention on Trump's hotel in the nation's capital.