Gay Couple Gets Married on Stage at Broadway's 'The Prom'
The Prom is ending its Broadway with a wedding, not a whimper: The show's script coordinator, Armelle Kay Harper, married actress Jody Kay Smith during the musical's curtain call on Saturday night.
The on-stage ceremony was officiated by the play's co-writer Bob Martin, who got ordained online for the occasion. "You have to help me through this, I'm very nervous" Martin told the couple on stage. "You have the easy part."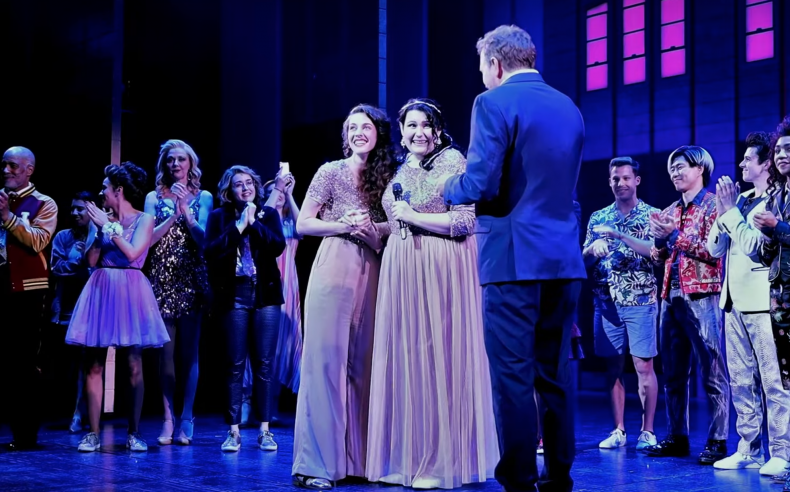 In their vows, written by Harper, the brides agreed to commit their lives to each other: "I promise to honor and care for you, to cherish and encourage you and to love you completely you through all experiences of our lives."
The nuptials were greeted with roaring applause by the audience at the Longacre Theatre.
Harper met Smith on Bumble, a dating app, in 2017. They agreed to meet up after chatting online for about 20 minutes.
"We're both really witty people, and it's hard to find someone who can keep up," Harper told the New York Times. "But she really got me, and she made me laugh. Plus those blue eyes. What can you do? Gorgeous."
Love came quickly: The women got engaged after less than three weeks. (Smith proposed at legendary West Village piano bar Marie's Crisis.)
"They're almost like an old married couple already, and they're not old," said maid of honor Haley Tynes.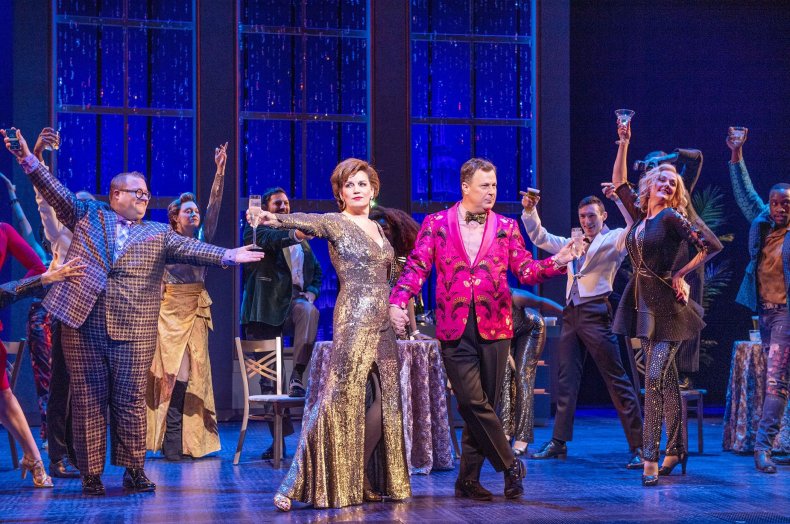 In the musical, a Midwestern teen is barred from bringing a girl as her date to the school dance. It's ultimately a story of queer self-acceptance overcoming bigotry—the perfect backdrop for their wedding, said Harper.
"There are so many shows where lesbians are secondary characters or the butt of the joke," she told the Times. "We all love Fun Home, but it's a drama. So The Prom is really unique in that it's a celebration, and it's funny without being at the expense of lesbians. It's just so much joy."
Members of Harper's family shunned her when she and Smith sent out save-the-date notices in February. But, the couple says, they've only felt love and support from the cast, crew and producers of the musical, which was nominated for seven Tony Awards this year—including Best Musical, Best Book and Best Lead Actor/Actress nods for Caitlin Kinnunen, Beth Leavel and Brooks Ashmanskas,
Harper and Smith will have a more formal wedding ceremony next month and plan on honeymooning in Puerto Rico.
After 23 previews and 310 regular performances, the Broadway run of The Prom will officially end on August 11. Super-producer Ryan Murphy is working on a film adaptation for Netflix starring James Corden, Meryl Streep, Nicole Kidman and Awkwafina.