Prominent Pennsylvania Democrats Snub Biden's Visit Amid Low Approval Ratings
As President Joe Biden visited Pennsylvania on Friday, two prominent Democrats in the state initially declined to join the commander-in-chief for a photo-op as his approval rating remains low.
Biden was in Pittsburgh to tout the nation's economic recovery amid the COVID-19 pandemic as well as investments in infrastructure, and other administration priorities moving forward. However, two leading Pennsylvania Democrats—Lieutenant Governor John Fetterman and Attorney General Josh Shapiro—initially chose not to appear alongside the president.
Spokespeople for Fetterman and Shapiro cited "scheduling conflicts" despite the two politicians being invited by the president for a photo-op, the Associated Press reported. Some analysts viewed the failure of the two top Democrats to clear their schedules for the visit of the president from their own political party as somewhat unusual, particularly as Fetterman is running for Senate and Shapiro is seen as the likely Democratic nominee to be Pennsylvania's next governor.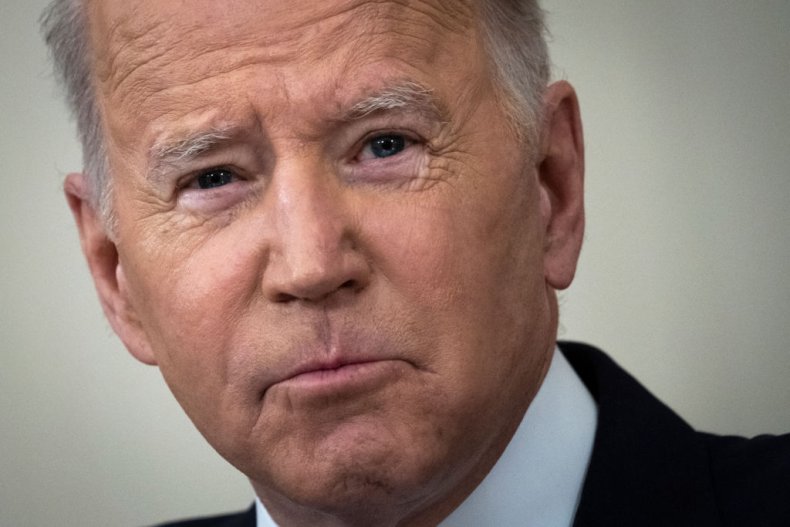 "The reasons for this skittishness are pretty clear. While the U.S. economy is growing, Americans are growing ever more pessimistic about the overall direction of the country. The right track-wrong track rating is getting steadily worse, pummeling the president and his party," Punchbowl News assessed on Friday.
However, after a bridge collapsed in Pittsburgh early Friday morning, Fetterman and Biden ended up meeting and were photographed together.
"John had planned to be in Harrisburg today for state committee events, but then of course the bridge collapsed just a few minutes from his home. John was on site at the disaster all day, and when President Biden came to visit the site of the collapse, John was happy to greet the President and join him to discuss how they can work together to improve infrastructure for the people of Pennsylvania," a spokesperson for Fetterman told Newsweek.
When reached for comment, a spokesperson for Shapiro pointed Newsweek to a tweet by the Pennsylvania attorney general published on Friday morning.
"Pennsylvania is proud to host President Biden today—and immensely grateful for the badly needed infrastructure investments he is sending to our Commonwealth," Shapiro wrote. "I'm looking forward to traveling with POTUS in his home state over the coming months as we fight to move PA forward."
"Political campaigns really want to control the message of every event, and if they think the president will distract from their message, they may want to go another way. It's a natural thing, even when the president is not particularly unpopular," Hans Noel, an associate professor at Georgetown University's Department of Government, told Newsweek.
"If Democrats do want to distance themselves from Biden, it's going to be hard to do. In the end, he's the leader of the party, and gets blame and credit for things that the party does, even when it's not really about the presidency. The better strategy, which I expect most Democratic candidates to engage in, is to make the Democratic brand about what they think it should be," Noel said.
While Biden entered the White House just over a year ago with an approval rating well north of 50 percent, his favorability has plummeted in recent months. As of Friday morning, the FiveThirtyEight average of national polls showed about 53.2 percent of Americans disapprove of the president. Meanwhile, less than 42 percent approve. Several recent polls showed Biden's disapproval rating approaching 60 percent, while some showed his approval rating hovering below 40 percent.
Several other high-profile Democrats have been seen by some as distancing themselves from Biden amid his sagging approval rating. Georgia's Democratic gubernatorial hopeful Stacey Abrams cited scheduling issues preventing her from appearing with Biden at an event in the southern state earlier this month. Although Biden downplayed her absence and insisted they maintain a good relationship, other Democratic activists in the state openly boycotted the president's visit expressing their frustration with his administration's failure to pass voting rights reforms.
Texas's Democratic gubernatorial candidate Beto O'Rourke also appeared to distance himself from Biden last week. "I'm not interested in any national politician—anyone outside of Texas—coming into this state to help decide the outcome of this," O'Rourke said, The Dallas Morning News reported. "I think we all want to make sure that we're working with, listening to and voting with one another here in Texas."
Representative Steny Hoyer, the House Majority Leader and No. 3 House Democrat, declined to say whether Democratic candidates in the 2022 midterms should describe themselves as "Biden Democrats" in comments to Politico this week. "I want every Democrat to run as Democrats who deliver," Hoyer said instead.
Biden's unpopularity and age, 79, has resulted in rampant speculation that he could be replaced as the Democratic presidential candidate in 2024. For his part, the president has repeatedly said that he plans to seek a second White House term. But some Democrats have openly called for an alternative candidate—suggesting Vice President Kamala Harris, former Secretary of State Hillary Clinton or Transportation Secretary Pete Buttigieg, among others, could run instead.
Although the Biden administration with Congress successfully passed the American Rescue Plan last March and a massive bipartisan $1 trillion investment in infrastructure in November, Americans appear to be deeply concerned about the economy and their personal finances. Inflation has soared to a four-decade high, even as the stock market hit new records in 2021 and wages increased substantially. Analysts have noted that most Americans have more money now, but rising costs have countered these gains for many households.
Meanwhile, Biden and Democrats have faced backlash for their failure to address voting rights concerns as well as their ongoing inability to pass the Build Back Better Act. Promised police reform legislation has all but disappeared from the political discussions in Washington, D.C., and the president continues to receive criticism for the bungled troop withdrawal from Afghanistan, along with a number of other concerns.
This article has been updated to reflect that Fetterman ended up meeting with Biden after they both visited the site of a collapsed bridge, despite Fetterman initially not planning to.