Proposed Bill Could Allow Citizens to Seek $10K Against Those Who Cause Unwanted Pregnancy
Politicians and activists from around the United States have spoken out against the controversial Texas law that bans abortions after a fetal heartbeat has been detected. Kelly Cassidy, a state representative from Illinois, filed a bill based on the law passed in Texas, but it aims to protect reproductive health services.
A press release put out by Cassidy's office on Tuesday noted that the lawmaker filed The Expanding Abortion Services Act, or the TExAS Act in short.
"The TExAS Act seeks to affirm the steps Illinois has taken to ensure that our state remains a place where the full range of reproductive health services are available and accessible to all people, including those forced to travel out of state from jurisdictions seeking to restrict access to abortion and other reproductive health care," the release read.
The release added that any person may bring a civil action against an individual who committed an act of domestic violence or sexual assault, as well as anyone who caused an unwanted pregnancy. The person who brought the action may be awarded a minimum $10,000 civil award, with $5,000 of the fine going toward a "State Abortion Freedom Access Fund." The fund is meant to act as financial aid for those who left their home states to seek reproductive health care.
"When the Texas legislature, aided by the United States Supreme Court, declared open season on people seeking reproductive health care, it was very clear to me that our state is in a unique position to reach out our hands and offer people from Texas and other states who seek to restrict reproductive rights a safe haven," Cassidy said in the release.
Amy Gehrke, the Executive Director of Illinois Right to Life told Newsweek that the organization does not support the bill, and said the manner in which it was introduced was "flippant."
Cassidy said there was an element of "hold my beer," to the legislation, but intends to garner support and co-sponsors for the legislation.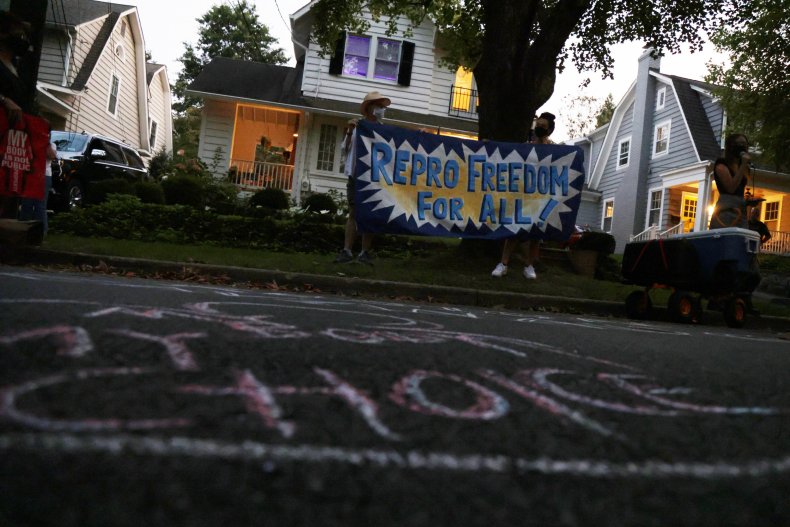 Gehrke said while the organization supports any law or legislation that would put an end to rape, she did not feel this was the appropriate piece of legislation to support.
Cassidy told Newsweek that while she respects people in the pro-life community, she wants them to respect her perspective.
"If you believe life begins at conception, don't get an abortion," she said. "It's that simple."
Since introducing the bill, Cassidy said that about 14 cosponsors have signed onto the piece of legislation since it was first introduced. She has also heard from her constituents, who have largely supported the bill.
Cassidy said that she has a fundamental belief that it is the responsibility of legislators to look at approaches taken by other states and understand the consequences of them if they were adopted in their own state.
"What does it mean to weaponize our residents against each other? What would be the impacts on our system?" Cassidy mulled.
The controversial Texas law, passed in early September, gives someone the right to sue someone who has gone through an abortion, as well as those who helped the individual go through the procedure.
Newsweek previously reported that people are traveling across state lines following the controversial law passed in Texas in early September. According to the article, Fund Texas Choice, a nonprofit that paid transportation for people unable to afford long travel costs for an abortion, reported the number of callers has gone up from about 10 per week to 10-15 daily.
In addition to Texas, Newsweek also reported that several other states signed stricter abortion laws. Oklahoma, Idaho and South Carolina banned abortions when a fetal heartbeat is detected. Georgia, Ohio, Kentucky, Mississippi, Tennessee and Louisiana ban abortion at six weeks. Alabama has the strictest law against abortion in the country, banning the procedure at any stage in pregnancy. Though signed in 2019, it is not yet in effect as multiple lawsuits are pending.
Cassidy told Newsweek that people from Missouri have gone to clinics in Illinois because of the strict abortion laws that are in place.
"If folks are policing the bodies of people who are seeking reproductive healthcare in Texas, well, then maybe we should be policing the bodies of the people who are causing those problems here in Illinois," Cassidy told NPR Illinois.
Updated 09/17/2021, 5:52 p.m. ET: This story has been updated with statements from Kelly Cassidy.