Proposed Black History Month Resolution Stirs Controversy in Wisconsin Legislature
A proposed Black History Month resolution in the state legislature of Wisconsin has caused some politicians to express disagreement about which historical figures should be at the center of the commemoration.
As the Wisconsin State-Journal reported, Representative Scott Allen of the Wisconsin State Assembly proposed a Black History Month resolution earlier in December that mostly honors white Americans. Of the 10 Wisconsinites recognized in Allen's resolution, only four were African American. Six were white people from Wisconsin who had assisted in helping enslaved black people escape via the Underground Railroad or were abolitionists. The black people recognized in the resolution were Wisconsinites who had formerly been enslaved in the South.
Allen, a member of the Republican Party who is white, defended his resolution and argued that it was, in part, meant to give white Americans more reasons to take an interest in Black History Month.
"People look at Black History Month and diminish the importance of it," Allen said in an interview with the State-Journal. "When we say that it has nothing to do with us, as European Americans, and that we should not be involved in Black History Month and the celebration of Black History Month, we're missing the larger point."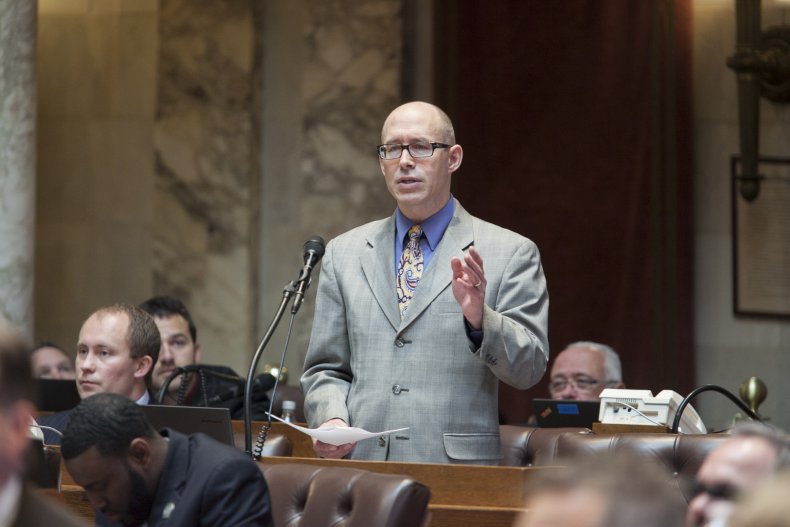 However, some other members of Wisconsin's legislature—notably some of its African American legislators—took issue with Allen's resolution.
State Senator Lena Taylor wrote to Allen in an email that if he had intended to put forth the resolution without controversy, then he "failed."
Taylor, who is African American and a member of the Democratic Party, criticized Allen for not consulting black legislators before proposing his Black History Month resolution. She implied that Allen's defense of the proposal was disingenuous, especially since, according to Taylor, Allen has not supported legislation put forth by black legislators to tackle racial inequality.
"Who is he to determine how we recognize black history, who as someone every day—every day—does not sign onto a piece of legislation to do the things that he's proclaiming he wants to do in the resolution?" Taylor said in an interview with the Milwaukee Journal-Sentinel.
Allen said that his earlier attempts to reach out to the African American legislators went unanswered. He also said that his most recent proposed legislation was meant to mostly start a dialogue, and that he would be open to discussing it with his black colleagues and having them amend it.
However, Michelle Bryant, chair of the Black Caucus of the Democratic Party of Wisconsin, said that Allen has not demonstrated that he is, in fact, willing to work with members of the Black Caucus on a Black History Month proposal.
"He definitely has not tried to collaborate with Senator Taylor's office," Bryant told Newsweek in an email. "As far as I have heard, no other Black Legislator has had him contact him either, nor the Legislative Black Caucus."
In an interview with Newsweek, Allen said he had wanted to get his Republican colleagues "excited" about voting on a Black History Month resolution. Further, he said his previous attempt to get a Black History Month resolution passed was impeded by disagreement over the people it recognized—but, he claimed, that dispute centered on the honorees' political party, not their race.
Allen's 2018 Black History Month resolution went unsupported by members of the Black Caucus, who had written their own resolution. He said he believed that this was because his resolution proposed honoring Helen Barnhill, a black Republican in Milwaukee who ran for Congress in 1988 and whose campaign Allen had worked on. Despite Barnhill's historical significance, he said Democrats were not entirely on board with a resolution honoring Barnhill because of her party affiliation, and did not support it for that reason.
Political leanings should not factor into whether a person is honored for their accomplishments, Allen argued.
"Black History Month, in my opinion, is neither Republican nor Democrat, nor should it be treated as such," Allen told Newsweek. "It should be treated as a historical recognition of people who accomplished great things and for the cause of promoting equality of opportunity and equal rights in the United States."
Black History Month is celebrated across the nation during February, and recognizes the contributions of Americans of African descent have made to the country since its founding.
Allen's resolution is not the first time that Black History Month has sparked contention in Wisconsin's government in 2019. This past February, members of the Wisconsin Legislature tried to pass a Black History Month resolution that included honoring Colin Kaepernick, the football player who gained national attention for kneeling during the national anthem to protest police brutality against African Americans. According to the Wisconsin State-Journal, the resolution was backed by the state's all-Democrat black caucus, and their proposal was rejected by Republicans in both chambers of the legislature.
In his interview with Newsweek, Allen noted that members of the black caucus in the Wisconsin State Assembly amended the February 2019 Black History Month proposal to remove Kaepernick's name, after which the proposal passed the State Assembly and moved to the Wisconsin State Senate for approval. He said that it did not pass in the state Senate because Democrats, black and white, voted overwhelmingly to reject the proposal without Kaepernick.
Update 1/2/20: This article has been updated to include comment from Michelle Bryant, the chair of the Black Caucus of the Democratic Party of Wisconsin. Newsweek has also reached out to Wisconsin State Senator Lena Taylor This story will be further updated to reflect any comments received.
Update 12/31/19: This article has been updated to include comment from Wisconsin state Rep. Scott Allen.