Prosecutors Call Karadzic 'Driving Force' Behind Bosnian Genocide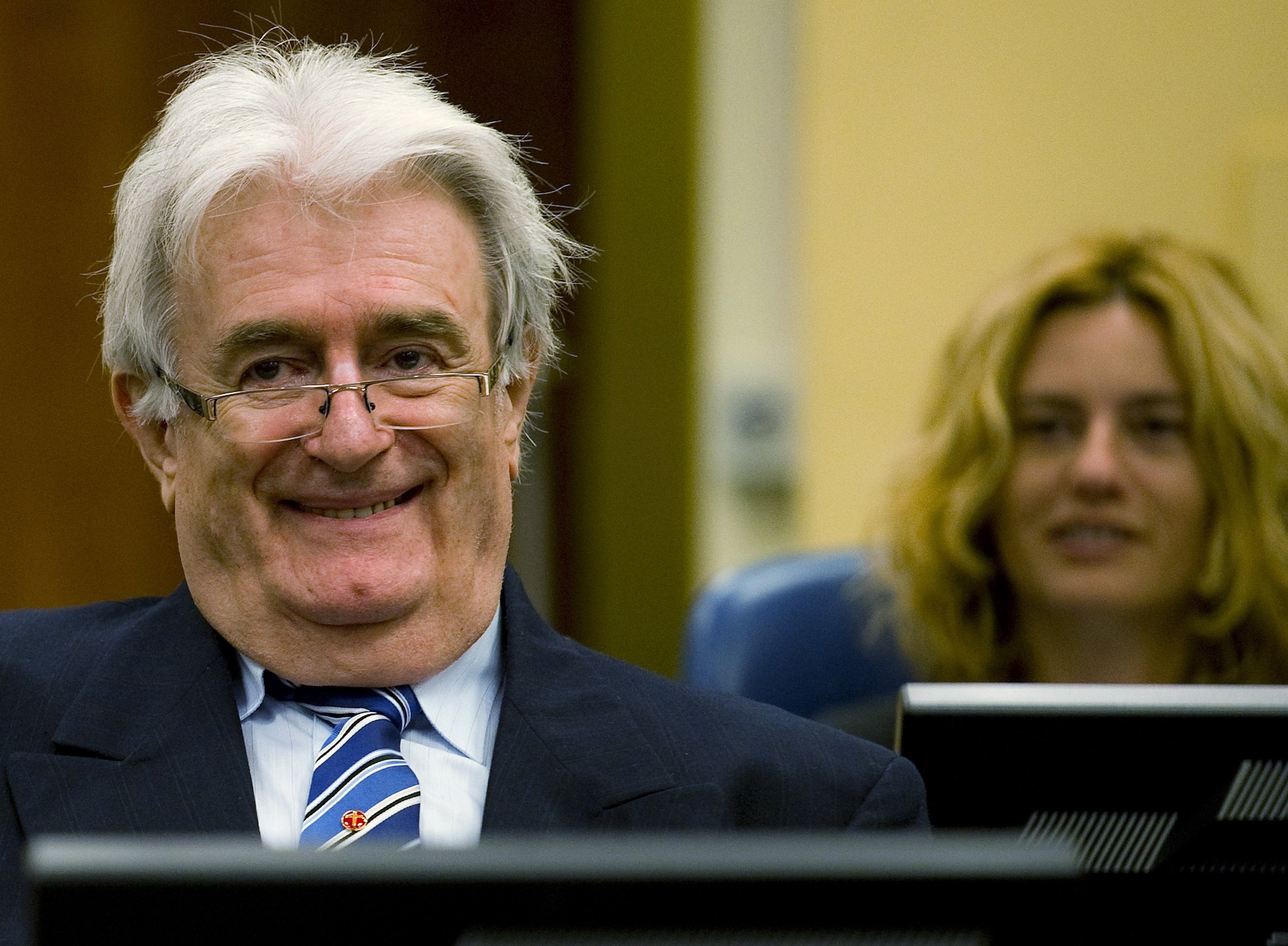 THE HAGUE (Reuters) - War crimes prosecutors concluding their case against former Bosnian Serb leader Radovan Karadzic on Monday called him the "driving force" in a genocidal campaign to rid Bosnia of its non-Serbian population.
Prosecutors are seeking the maximum penalty of life imprisonment against Karadzic, a leading political figure during the 1992-1995 war in Bosnia that left 100,000 dead.
Karadzic rejected those allegations in a legal brief filed with the court Monday afternoon, saying he had not been responsible for the killings.
In the document, filed two days before Karadzic is due to present his final arguments in court, he appealed to U.N. judges for leniency and said he had been promised immunity in exchange for stepping down as head of the Bosnian Serb republic in 1996.
Concluding four years of court hearings, prosecutor Alan Tieger told judges at the International Criminal Tribunal for the Former Yugoslavia that Karadzic had boasted at the time of his intentions to wipe out the non-Serb population.
"After hundreds of witnesses, 80,000 pages of transcripts, and 10,000 exhibits, the policy of ethnic cleansing is finally exposed. And Karadzic was its driving force," Tieger said.
Karadzic faces charges of genocide for the killing of more than 8,000 Muslim men and boys from Srebrenica, Europe's worst massacre since World War Two, when ethnic Serb forces gunned down prisoners after trucking them to killing sites.
He is also held responsible for the 43-month siege of the Bosnian capital Sarajevo, in which more than 5,000 civilians died.
PROSECUTION CASE
"(There were) thousands killed, hundreds of towns destroyed, masses forcibly displaced," Tieger told the courtroom.
He said Karadzic, now 69, had used violence and terror to carve an ethnic Serb breakaway state out of multi-ethnic Bosnia, starting just days before the country declared its independence from Yugoslavia.
Tieger gave examples of three people for whose deaths Karadzic bore responsibility - a father killed in the Srebrenica massacre, a mother killed in the shelling of a Sarajevo marketplace as she went to fetch milk, and a well-loved doctor shot in the notorious Omarska prison camp.
"Despite the knowledge of their death awaiting, many of the men were so thirsty that they were screaming 'give us water and then kill us'. They were ordered off the trucks five at a time, ordered to lie down and then shot," Tieger said, describing one massacre.
Karadzic, wearing a crumpled grey suit, watched intently from the opposite side of the courtroom as prosecutors presented their closing arguments.
In his defence filing, Karadzic said the "execution of prisoners from Srebrenica was a horrible act" but not genocide since there was no evidence the massacre had been intended to destroy the Bosnian Muslims.
"The elements of genocide have not been established," he wrote in the filing.
DISPUTED IMMUNITY CLAIM
Relatives of the war's victims watching in the public gallery said the crimes described were the tip of the iceberg.
"I think that even worse things happened than what the prosecutor told the court," said Munira Subasic, president of the Mothers of Srebrenica victims group.
The Yugoslav tribunal is winding down after prosecuting 112 suspects since being established by the U.N. Security Council in 1993 to punish those responsible for war crimes and crimes against humanity.
Karadzic is one of four suspects, including Bosnian Serb military commander Ratko Mladic, still in the dock. Just seven suspects have been sentenced to life. Late Serbian President Slobodan Milosevic died in 2006 before the end of his trial.
In his 874-page filing, Karadzic said he had been given a "guarantee" by the late Richard Holbrooke, then United States special envoy to the region, of immunity from prosecution in return for stepping down.
That guarantee should count as a mitigating factor in any sentence he received, Karadzic said. Before his death in 2010, Holbrooke denied any such deal and the court never accepted the claim.
Charges were brought against Karadzic in 1995, shortly before the war's end. He was finally arrested in 2008 after years on the run in the Serbian capital Belgrade, where he had been living in disguise and working as a new-age healer.
The Bosnian war was part of a larger conflagration in which an estimated 140,000 people died as multi-ethnic Yugoslavia broke up during the 1990s into six successor states. Kosovo, formerly a Serbian province, also later declared independence.