Prosecutors Could Go After Organizers of Capitol Riot Who Weren't Caught on Camera
Prosecutors often aren't interested in just the street-level drug dealer; they also want to get to the head of a cartel. And in the case of the U.S. Capitol riot, they're likely to look beyond just those who can be easily identified to potentially target anyone who was working behind the scenes.
More than 300 cases have been opened in connection with the deadly insurrection at the Capitol on January 6, and some defendants have waived their rights to preliminary hearings. That could indicate they're looking to strike a plea deal, and federal prosecutors could use amenable defendants to lead them to someone who was involved but not physically present.
"Traditionally, they build up the pyramid through cooperation," Kendall Coffey, a former U.S. attorney, told Newsweek. "They're going to go far beyond the guilty who can be identified on videotape and try to reach organizers, funders and anyone who was really orchestrating what was obviously a wave of fatal criminality."
Five people lost their lives after a mob descended on the Capitol while lawmakers were attempting to certify President Joe Biden's Electoral College votes. Federal prosecutors have vowed to hold those responsible accountable, and with the public's help, hundreds were arrested.
They're dedicated to leaving no stone unturned in the investigation, and in the early days they found "breadcrumbs" of organization, according to Michael Sherwin, acting U.S. attorney for the District of Columbia. In court filings, prosecutors have pointed to conversations between militia members that indicated they were prepared for violence, but they have struggled to show a clearly defined plan. Part of the reason for that, according to a statement Assistant U.S. Attorney Kathryn Rakoczy made to a judge, is that they were waiting to see what former President Donald Trump did.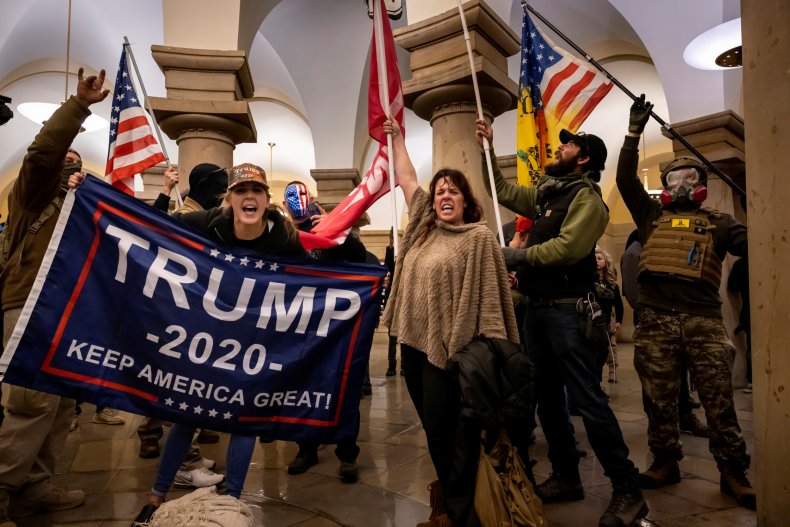 Defense attorneys have challenged the validity of the government's evidence in court. But charging people with conspiracy, including members of the Oath Keepers and Proud Boys, is a "telltale sign" the government is investigating multiple plans to advance the insurrection, according to Michael McAuliffe, a former federal prosecutor and author of No Truth Left to Tell.
Fewer cases could be more important to the federal government than the assault on the Capitol, McAuliffe said, so the government is expected to hold anyone involved accountable even if the person wasn't physically present.
Many of the hundreds of defendants who waived their right to a preliminary hearing decided to be charged by a document signed by a prosecutor instead of a grand jury. That indicates to Neama Rahmani, a former federal prosecutor, that defendants are looking for a plea deal because it could gain favor from the prosecution.
While prosecutors may want to go to trial to make examples of some of the defendants, Rahmani said, plea deals could be useful since those prosecutors are interested in getting to any potential organizers.
"Federal prosecutors are generally working on more proactive prosecutions, not the street-level dealer but the heads of cartels," Rahmani explained. "They're very good at getting to the next level. Since that's what they do all the time, I'm confident that's what they'll do in this case."
In the case of the Capitol riot, the person who stole House Speaker Nancy Pelosi's laptop or sat in her office is an "easy case" because of the picture and the video evidence, but that's not necessarily the end goal, Rahmani said. Instead, the prosecution could use easily identifiable defendants to lead them to those who weren't so obvious and worked "behind the scenes."
McAuliffe expects a certain percentage of the defendants to plead guilty, take a deal and offer to cooperate. Of those that do, he said, some will "undoubtedly" provide useful information, including tips on what questions prosecutors should be asking.
Part of the timeline for the potential prosecution of any organizers depends partially on whether the government has cooperators and what forensic evidence shows. There's no way to know if or when prosecutors will find the key to unlock something they were hoping for, McAuliffe said, and he cautioned against giving in to temptation and rushing the process.
"Round them up" mentalities can overtake mass law enforcement efforts, and being lenient on the standard of proof a prosecutor uses to charge an alleged Capitol rioter can result in a lot of arrests but weak cases, McAuliffe said. As for prosecuting a larger conspiracy, he urged prosecutors to not cave in to public pressure but to take the time necessary to build cases that can withstand the scrutiny of the federal criminal process. Otherwise, the government will lose the confidence of the American people.
"One, two or three hiccups might taint larger law enforcement actions that are happening," McAuliffe said. "That is a real risk, and it needs to be one the government fights through a thoughtful, methodical series of investigations."