Prosecutors from Georgia, Alabama and Utah Vow Not to Enforce Anti-Abortion Laws in Fiery Letter
In response to a wave of predominantly Republican states passing restrictive reproductive rights laws, more than 40 state and local prosecutors signed a letter Friday vowing not to enforce what they described as "deeply concerning" and "unconstitutional" abortion limits that criminalize women and doctors who terminate a pregnancy.
A handful of the signatories included prosecutors from states that passed the restrictions, amounting to a stinging rebuke of state legislatures from local elected officials.
District Attorney Danny Carr of Jefferson County, Alabama, is on the list, as is District Attorney Paul Howard of Fulton County, Georgia. City Attorney Zachary Klein of Columbus, Ohio, also signed the letter, along with District Attorney Sim Gill of Salt Lake County, Utah.
Other signatories hail from states with positive track records with pro-choice advocacy groups, including California, Oregon and New York.
Get your unlimited Newsweek trial >
The lengthy letter, available here, states that the slate of new anti-abortion bills "fail to consider" the victims of child molestation, human trafficking, domestic violence and other traumatic circumstances.
"Not all of us agree on a personal or moral level on the issue of abortion," the letter states. "And not all of us are in states where women's rights are threatened by statutes criminalizing abortion. What brings us together is our view that as prosecutors we should not and will not criminalize healthcare decisions such as these – and we believe it is our obligation as elected prosecutors charged with protecting the health and safety of all members of our community to make our views clear."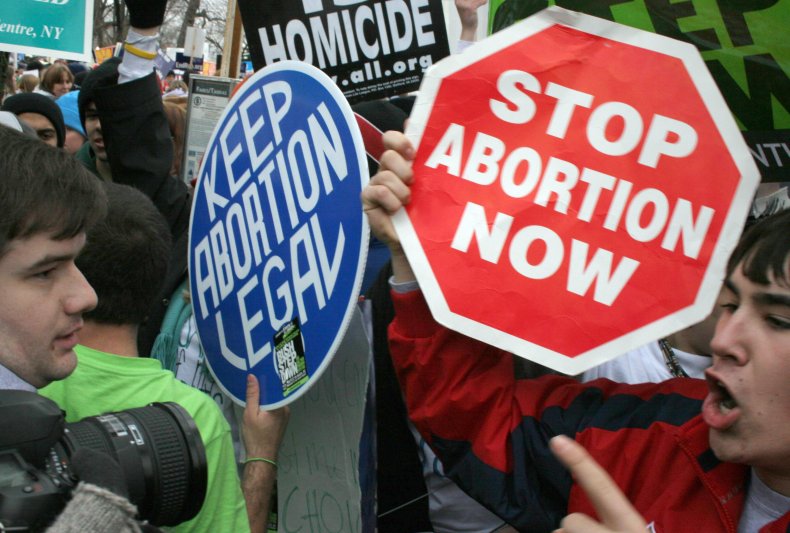 Utah, Montana, Kentucky, Arkansas, Louisiana, Mississippi, Georgia and Ohio have passed the most severe restrictions. The laws range from those that ban abortion once a fetal heartbeat is detected to those that outlaw abortion in all cases except when it risks the life of the mother. None of the abortion restrictions are in effect due to future enactment dates or because the bills are mired in legal objections.
Get your unlimited Newsweek trial >
The onslaught of bills targeting abortion rights are part of a larger effort to push the Supreme Court to revisit Roe v. Wade, the 1973 ruling which found that women have a Constitutional right to access to abortion up until the point at which a fetus is "viable" outside of the womb — generally considered to be between 24 and 28 weeks.
The push, led mostly by Conservative lawmakers and right-wing organizations, has resulted in widespread backlash. Georgia, a state with a booming film and television industry — where shows like The Walking Dead and the Avengers movies have done extensive filming — is facing a boycott from prominent Hollywood producers and production companies.
Meanwhile, leaders in states that generally support abortion rights have signed letters and symbolic proclamations vowing to continue protecting the right to terminate a pregnancy. Governors in California, Oregon and Washington signed such a letter at the end of May.
"In the absence of federal leadership on this issue, states must step up and put in place their own protections — both in statute and in their state constitutions, and through the expansion of family planning and education — to defend every American's right to reproductive freedom," said the May 31 letter from governors Gavin Newsom of California, Kate Brown of Oregon and Jay Inslee of Washington.
It continued: "Roe is settled law, but newly enacted and clearly unconstitutional laws in a handful of states compel our states to act now to reaffirm longstanding commitments to safeguard the fundamental rights of women."
Prosecutors from Georgia, Alabama and Utah Vow Not to Enforce Anti-Abortion Laws in Fiery Letter | Health