Prostitution in Morocco? Shocked! Shocked!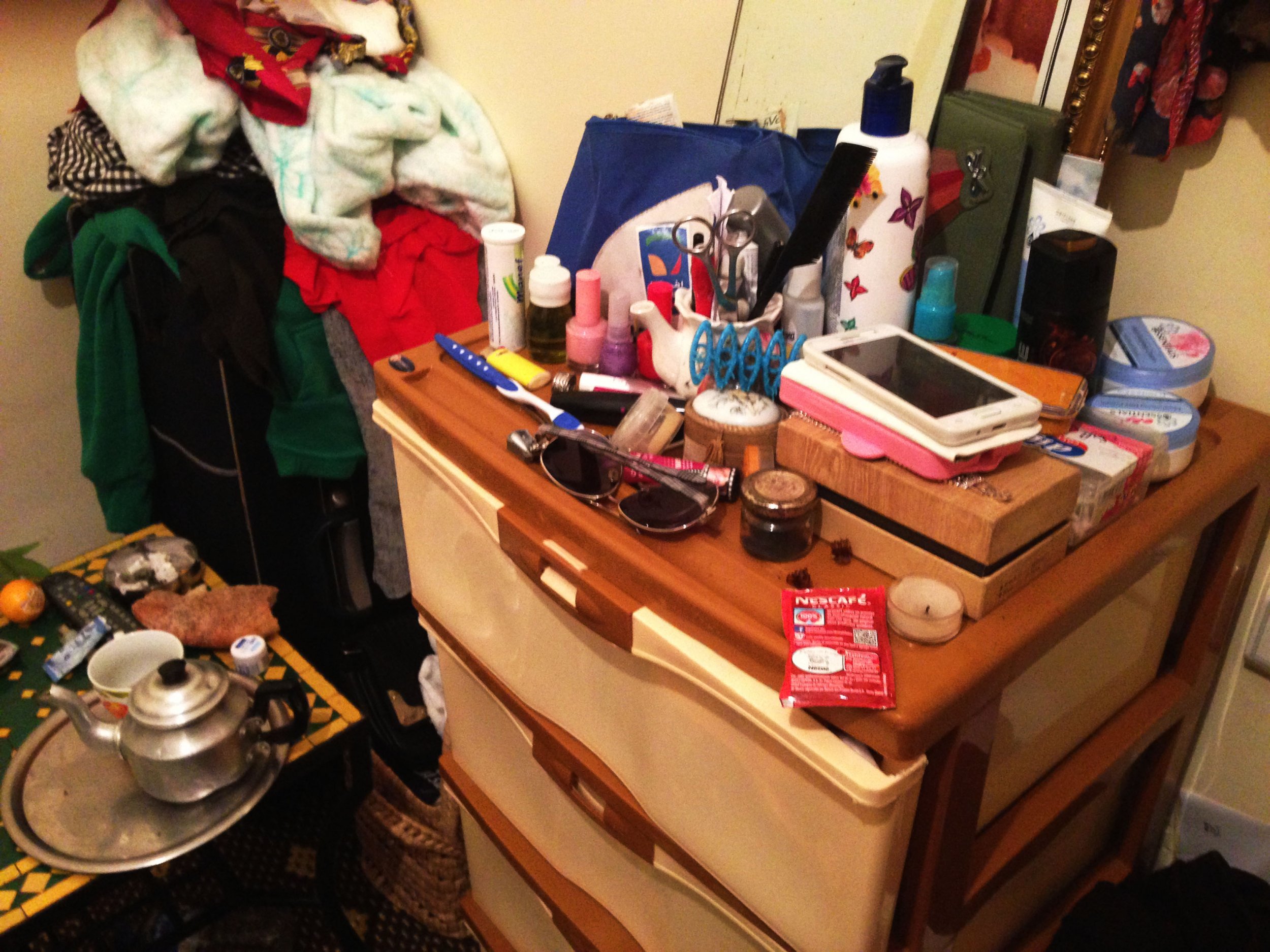 Souad, 39, hastily enters her second-floor apartment in Tangier's old walled neighborhood of souks, mosques and ancient houses. She rips off her long, traditional robe and headscarf and squeezes a green sweatshirt into her jeans, touching red lipstick to her lips, swollen and bruised by a recent beating from a client. Souad has been a prostitute for more than 20 years. In the next room a baby boy—her roommate's—crawls through the doorway.
"This is the real prostitution in Morocco," says Souad, walking a pan of yesterday's couscous over to where the boy's mother, also a sex worker, is dressing her older child. "Prostitution that feeds these kids, that pays for a place for them to sleep, that buys the next meal."
Souad, who didn't want her last name to be used, has been selling sex in Tangier since she left her family because of the shame of her divorce at the age of 15. She still sends them money each month, but they are not aware of how she gets it. In Morocco, a North African and mostly Muslim kingdom, extramarital sex is illegal, and women are supposed to be virgins before they marry. But prostitution is common in Morocco and is transacted openly in cafés, hotels and certain clubs. A Moroccan government study, released last May, counts over 19,000 prostitutes in the cities of Rabat, Agadir, Tangier and Fez. A majority are separated or divorced, and about half have dependent children. One 1 in 4 does not use condoms.
Prostitution has become a major topic throughout Morocco since Nabil Ayouch's Much Loved, a film highlighting prostitution in Marrakech, was banned by the Ministry of Communications. The movie, which is fiction, focuses on the lives and camaraderie of four Moroccan female prostitutes—featuring vivid party and sex scenes and frisky language. Its May premiere at the Cannes Film Festival prompted a fiery reaction from some Moroccans, who protested outside the parliament headquarters in Rabat, held heated online discussions and even made death threats to the actors. Loubna Abidar, an actress who played one of the prostitutes in the film, fled to France after being attacked in Casablanca last November by what she said was a knife-wielding gang.
The threat of physical violence is a reality for many Moroccan sex workers, including Hanan, 33, a friend of Souad's in Tangier. Her mouth is swollen from a beating given her by a client after she tried to get him to pay for their sexual intercourse. Prostitutes say their daily struggles—abuse, financial problems, run-ins with police and the fear of AIDS—are not the main focus of the film, Much Loved, with its focus on luxury prostitutes.
Hanan describes her life as a gamble. Orphaned as a child, she says, she escaped abusive brothers and married an abusive husband, who threatened her with a knife and threw her onto the street, pregnant.
"You can imagine the situation—if you talk with someone to get help and he wants your body," she trails off, tears beginning to spill over her eyeliner onto her black fur-lined sweater. Her curly jet-black hair is pulled back into a bun, showing a round face and full features. During our interview, Souad holds Hanan's hand and holds back her own tears.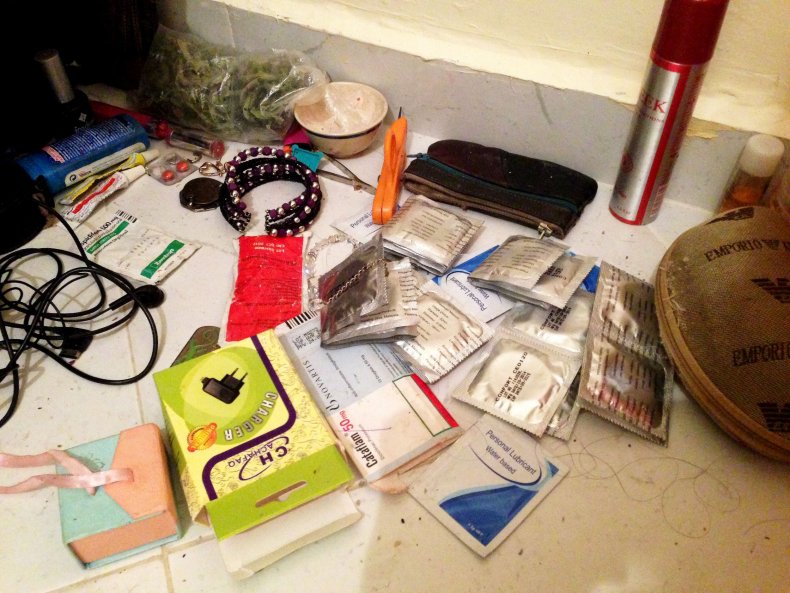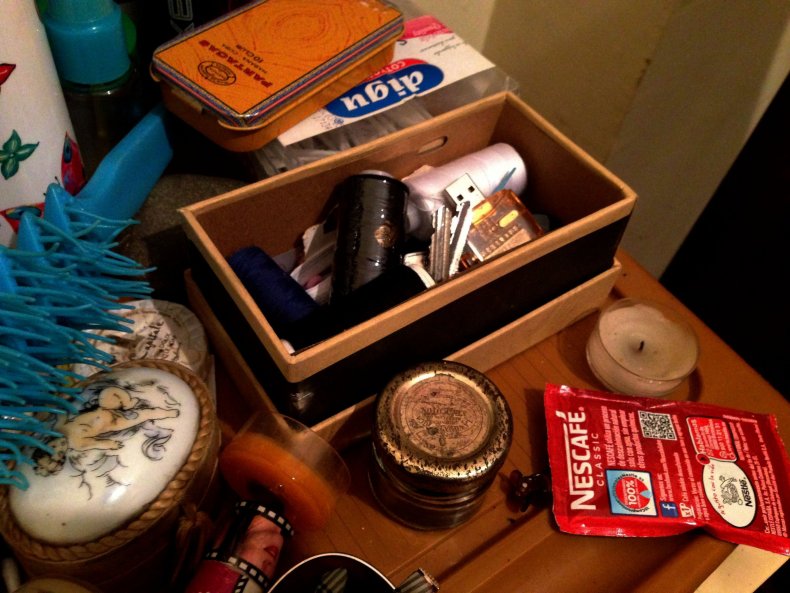 According to a Moroccan government study, there are more than 4,200 prostitutes in Tangier, Morocco's port city and a hub for expatriates like Paul Bowles and William Burroughs. Souad lives on one of many alleys in the old medina, where children kick around deflated toy balls in the narrow streets and everyone knows one another by name. But most Moroccan men don't have money here; many are jobless, with unemployment at 10 percent nationally. Souad says she finds her clients at the few remaining discotheques in town. Before leaving her apartment for the night, she checks the contents of the box on her cluttered dresser—keys to clients' houses.
"You have to be careful of being raped or abused by some clients," she says. "The streets are so dangerous nowadays...and they abuse us."
Many Moroccans hold harsh views of women who prostitute themselves. Rachid, 30, a security guard in Rabat, Morocco's capital, is perhaps typical. Rachid, who refused to give his last name because of the subject of our interview, says he believes blaming poverty is a feeble excuse for women who break holy rules and bring dishonor to their families. "A girl must never forsake her dignity, no matter what the reason is," he says. "Her honor is her capital, and selling it is an unforgiven crime that is totally against our education and religion."
Yet men and women meet in cafés, in hotels, in nightclubs to negotiate la passe, or the price for a sexual transaction. In many cafés in the late afternoon, female prostitutes sit by themselves drinking tea or coffee, wearing leather or tight clothing and makeup, waiting for potential clients to approach them.
Abdessamad Dialmy, a researcher on sexuality and identity at the University Mohammed V in Rabat, says Moroccans are aware that prostitution exists in their country. "We know that we do that, but we don't say that we do that, and we don't want others to say that we do that," he says.
Prostitution is prohibited by law in Morocco, punishable by imprisonment, Dialmy says. Still, the Ministry of Health financially supports public medical centers and nongovernmental organizations where anyone, including sex workers, can get anonymous HIV screenings and other services without being turned in to the authorities. Dialmy says the government allows prostitution because it is an answer to unemployment. "The state prefers prostitution over poverty," he says. "The law is there, but it is not always totally applied."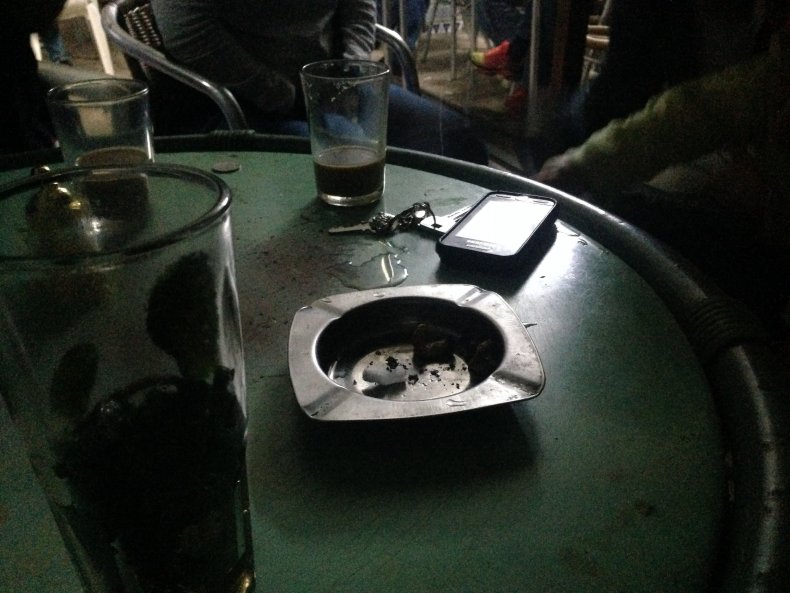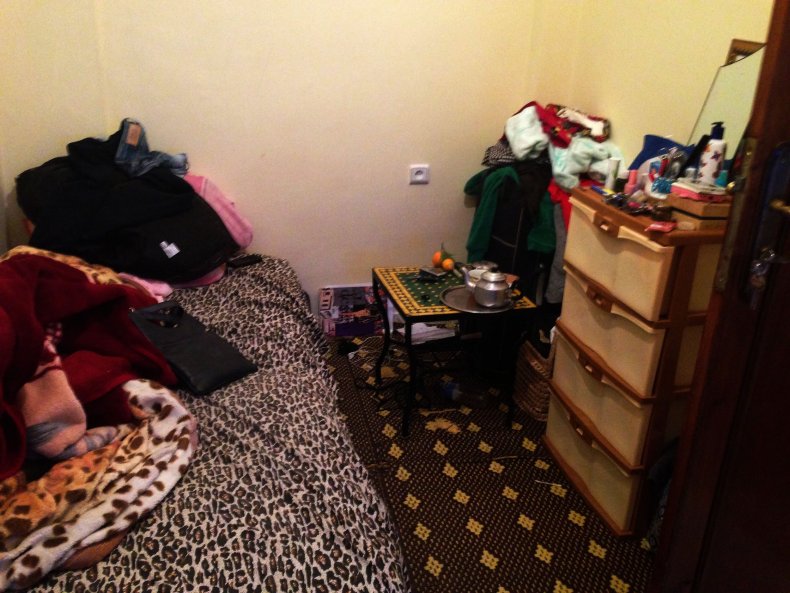 A majority of the women in the health ministry study said they are financially supporting at least one other person, often at least three others. Women who frequent cafés and public places, acting independently and without any sort of "pimp," make an average of 200 dirhams, or about $20, per sexual transaction, according to Azzouz Ettoussi, president of the Rabat section of Organisation Panafricaine de Lutte Contre le Sida (Pan-African Organization Against AIDS), which is part of the Ministry of Health.
Some find clients only occasionally, perhaps to pay an electric bill or support a child's educational needs. Ettoussi says there are also some prostitutes who attract a well-heeled clientele at expensive bars and nightclubs, men who can pay from 300 to 2,000 dirhams (between $30 and $200).
Though poverty and domestic abuse are primary factors driving women to prostitution, some Moroccan sex workers say they enjoy lives that are liberated and independent. Selma, 22, left an abusive father just six months ago in Salé. She supports herself through sex work with a wealthy clientele and says she enjoys her life, which consists of daily trips to a popular nightclub in the Hassan district of Rabat.
"Leaving my family and leaving home, I got a new punch, a new power," Selma says, cigarette in hand as she sits in a café in an upscale neighborhood of Rabat. "No one controls me now."
Selma is a devout Muslim, praying every day and going to the mosque. This is common among Moroccan sex workers, says Dialmy, the sex researcher. He says many have strong religious beliefs and feel a sense of guilt about their work, praying to God for forgiveness and hoping to go back to a "normal" life, one involving marriage and other work. Some use drugs or alcohol, like Souad who sometimes shares a joint with her peers in the dark corner of a café in Tangier's old medina.
Abdel Issaoui, 24, a student in Tetuoan in northern Morocco, says many young men turn to prostitutes because they need to learn how sex works and they have easier access to sex workers than to Moroccan girls who are encouraged to be virgins. These same men often judge prostitutes as sinful and undesirable. Selma, for one, scoffs at this paradox, refusing to care what those around her think or say about her work.
"I feel strong to face the hypocrisy of society," she says.
Alongside the dark seaboard of Tangier, where construction on a new port has torn down all but two discotheques on the shore—which means fewer clients for her—Souad stops in her tracks to give a few dirham to an injured woman begging on the sidewalk.
Shrugging, she says, "That could be me one day."
Kayla Dwyer spent several months in Morocco on an SIT Study Abroad program and produced this story in association with Round Earth Media (www.RoundEarthMedia.org). Youssef Janati Idrissi​ contributed to the reporting.