Feds Bring Down Prostitution Ring Running Brothels From 'High-End Apartments' in Three States
Human merchandise hawked on BostonAsianDolls.com promised "the Best!"
Its landing page was littered with pictures of women named "Scarlet Red," "Jina" and "Ara"—each photographed performing submissive positions and in various states of undress. These "amazing beauties from Korea and Japan" mastered in "companionship between two adults" offered charms to deliver "your Geisha experience…an experience you will not forget."
To spend time with the "models," a customer was invited to make an "appointment" by calling or texting a number posted on the site.
If you passed the vetting process—confirming your job and reassuring you weren't a cop or a convict—a one-, two- or three-hour meeting was arranged inside a posh apartment in Cambridge, Massachusetts.
Once arrived, a woman calling herself Amber interacted with the client in a series of text messages, giving strict instructions on everything from parking to paying. Amber insisted, "WHEN WE GIVE APT# MAKE SURE YOU ARE GOING TO CORRECT PLACE!" or "Do not walk past the leasing office." Most important, under no circumstances should you ever make any noise alerting your escort that you've arrived: "PLEASE DO NOT KNOCK!"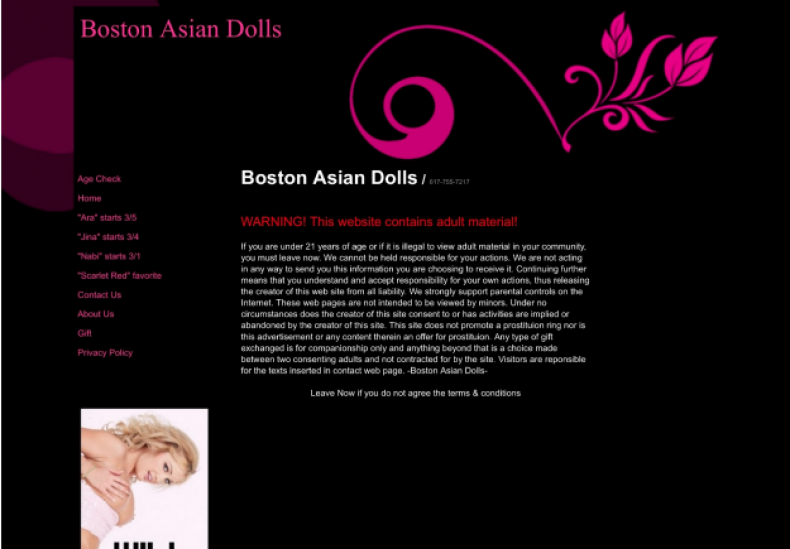 The since-shuttered escort website was cloned using similar facades and nicknames at least twice: ExoticAsianAtlanta.com in Atlanta and RedHotFlowers69.com in Fairfax, Virginia. They were taken off the internetby the feds who bagged five people—two women and three men—and charged them back in March for running brothels for as long as five years from "high-end" apartments and funneling the cash through the U.S. Postal Service, according to court records reviewed by Newsweek.
On Wednesday, at Boston's federal court, "Amber" was identified as Susan Bashir, 41, of Stone Mountain, Georgia. She pleaded guilty to committing interstate prostitution and money laundering conspiracy charges. Prosecutors say Bashir worked as a kind of interstate sex den mother and, because of her plea, she could be sent to prison for up to 20 years and pay fines tallying $750,000. She is scheduled to be sentenced on November 8.
Co-defendant and former promising college musician Jineok Kim, 38, of Watertown, Massachusetts, last month also changed his plea to guilty for participating in the human trafficking ring and money laundering scheme. And a 52-year-old man named Kyung Song of Lexington, Massachusetts, pled guilty earlier this month.
The only holdouts in the alleged crimes are veteran soldier Yoon Kim, 36, of Haymarket, Virginia, and his 46-year-old Korean-born wife, Taehee Kim, who continue to fight the charges. Yoon, the papers said, is South Korean, but "became a U.S. citizen in 2008 while serving in the U.S. Army." Taehee Kim (born in South Korea as Hyunsook Kim) was convicted in Asia for fraud offenses stretching from 1993 to 2011. She was deported after trying to enter the U.S. illegally back in 2003 via Mexico, court documents state, but became a permanent U.S. resident after changing her name and marrying Yoon in 2016.
Newsweek's attempts to reach attorneys for the defendants or the defendants themselves—who have been released pending their sentencing hearings or criminal trials—resulted in them either not responding or declining to comment.
But Newsweek's review of federal court documents, including a recently filed plea agreement and a 56-page affidavit, pulls the veil off the five defendants' sophisticated prostitution and human trafficking network that operated for years out of pricy haunts stretching from Atlanta to Cambridge. The records show that beginning in 2013, the accused pimps and madams managed to stay afloat by shuttling the women from three different states, promoting them online like a virtual sex carnival coming to town.
The goal? Feds say it was to reel in johns.
And as investigators closed in, some of the clients participated in coordinated stings to help bring down the human trafficking enterprise.
Selling Human Merchandise
The sell on BostonAsianDolls.com (after reviewing an archived version online) relied on spare, broken English text and featured each model's body dimensions.
"Scarlet Red" appeared on the website as a 23-year-old delivering the "GFE" (or Girlfriend Experience) and was advertised as a "top-geisha service girl with amazing looks," skin "like silk" and "her skills are unbelievable."
The website also listed a "new" arrival to Cambridge: "Jina."
Photos of Jina faded in and out on a black screen, where static, hot-pink-colored font invited strangers to learn that the 23-year-old was "visiting town for the first time" and possessed "all natural D cup... puts her as a top-notch glamour model in this business." The last line: "Meet Jina today and let your stress go away all at once with her special treat!"
Multiple "girls" were labeled as "new" or "brand new" like "Miya," who the site claimed "has a full package" or "beautiful girl Beka," who "will become your favorite girl." To distinguish johns from jokesters, a not-so-subtle "Gift" link displayed prices.
"Gift is proper etiquette," the site read. "When arriving please leave gift out in plain view! Your appointment will not start until this is done!" Beyond a no-knock policy, there was also a no-money-talk policy.
For BostonAsianGirls.com, the gifts were arranged in descending order as "Donations." Forty-five minutes cost $260. An hour, $300; two hours, $580. For "Double Donations"—likely meaning having sex more than once—rates jumped: A two-hour "double" was $1,160.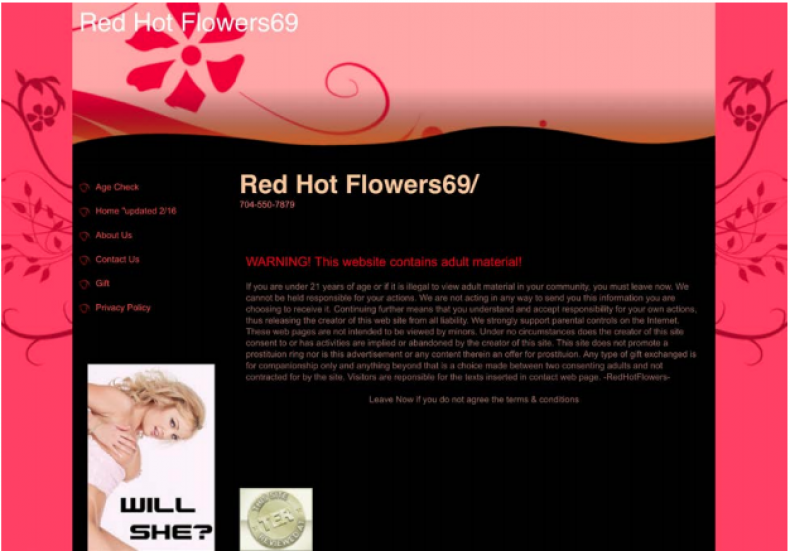 The rates in Cambridge were steeper than those on sister sites RedHotFlowers69.com, in Fairfax, Virginia, where two hours cost $500, and ExoticAsianAtlanta.com, where a john could get a 90-minute double with "Raina.. a MUST SEE type model" or "Anika" who wanted to "treat you like a king…" for $780.
Disrupting the Network
To bring charges against the four men and one woman, feds tracked their IP addresses, mobile phone chatter and cased them as they replenished supplies or moved their roster to different cities, having rented units in "high-end apartment complexes."
"Several women have been advertised on more than one of the above-described websites, as they traveled from city to city within the prostitution network," according to the court records filed in Boston's federal court beginning in March.
Some johns admitted during questioning that they met up with the same girls in multiple locations. "Men interviewed by law enforcement have confirmed that they have seen the same women in multiple cities within the prostitution network," the papers say.
The sexual encounters apparently followed a routine: Customers arrived quietly. Shoes came off, and then the john was escorted to the bedroom, according to court documents. They adjourned to the apartment's bathroom "to use mouthwash" and then, prosecutors allege, showered before returning to the bedroom to engage in intercourse "with that female using a condom that she provided."
Among the ring's characters was Jineok Kim, a promising musician who enrolled at the prestigious Berklee College of Music back in 2010. But he dropped out after three years in and started working the Cambridge, Massachusetts–based brothels.
He and Bashir were described in court records as "picking up proceeds from the prostitution business" and "transporting Asian women between brothels" between different states.
Jineok Kim would allegedly make repeated deposits of prostitution proceeds into ATMs in the names of Yoon Kim and Taehee Kim. He then allegedly "purchased tens of thousands of dollars in postal money orders with cash from the brothels" from multiple post office, court records show.
The postal money orders never went over $2,000 "in order to avoid reporting requirements," according to court records.
Meanwhile, when Bashir wasn't playing Amber, the alleged sex-trafficking matchmaker, she would also collect cash from the Atlanta-based brothels.
"Bashir picks up prostitution proceeds from two Atlanta area brothels…" court records show.
Bashir would then deposit the earnings into bank accounts in Yoon Kim's name, according to the documents. A 2016 photograph of a woman (whom the feds say is Bashir) is part of the affidavit. She is standing at a bulletproof Wells Fargo bank teller window making a five-figure deposit, like the many others recorded from that year.
The arresting special agent wrote in the original affidavit, "I believe these deposits constitute prostitution proceeds."
The husband-wife couple Yoon Kim and Taehee Kim appeared to be in charge of maintaining safe sex at the brothels and were said to purchase bulk orders of prophylactics.
"Yoon Kim and Taehee Kim have purchased a staggering number of condoms over the last several years from the Condom Depot," according to court documents.
Two separate orders in 2017 amounted to 1,008 condoms using their "respective bank accounts and in their own names" and "delivered to their home," the papers said.
Only three years prior, the document adds, the Kims "placed many similar orders" for approximately 20,160 condoms, sent in different shipments to their "prior known residences."
Beyond the texting and condom supply and routine moves from sex house to sex house, Bashir and her cohorts allegedly left a paper trail like breadcrumbs for the fuzz to peck at.
Ledgers pulled from Bashir's home on February 7 supplied agents with sex workers' call names like "Clio" and "Miso" and "Cherry." Each corresponded to the advertisements on ExoticAsianAtlanta.com, and scribbled alongside was a list of vertical numbers and dates that the FBI agent declared "to be daily earnings" from their sex trade.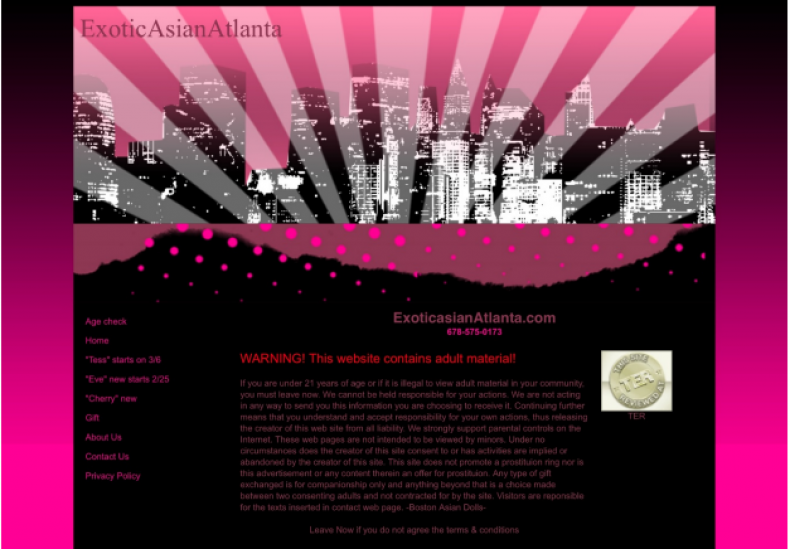 Similar ledgers in the form of white envelopes with a name of sex workers like "Tomi" and "Rachel" and similar financials and corresponding dates were also dug out of Kyung Song's trash bags back on January 8.
Nine envelopes, in fact, "bearing a name, a single date, and a dollar amount" were salvaged as evidence, the court documents suggest.
Song, the document goes on, did "keep ledgers of prostitutes' earnings and collects funds from the prostitutes."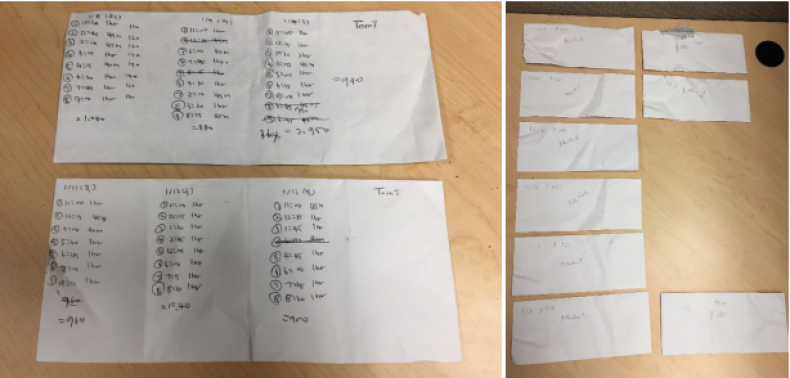 Coaching Johns
On March 8, 2017, FBI agents set up a sting by coaching a john to "arrange an appointment with a prostitute" at a Cambridge sex lair.
"Hi Amber," the man, referred to in Bashir's plea agreement as "Client 1," texted.
"Wondering about Amy's availability today."
Amber (Bashir's alias) texted she hadn't appraised "Amy" but offered "Scarlett" instead.
"I never met her, only Scarlett, so I can't recommend her yet. I can Scarlett though. So would you TOFT," the texted response read, possibly decoded as Take One For [the] Team.
An afternoon slot was set with Scarlett and Client 1 opted for "1 hour." Amber then informed Client 1 to follow directions: "MAKE SURE YOU ARE GOING TO THE CORRECT PLACE!" She insisted in a final text: "please do not knock."
The same setup was arranged by "Amber" a month later when investigators coached another john, "Client 2," who set up a sex date.
The documents named Bashir (as Amber) communicating "with a brothel client [Client 2]" to "arrange an appointment with a prostitute at an Atlanta brothel..." located inside the upscale Tuscany at Lindbergh.
If clients were meet here and indulge in the shower portion of the date, the units feature "a garden tub in both bathrooms," according to the website. Court documents also show that during the time the apartment was rented at Tuscany, it hiked from $1,485 per month to $1,686.
Bashir offered the john a date with either "Jina," "Cherry" or "Clio,"according to court documents.
The terms are set and again, the discretion is pushed. "For our safety and yours PLEASE DO NO KNOCK!" Door will be open, let yourself in. If girl isn't there please text me! Thnx"
But the john was actually in Massachusetts and left Bashir and Jina without consummating the date. "Client 2...did not attend the appointment," court documents show.
On October 13, 2017, Bashir allegedly text messaged with a sex worker, named in court documents as "Woman 1" about a man who arrived for a midday appointment, but after mouthwash rinsing and a shower, he vanished.
"The guest went home after the shower," Woman 1 texted Bashir, according to court documents.
They exchange "crying with laughter" emojis before Bashir texts: "Free money" and more "crying with laughter" plus "money bag" emojis.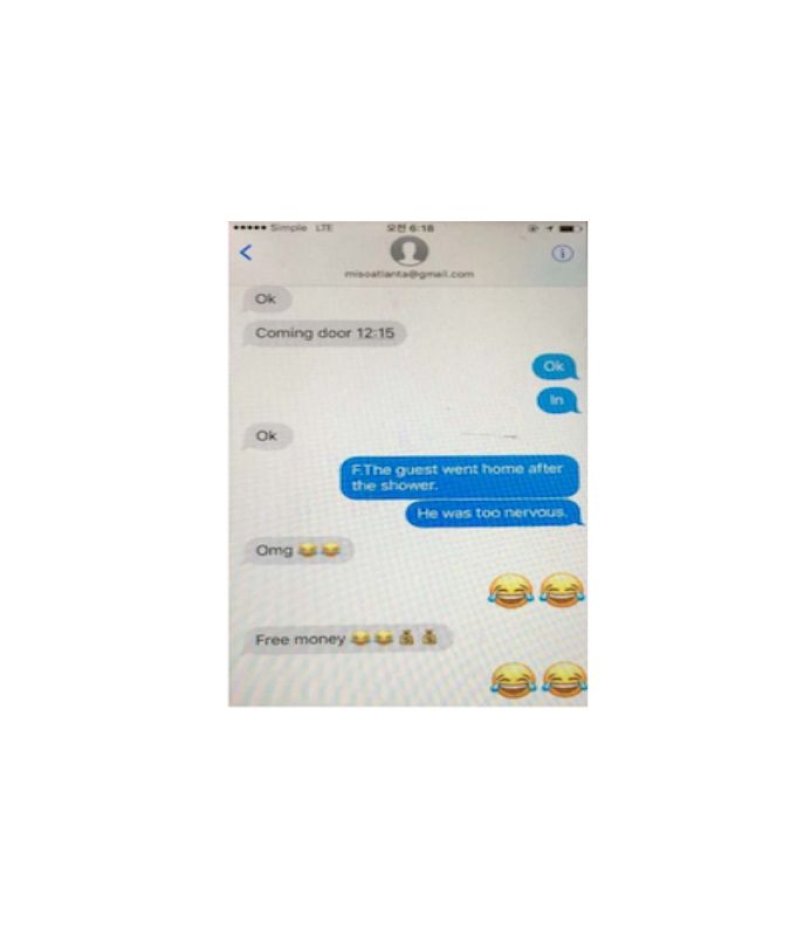 In almost every instance documented by investigators, the ring allegedly ran their illicit sex operations from prime real estate.
On February 16 of this year, Bashir and a sex worker called "Venus" engaged in another text message exchange again disparaging a john for bailing on another date at the Fairfax, Virginia–based Edge apartment complex. The apartment was leased for $2,184.29 in Yoon Kim's name, according to court documents.
The gated community offers "fine living and unsurpassed location" as well as a "gorgeous 3-tier resort-style pool," according to its website.
In this case, the john is referred to in documents as "Client 3" and role-played as a returning customer who informs Bashir (who again goes by the alias "Amber") that he has enjoyed services in Cambridge.
That was at the regal Kendall Square–based Axiom apartments (where potential visitors and hosts could shower together in its advertised "premium bathrooms") and the monthly rent was $3,630, prosecutors allege.
A clueless former tenant of the same unit told Newsweek that the unit "wasn't particularly" special, but it was "conveniently located" in town.
The other property the accused prostitution crew purportedly rented was the Fuse Cambridge community, with oversized balconies and 9-foot or higher ceilings.
Four minutes away was the Vox apartment complex, where authorities say Jineok Kim "ran former brothels" by replenishing the space with food and supplies and "transporting" women "to and from Logan Airport." It was also at this location back in 2016 that FBI agents "installed a video camera in a common hallway" and, according to court documents, "observed a steady stream of men spending about an hour at a time at the apartment, consistent with its use as a brothel."
The rent at this location was fronted by Taehee Kim's bank accounts, court documents show.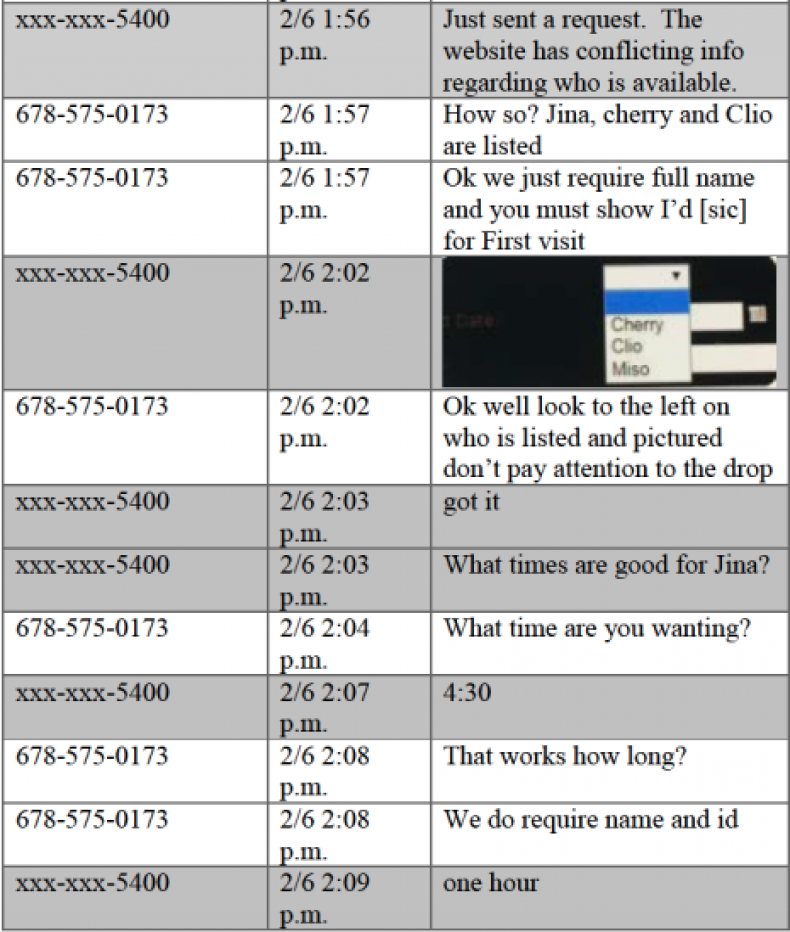 "Client 3" in Fairfax feigned being "Mike Green from Boston" and called the number off RedHotFlowers69, referenced in court documents.
Bashir [Amber] texted him to ask if he wanted "regular or plus?" Based on an archived version of the three websites, "plus" likely means having the sex worker perform acts beyond the norm. In this case, oral sex with Venus would tack on an extra $40.
But Client 3 demures: "1 hr please reg," the text likely meaning regular.
Bashir sends strict walking directions for the 5 p.m. meet: "Please be discreet at all times!"
Client 3, like some other johns, "was cooperating with law enforcement" was a no-show who "did not attend the appointment," according to court documents.
After breaking the date with Venus, "Bashir allegedly sent Client 3 a door-slamming text.
"They say you did this in Boston… cancel 15 [minutes] Before [appointment]... You are not nice."