A Florida mother requested that her child's school district take action after she saw a photograph of his crowded school bus, sparking concern that students were violating social distancing policies.
Karen Newman, told WFLA-TV that her son, a senior at Dunnellon High School in Marion County, had returned home each day only to report the worrisome conditions.
"For the past three days my son has been coming home, saying that the bus has been at capacity. Kids standing up, not wearing masks and yesterday he sent me a picture," Newman said.
The photograph shows kids sitting aboard the crowded bus. Before blurring out their faces, WFLA reported that while some students were wearing face coverings, they were sitting close together, at times on the same seat.
Masks or face shields will be required wherever social distancing is difficult or not possible—including in hallways, common areas and on the school bus—stated a July 20 update posted to the Marion County Public Schools website.
After being shown the picture, a district spokesman told WFLA that the bus' regular driver had not reported to work on Wednesday, and another driver picked up the students from that route. Even with the extra students, the bus was still not at capacity, they said.
"The routes were temporarily combined yesterday and not at full capacity because a combined 50 students were on a 77-passenger bus," according to the statement. "Despite our best efforts to predict how many students are at each bus stop, we never leave students behind for safety reasons."
The routes had to be combined again on Thursday, but the district found an 83-passenger school bus for the students to ride. The two combined routes were separated Friday with each route having its own driver, a district spokesman confirmed to Newsweek.
But Newman remained concerned for the students' safety, telling WFLA that she would reconsider sending her son into the classroom for face-to-face learning.
"Protect our kids. Protect our kids. If it takes getting two buses, get two buses. Don't have our kids crammed into a bus shoulder to shoulder," she said. "I'm scared to send my kids to school and I don't want to be."
Every Marion County student boards the bus wearing a face covering of their own or one is provided to them by their bus driver, the district spokesman said. While the drivers remind students to keep their masks on, "it is not feasible to stop the bus every time a student takes their mask off," according to the statement.
"Riding the bus is a privilege that can be revoked if a student repeatedly disobeys the driver," the district spokesman wrote. "The daily goal is to transport students to and from school safely and efficiently."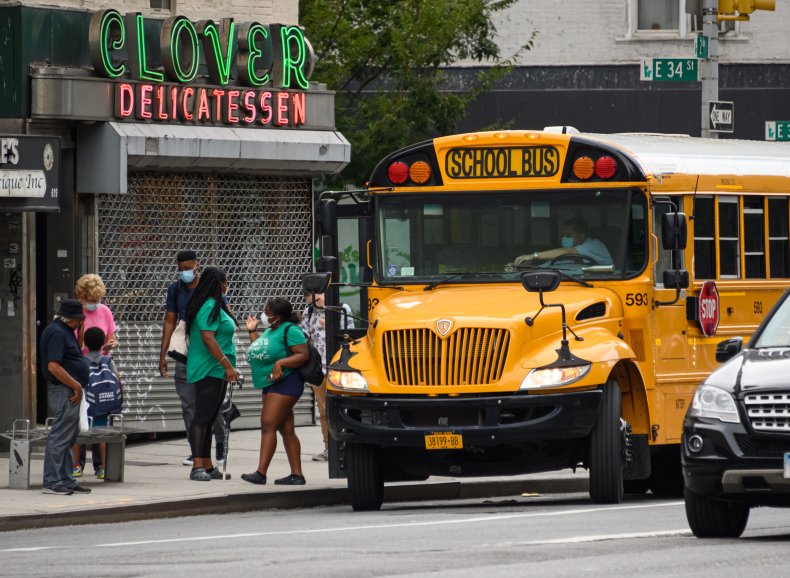 The incident in Marion County is just one recent example of parents expressing concern about the lack of social distancing guidelines on school buses, as more districts across the country open their doors for in-person learning.
Debbie McGraw is a single mother of two and a bus driver for a New Jersey school district. In August, a month before classes were set to begin, she told CNBC that she wasn't sure if students would abide by social distancing and face covering policies set forth by her district.
While her bus will have fewer students, McGraw said that "even on a regular day," pre-pandemic, she had a hard time keeping them in their seats.
"And social distancing them? I don't know how that's going to work out," she said. "There definitely isn't six feet of space when they're walking onto the bus."
McGraw described the protocol for addressing a student who doesn't keep their mask on while riding the bus—something she anticipates will happen.
"I guess we're supposed to have masks on our bus just in case a child comes on without a mask. And if it happens a lot where kids aren't keeping their face masks on, we were told just to write it up," she said. "But this is just to show we're doing what we're supposed to be doing. You can remind the kids, but you can't make them."
In Allentown, Pennsylvania, Lisa Luciano decided to send her son to Parkland High School for in-person classes two days a week because of the district's social distancing guidelines, she told The Morning Call.
When it came to deciding whether he should take the bus, however, Luciano will drop her son off every morning and take a late lunch break to pick him up in the afternoon. "I'm not comfortable with the kids being that close to each other," she said.
Update 4:51 p.m. ET: This article has been updated to include a comment from Marion County Public Schools.